THE FIRST EVER HIGH QUALITY COMMUNITY ENGLISH EVENING TABLOID NEWSPAPER
NewZNew (Chandigarh) : The Chandigarh tri-city's FIRST EVER COMMUNITY NEWSPAPER is going to hit the stands in less than two months from now.
The high quality 8-page all colour tabloid sized evening newspaper titled 'Rainbow Colours', initially to be only in English language, will be focused on inspiring the readers to start thinking beyond themselves and their tiny nucleus family…towards the community at large. It will be a newspaper by and for the community and will seek to take us on the road to closer social bonding and volunteerism never witnessed before.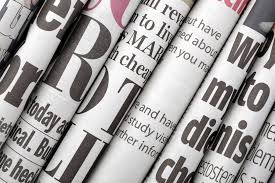 The newspaper which has as its motto "Seva Bhaav", is sought to be used as a platform for launching the full potential of citizens' power, which has for long largely remained unexplored and unutilised. So you will see the launch of Citizens' Watchdogs to keep an eye on the functioning of authorities, Citizens' Think Tanks which will chalk out workable plans for harmonious development of the tri-city, and Citizens' Action Groups which will aid in execution of these plans through people-government partnership.
More than a news-based newspaper, 'Rainbow Colours' will be a unique issue based newspaper which will take up one issue concerning the community at large every day and present it honestly, sincerely and with commitment and a lot of sensitivity. There will be little or no negativity in the newspaper and each and every page will engage the reader closely and inform and entertain each age group and section of society.
This is going to be the first ever YOUR OWN PAPER and we enjoin you to jump onto the bandwagon as we embark on a new journey towards CHANGE – REAL, REFRESHING CHANGE – FOR A BRIGHTER FUTURE FOR ALL.
Let's make it a success .. for ourselves !!