UT Adviser opens 'Shopping Fest' at heritage market – Sector 22D: The iconic Sector 22D 'Shopping Fest-2023', has started at Sector 22D, which is a heritage market of the city. The UT Adviser Dharampal, IAS, on Sunday inaugurated the festival at a glittering ceremony.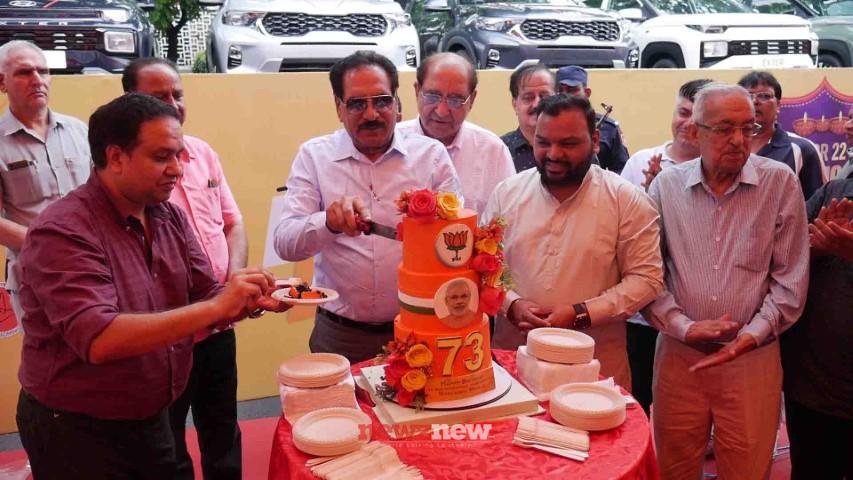 The inaugural event was also marked by a cake cutting ceremony to celebrate the 73rd birthday of Prime Minister Narendra Modi. Mayor Anup Gupta also graced the occasion along with other dignitaries.
Sector 22D Market Welfare Association (MWA 22D) President Arvind Jain shared in detail about the history of Chandigarh and the legacy of Sec 22D market with the Adviser. Jain also apprised the Adviser about issues related to the market. The Adviser promised to look into these so that a solution could be found to resolve the issues.
Renowned religious singer Kanhaiya Mittal was also present. Mittal sang a song in praise of PM Modi which was much appreciated by the audience.  There was a live performance by a Chandigarh Police band too.
The mega fest, which returns after a gap of six years, shows the bounce back in the economy that suffered multiple setbacks due to disruptions caused by the Covid-19 pandemic. Notably, the fest is also the first major shopping fiesta to herald the beginning of the long festive season. The shopping fest will conclude on January 1, 2024 with a final draw.
Sharing details on the occasion, Sector 22 Market Welfare Association (MWA 22D) President Arvind Jain said that the festival, which has begun today with the celebration of Prime Minister Modi's birthday, would showcase for shoppers a bouquet of product options to pick from. These include gold and diamond jewellery, clothes, luggage, watches, crockery, suiting and shirting, and other general items at the most affordable prices. "The market has been decked up like a bride with extensive lighting and different types of decorations," Jain said.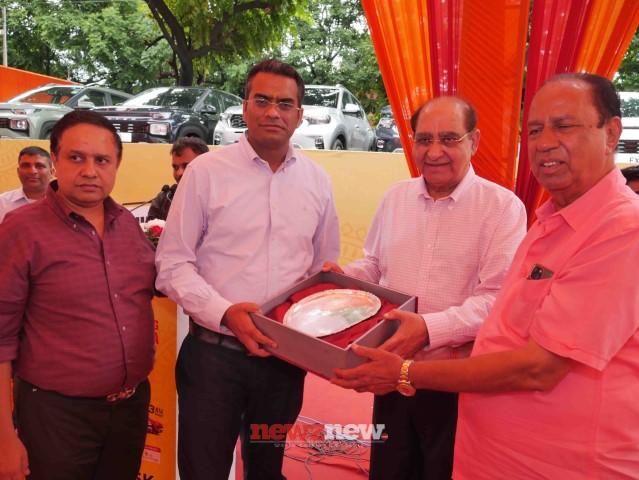 "The variety of products is extensive. I urge all to be a part of this shopping extravaganza. I am thankful to the Chandigarh Administration for supporting this mega fest," he said.
Jain said that they are expecting a very good response to the shopping carnival, as the heritage market of Sec 22 D will turn into a paradise for all types of festive buying with important festivals like Durga Puja and Diwali coming up.
The MWA Sec 22D market president said that there are 31 prizes for the shoppers including seven cars – 4 Hyundai Exter and 3 KIA Sonet, 8 Mi TVs, 8 LG ACs and 8 LG fridges for the coupon holders, which shoppers will get on purchase of Rs. 2000 or above. The buying volume needs to be Rs. 10000 at jewellery outlets.
"A fool-proof security arrangement has been put into place to ensure that no untoward incidents take place. We have made special arrangements for parking of vehicles so that customers are not hassled," Jain added.
"There will be a vibrant and festive atmosphere, featuring entertainment, cultural events, and interactive experiences, making them not only a shopper's paradise but also a social and cultural phenomenon that fosters a sense of community and excitement among participants. Shoppers can also take advantage of late night shopping at the fest," concluded Jain.