Varadharaja Cinemas (NEW) – Location | Ticket Price | Movies: Varadharaja Cinemas is now open to the public after a renovation gap, get ready to consume a different level of movie-watching experience in Chitlapakkam, Chennai.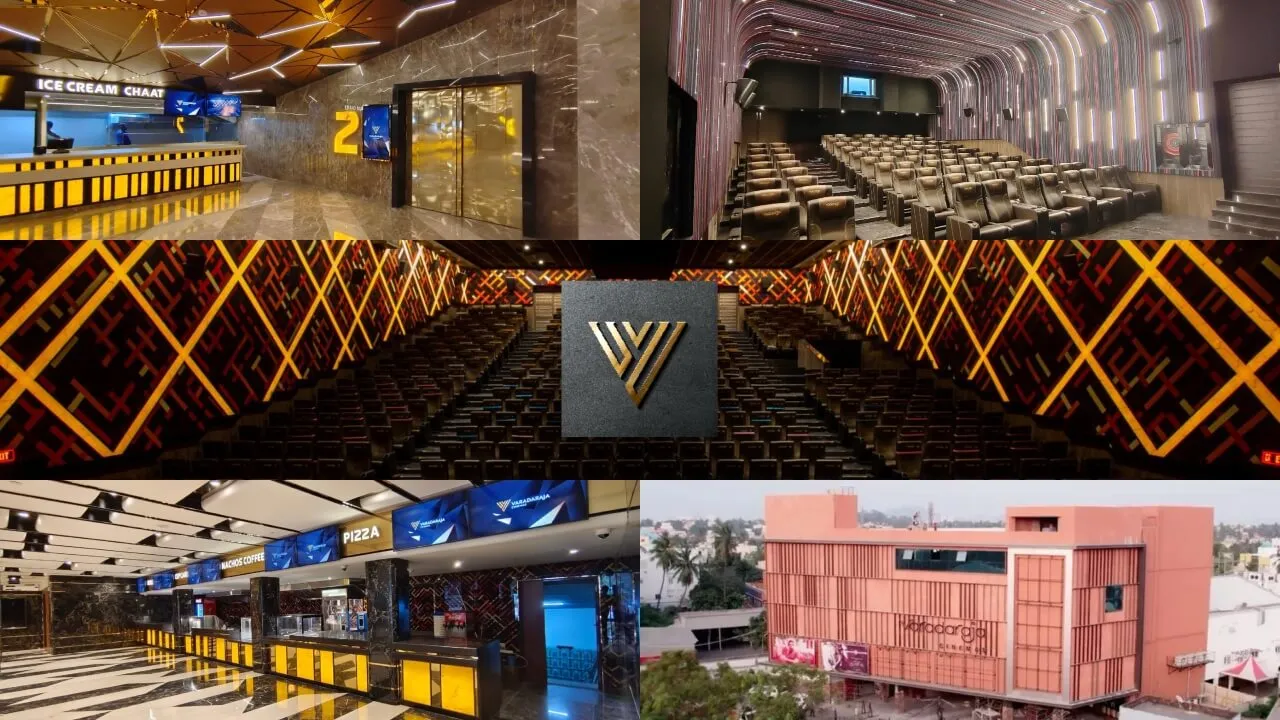 Are you ready to watch films in Varadharaja Cinemas, then you will get all details about the theatre here.
Even though there are loads of OTT platforms, watching quality content in theatres is an unbeatable experience. Theatre experience will give you complete satisfaction.
For Instance, imagine watching Ponniyin Selvan at your home versus in theatres, the crowd will go crazy for opening shots of stars, whistles, popcorn, and a few memories.
Where is Varadharaja Theatre Located In Chennai?
Varadharaja Cinemas is located in Chitlapakkam, Chennai. We will give the full address with a Google map link. So You are good to go!
Location
Jothi Nagar, ChitlaPakkam, Chennai, Tamil Nadu, 600064
Landmark
Near Tambaram Sanitorium Railway Station
How To Reach Chitlapakkam By Bus?
A lot of buses are available on this route and you can get down in front of Varadharaja Cinemas,
66A, 91A,S100, S2,S4,S52H, 52B, 52B Cut, 52c,60H, 70H
How To Book Ticket In Varadharaja Theatre?
There are two ways.
You can buy tickets from the ticket counter within the theatre premise.
You can book tickets on Book My Show app.
How To Book Ticket On Book My Show App?
Download and install the Book My Show app or visit Book my show website.
Use the search option to find out the movie you wanna watch.
Once you find it, just click on the Book Tickets button and select the preferred format 2D or 3D.
And look for Varadharaja Cinemas from the list, select the show time, how many seats you want, and your preferred seat.
After the payment, you will get a ticket with all details.
What About The Ticket Fee?
The ticket price ranges from 90 rupees to 150 rupees. However, it changes according to films.
How Can I Contact Varadharaja Cinemas in Chennai?
You can reach out to Varadharaja Cinemas via Phone call, Mail, or Social media.
Mobile Number: +91 9043111651 (call) & Text – [email protected] (Mail ID)
Official Website of Varadharaja Theatre
Instagram Profile Of Vardharaja Cinemas
Varadharaja Cinemas (NEW) Images
More About Varadharaja Cinemas
Where is Chitlapakkam?
Chitlapakkam is 100 meters away from Tamabaram Sanitorium Railway Station.
When did the new Varadharaja Theatre open to the public?
The newly renovated theatre was opened on May 4 to the public.
Can I book tickets on Book my show?
yes, you can book on Book My Show.
Is a parking slot available?
Yes, spacious parking space is available.
Is Cafteria or food available inside the theatre?
Yes, there is a shop inside the theatre.
Who is the owner of Varadhaaja Cinemas?
We don't know the exact person, but as per social media, Aswanth Duraimohan is publishing the announcements regarding the theatre.