Vegantique Super Foods Launches ALMO-almond beverage targeting health and beauty conscious consumers: Vegantique Super Foods and Beverages, today announced its maiden launch of ALMO – Almond Beverage (Available in 04 flavours and 02 packing variants each) in Chandigarh.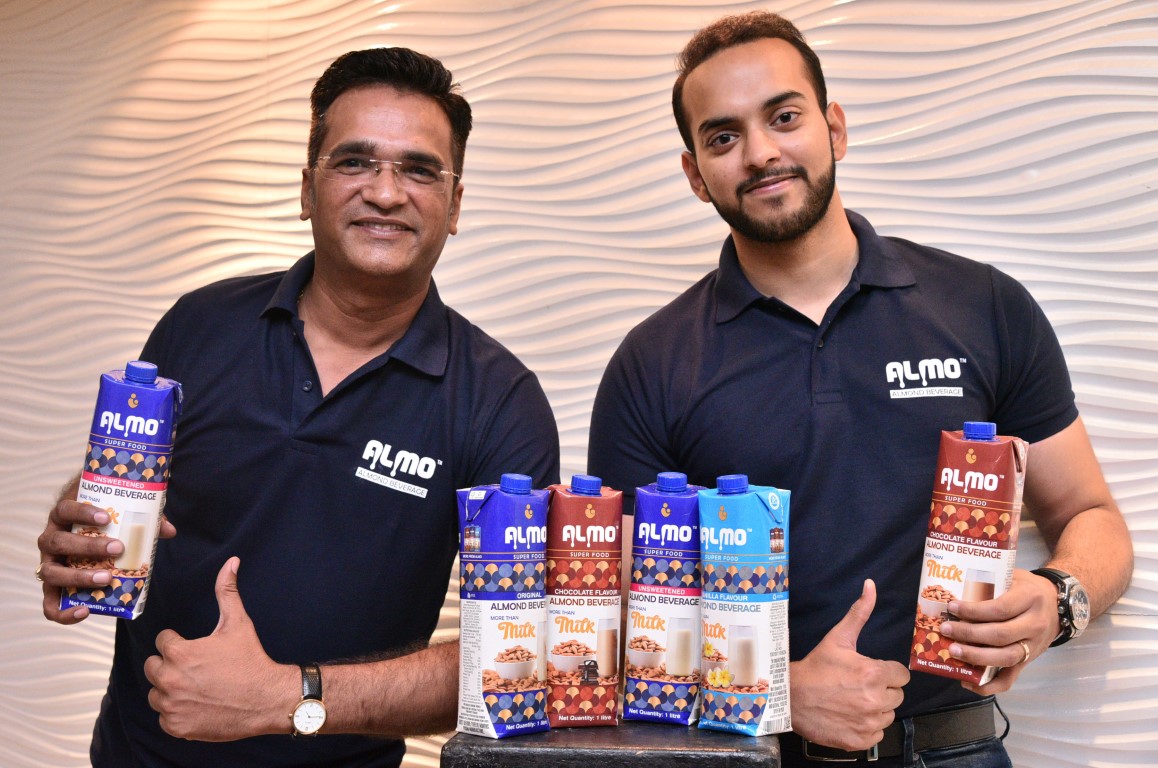 This Indian company is wholly owned by two young entrepreneurs and brothers, Mr. Anish Goel and Mr. Ayush Goel. Their other company is one of India's largest importers of California Almonds and grows almonds in California as well.
As farmers of California Almonds, they are well acquainted with almonds, its USPs, commercial recipes and the have an expertise into the domain.
Talking to media persons, Mr. Ayush Goel, Managing Partner said, Cruelty against animals, has raised human concern and has made a deliberate shift to consume only plant produce. Vegantique shall be entering into the space for super-foods starting as Almond Beverage as their maiden product offering. They shall try bridging the high demand being currently catered by foreign companies and unreliable products.
Briefing media Mr. Ayush Goel said, ALMO, a brand from Vegantique, which is targeted to become a synonym for Almond Beverage (Almond Milk) within a short span, shall further be elevated to contain many other products into the super-foods category.
He said, ALMO, unlike other players who just import and sell, shall be taking a lead towards marketing the products through creating consumer awareness, sampling the products and pitching the products into health and beauty domains. As forecasted apart from ALMO being retailed from almost all premium gourmet stores, shall also be retailed through premium Spas, Salons, Beauty Parlours, Gyms and other institutions concerned for Health and Beauty of their consumers.
Mr. Ayush added that, The USP of ALMO is that its zero on calories, gluten, lactose, sugar still maintains a low Glycaemic index of 25 (for the unsweetened variant). Apart from traditionally known to aid memory and brain health, consumption of ALMO is perfectly suited to have an acne-free radiant skin, it's a perfect base only after water to be consumed in protein shakes at workouts. The unsweetened variant is a perfect fit for the consumption of diabetics and even for those over 67% of population who are lactose intolerant. For taste reasons ALMO is being made available in 04 variants i.e. sweetened, original (sweetened), Chocolate (Danish Chocolate) and Vanilla; also for utility reasons its being made available in beautifully designed 200ml and 1 Litre screw-capped Tetra packs.
Giving details on expansion plans for tricity and the region, he said that Chandigarh belongs to the hail and hearty people who love food and that the buying pattern of consumers would encourage us being on our toes to reach them vide e-com, retail, gourmet foods, salons, gyms and through all channels that we can reach them. Apart from only Almond Beverage and their enthusiasm towards this health and beauty drink; we shall very soon give them more wholesome alternates to eat and snack upon under the same category of super-foods.