VINNumberLookup Review: Lookup a VIN for Free & Get Vehicle History Reports: VINNumberLookup is a web-based reverse search tool that allows you to check any vehicle's VIN within minutes to learn more about its features and history.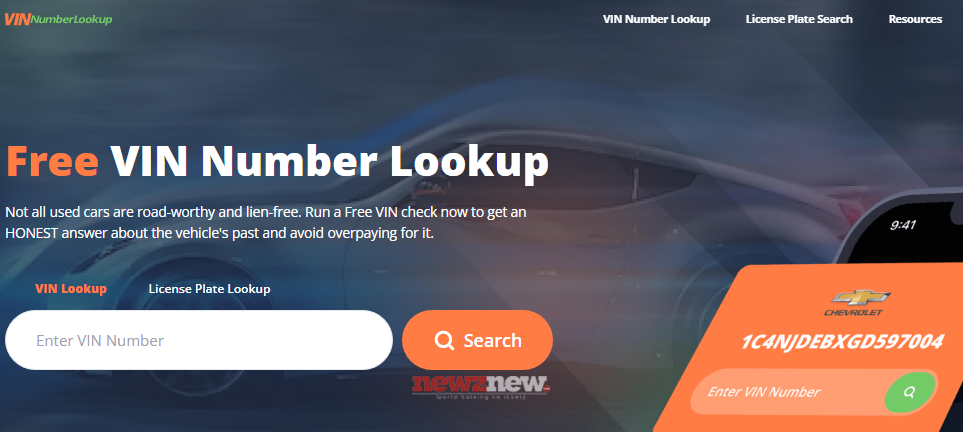 It is an especially useful tool for anyone looking to purchase a used vehicle, as it is linked to multiple public databases that enable it to generate in-depth background reports.
In other words, looking up a VIN with VINNumberLookup allows you to access information from government institutions, insurance companies, towing agencies, warranty providers, repair shops, and more. This makes it a good service for both dealers and their customers.
Moreover, the best part about using this service is that you can easily access this information for free. And since the site comes with a user-friendly interface, this means that almost anyone can use their computer or phone to conduct a quick VIN search.
What Information Can VINNumberLookup Provide?
The VIN checks that you conduct using VINNumberLookup will typically cover every aspect of a vehicle. Some of the different types of records you can expect to access include:
Technical Specifications: VINNumberLookup allows you to access a vehicle's specifications such as the car's make, model, engine type, manufacturing plant, color, transmission type, mileage, and more.
Accident/Repair Records: These records will usually list out all of the accidents or damages that the vehicle has ever experienced. With this information, you will often be able to determine if the car is genuinely safe to drive on the road.
Maintenance/Servicing Records: Running a VIN check on this site will also provide you with a good idea of how often the vehicle was taken for maintenance and servicing. This will tell you whether or not the car has been properly looked after over the years or not.
Stolen/Theft Records: This will let you know if the car has ever been reported as stolen in the past, which can help prevent the risk of you purchasing or possessing a stolen vehicle. This can often be extremely costly, as the car may end up being repossessed and leave you unable to recoup your money.
How Does The VIN Search Process Work On VINNumberLookup?
VINNumberLookup provides users with a very simple way to conduct a background check on a vehicle using their site and the process is fairly simple. All you need to do is:
Step 1: Get the vehicle VIN number and head to VINNumberLookup.  Input the 17-digit identifier, hit 'Search' and wait for the results.
Step 2: The site will compile all the relevant data from multiple databases into one comprehensive vehicle history report that you can review, download and share.
However, VINNumberLookup also provides you with multiple search options to consider.
You can either lookup a VIN by make, which means that if you have a Toyota, you carry out a Toyota VIN check, for example. In addition, you can conduct a VIN search by state, which means looking up a car using a California VIN check, for example.
Alternatively, you can also lookup the vehicle's license plate, click here to get started. This can be especially useful if you are ever involved in a hit-and-run situation and get to learn more a car's history.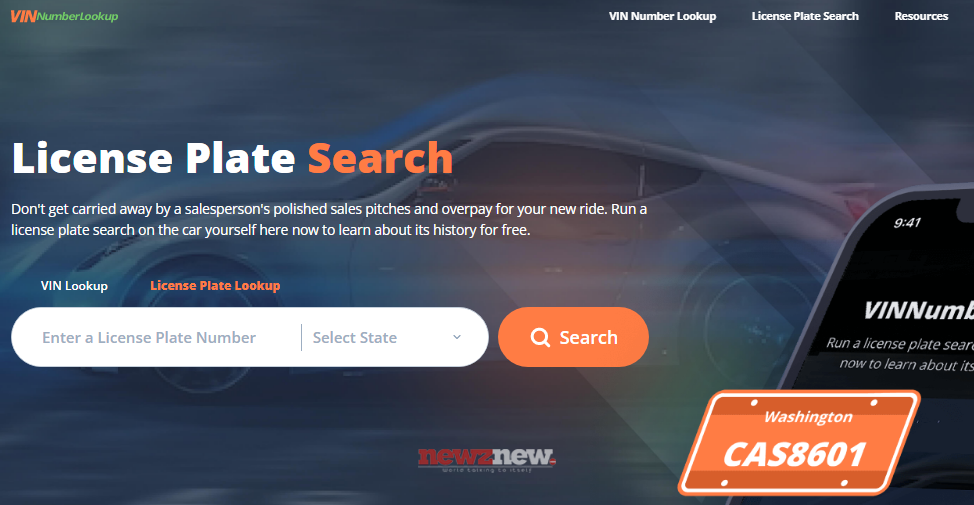 What Are The Best Features Of VINNumberLookup?
There are numerous features that make VINNumberLookup a worthwhile choice to consider over most other VIN decoders online. Some of these include:
#1. Comprehensive & Relevant Reports
The vehicle history reports that are generated on VINNumberLookup are extremely comprehensive and in-depth. You will be able to find almost any type of information about the vehicle with just a click of a button, rather than having to look it up on multiple directories. Plus, all the information is fairly accurate and up-to-date, which ensures that you are only provided with relevant data.
#2. Instant Search Results
VINNumberLookup's search engine is designed to be extremely fast and efficient, which means that you won't have to wait long to access the information that you need. Once you hit search on the VIN tool, the site will extract the relevant information from multiple sources in just a matter of minutes.
#3. Simple User Interface
Another commendable aspect of this site is its user interface. It is extremely easy to use and doesn't require any complex navigation whatsoever. This makes it a great choice for any newbies that may be looking to carry out a quick VIN check but have no past experience doing so.
#4. Easy-To-Understand Reports
Even if you do not understand most of the technical terminologies of a car, the good thing about VINNumberLookup's reports is that they also present data in a very user-friendly way. This means that almost anyone can conduct a VIN check and make sense of the information without much difficulty.
What Are The Pros and Cons Of Using VINNumberLookup?
Like any other VIN service, there are a few benefits and drawbacks to using VINNumberLookup that should be considered, so let's quickly break them down.
Pros:
#1. No Hidden Fees or Costs
VINNumberLookup's online service is completely free to use, which means that you don't have to create an account or pay for membership to use the service. You also don't have to worry about being charged any hidden fees, so you can freely carry out a VIN search, as many times as you need.
#2. Reliable Customer Support Team
Despite it being free, VINNumberLookup still provides users with a highly-responsive customer support team that is does well to resolve any queries or complaints 24/7. All you need is to send an email and within a few hours or less, you will receive feedback or assistance without fail.
#3. Complete Data Privacy
VINNumberLookup provides full user confidentiality and anonymity, as the site uses high-end encryption to ensure that your activity cannot be tracked or recorded. This means that you can carry out as many VIN checks as you need without fear of your privacy being compromised.
Cons:
#1. Limited Database
VINNumberLookup is a relatively new platform, which means that, unlike more well-established and premium VIN sites, it has fewer data sources to rely on. As a result, not all reports that the site generates will be extremely well-detailed, with some possibly lacking certain information on a vehicle.
Final Thoughts
From what we've seen about VINNumberLookup, the service offers users a fair amount of value. The site makes it easy to instantly search for a vehicle using its VIN or license plate and you don't have to pay a dime to do so.
It also comes with an extensive database made up of both public and government sources, which ensures that the reports are both accurate and relevant. Plus, the site is both safe and secure to use.
All in all, it is the ideal resource for anyone looking to confirm the status of their vehicle or of a used car they intend to purchase.