Virginia Tech's Provost Cyril Clarke Guest of Honor at Thapar Institute's 33rd Convocation: The 33rd Convocation of Thapar Institute of Engineering & Technology (TIET) was held today.Virginia Tech's Provost Cyril Clarke was the guest of honor.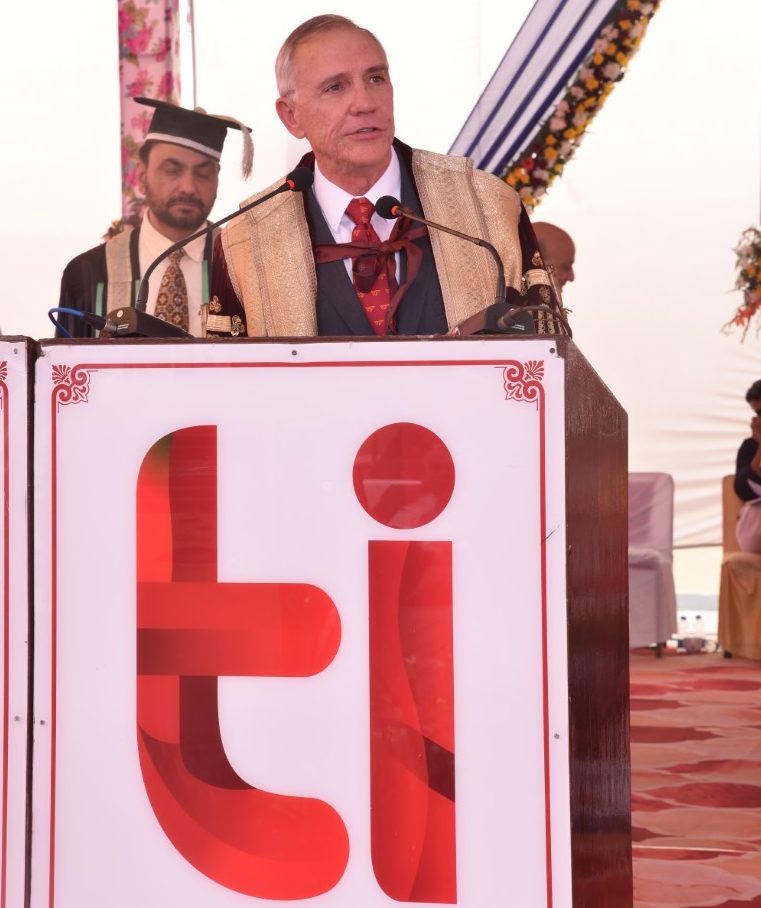 A veterinarian, clinical pharmacologist, teacher, researcher, and academic leader, Dr. Clarke is the Executive Vice President and Provost. Virginia Tech, founded in 1872, is ranked among the world's top universities,
At the convocation, 2157 degrees were awarded to graduating students including 83 Ph.D. Degrees, 640 Masters in Engineering, Sciences, Humanities & Management and 1434 Bachelor's degrees in Engineering.
Medal winners Kanishk Agarwal received the President's Medal the highest CGPA; Keshav Goyal wins the S. Ranbir Singh Memorial Medal for Best All-Round performance. Arshjot Kaur awarded Prof. V. Rajaraman Computer Science Engineering Award, and Kanishk Agarwal awarded S. Ram S. Sidhu Memorial Medal.
Professor Prakash Gopalan, Director, TI congratulated all the degree recipients and presented the Institute's annual report. He also shared that the success of the university lies mainly on cutting-edge research, enviable infrastructure and smart institute-industry linkages.
Thapar Institute students have 1140 published research papers in Scopus Journals in 2018,and  over 118 sponsored research projects are in progress.Citations too have grown with over 9300 citations last year. The  average is 9.48 citations per article in web of science.  He spoke about TI's national and global rankings and recognition. Professor Gopalan said "TIET is ranked 23th by National Institute Ranking Framework (NIRF-2019); 132 in the definitive QS BRICS Ranking and 601-800 worldwide and jointly 10th within India by the prestigious Times Higher Education World University Rankings, 2020."
Professor Gopalan added "two large centers of excellence, Food Security and another in Emerging Materials have commenced". Further he said that "TI is continually investing and building or upgrading its infrastructure," and that"new major stone-clad buildings- Library, Computer Science Building and Lecture Blocks have been added."
With a rich legacy of illustrious and eminent alumni, and to celebrate and recognize their success, a 'Distinguished Alumnus award' was presented to Mr. Vinod K Luthra of Mechanical Engineering 1966 batch.
Thaparians over the years have contributed to scholarships and other areas. The batch of '66 started the Legacy fund with an endowment of Rs.62 lakhs for scholarships.