VIVO IPL Schedule 2018 Date, Time, Venue, Fixtures [*IPL Season 11*]-: Hello Guys Get Ready For Upcoming Season Of VIVO IPL Considered As The 11th. You Can Check Out The Latest Schedule Of IPL 2018.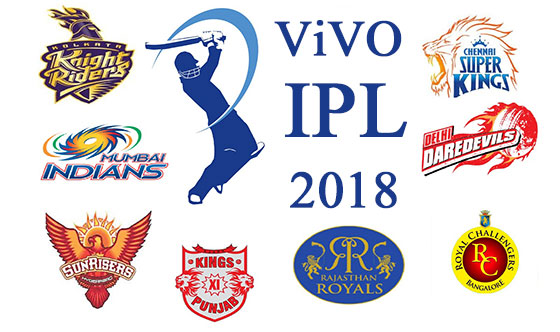 Total Eight Teams-
Chennai Super Kings
Mumbai Indians
Rajasthan Royals
Kolkata Knight Riders
Kings XI Punjab
Royal Challengers Bangalore
Sunrisers Hyderabad
Delhi Dare Devils
Are Taking Participation In This League. Each And Every Year It Comes To Entertain Us. On This Year 11th Time VIVO IPL (Indian Premier League) Coming For The Enjoyment.
Full Schedule Of VIVO IPL 2018
| | | | |
| --- | --- | --- | --- |
| Date | Time | VIVO IPL 2018 Teams & Fixtures | Stadium & Venues |
| 5-April-2018 | 8:00pm | Mumbai Indians Vs Chennai Super Kings | Wankhede Stadium, Mumbai, Maharashtra |
| 6-April-2018 | 8:00pm | Rajasthan Royals Vs Kolkata Knight Riders | Sawai Man Singh Stadium, Jaipur, Rajasthan |
| 7-April-2018 | 8:00pm | Sunrisers Hyderabad Vs Royal Challengers Bangalore | Rajiv Gandhi International Stadium, Hyderabad |
| 8-April-2018 | 4:00pm | Kings XI Punjab Vs Delhi Dare Devils | Punjab Cricket Association Stadium, Mohali |
| 8-April-2018 | 8:00pm | Mumbai Indians Vs Rajasthan Royals | Wankhede Stadium, Mumbai, Maharashtra |
| 9-April-2018 | 4:00pm | Kolkata Knight Riders Vs Delhi Dare Devils | Eden Garden Stadium Kolkata, West Bengal |
| 9-April-2018 | 8:00pm | Sunrisers Hyderabad Vs Kings XI Punjab | Rajiv Gandhi International Stadium, Hyderabad |
| 10-April-2018 | 4:00pm | Rajasthan Royals Vs Royal Challengers Bangalore | Sawai Man Singh Stadium, Jaipur, Rajasthan |
| 10-April-2018 | 8:00pm | Chennai Super Kings Vs Delhi Dare Devils | M.A.Chidambaram Stadium Chennai, Tamil Nadu |
| 11-April-2018 | 8:00pm | Kings XI Punjab Vs Kolkata Knight Riders | Punjab Cricket Association Stadium, Mohali |
| 12-April-2018 | 8:00pm | Mumbai Vs Delhi Dare Devils | Wankhede Stadium, Mumbai, Maharshtra |
| 13-April-2018 | 8:00pm | Kolkata Knight Riders Vs Kings XI Punjab | Eden Garden Stadium, Kolkata, West Bengal |
| 14-April-2018 | 4:00pm | Mumbai Indians Vs Sunrisers Hyderabad | Wankhede Stadium, Mumbai, Maharashtra |
| 14-April-2018 | 8:00pm | Rajasthan Royals Vs Chennai Super Kings | Sawai Man Singh Stadium, Jaipur, Rajasthan |
| 15-April-2018 | 4:00pm | Kolkata Knight Riders Vs Sunrisers Hyderabad | Eden Garden Stadium, Kolkata, West Bengal |
| 15-April-2018 | 8:00pm | Delhi Daredevils Vs Kings XI Punjab | Feroz Shah Kotla Stadium, Delhi |
| 16-April-2018 | 8:00pm | Mumbai Indians Vs Kolkata Knight Riders | Wankhede Stadium, Mumbai, Maharashtra |
| 16-April-2018 | 8:00pm | Royal Challengers Bangalore Vs Chennai Super Kings | M.Chinnaswamy Stadium, Bengaluru |
| 17-April-2018 | 4:00pm | Delhi Daredevils Vs Kolkata Knight Riders | Feroz Shah Kotla Stadium, Delhi |
| 17-April-2018 | 8:00pm | Sunrisers Hyderabad Vs Kings XI Punjab | Rajiv Gandhi International Stadium, Hyderabad |
| 18-April-2018 | 4:00pm | Chennai Super Kings Vs Mumbai Indians | M.A.Chidambaram Stadium Chennai, Tamil Nadu |
| 18-April-2018 | 8:00pm | Rajasthan Royals Vs Royal Challengers Bangalore | Sawai Man Singh Stadium, Jaipur, Rajasthan |
| 19-April-2018 | 8:00pm | Sunrisers Hyderabad Vs Delhi Daredevils | Rajiv Gandhi International Stadium, Hyderabad |
| 20-April-2018 | 8:00pm | Kings XI Punjab Vs Mumbai Indians | Punjab Cricket Association Stadium, Mohali |
| 21-April-2018 | 8:00pm | Kolkata Knight Riders Vs Rajasthan Royals | Eden Garden Stadium, Kolkata, West Bengal |
| 22-April-2018 | 4:00pm | Chennai Super Kings Vs Sunrisers Hyderabad | M.A.Chidambaram Stadium, Chennai, Tamil Nadu |
| 22-April-2018 | 8:00pm | Mumbai Indians Vs Royal Challengers Bangalore | Wankhede Stadium, Mumbai, Maharashtra |
| 23-April-2018 | 4:00pm | Rajasthan Royals Vs Kings XI Punjab | Sawai Man Singh Stadium, Jaipur, Rajasthan |
| 23-April-2018 | 8:00pm | Kolkata Knight Riders Vs Royal Challengers Bangalore | Eden Garden Stadium, Kolkata, West Bengal |
| 24-April-2018 | 8:00pm | Mumbai Indians Vs Kings XI Punjab | Wankhede Stadium, Mumbai, Maharashtra |
| 25-April-2018 | 8:00pm | Royal Challengers Bangalore Vs Sunrisers Hyderabad | M.Chinnaswamy Stadium, Bengaluru |
| 26-April-2018 | 8:00pm | Chennai Super Kings Vs Kolkata Knight Riders | M.A.Chidambaram Stadium Chennai, Tamil Nadu |
| 27-April-2018 | 8:00pm | Royal Challengers Bangalore Vs Rajasthan Royals | M.Chinnaswamy Stadium, Bengaluru |
| 28-April-2018 | 4:00pm | Kolkata Knight Riders Vs Delhi Daredevils | Eden Garden Stadium, Kolkata, West Bengal |
| 28-April-2018 | 8:00pm | Kings XI Punjab Vs Sunrisers Hyderabad | Punjab Cricket Association Stadium, Mohali |
| 29-April-2018 | 4:00pm | Chennai Super Kings Vs Royal Challengers Bangalore | M.A.Chidambaram Stadium Chennai, Tamil Nadu |
| 29-April-2018 | 8:00pm | Rajasthan Royals Vs Mumbai Indians | Sawai Man Singh Stadium, Jaipur, Rajasthan |
| 30-April-2018 | 4:00pm | Kings XI Punjab Vs Delhi Daredevils | Punjab Cricket Association Stadium, Mohali |
| 30-April-2018 | 8:00pm | Sunrisers Hyderabad Vs Kolkata Knight Riders | Rajiv Gandhi International Stadium, Hyderabad |
| 01-May-2018 | 4:00pm | Chennai Super Kings Vs Rajasthan Royals | M.A.Chidambaram Stadium Chennai, Tamil Nadu |
| 01-May-2018 | 8:00pm | Kings XI Punjab Vs Royal Challengers Bangalore | Punjab Cricket Association Stadium, Mohali |
| 02-May-2018 | 8:00pm | Delhi Daredevils Vs Sunrisers Hyderabad | Feroz Shah Kotla Stadium, Delhi |
| 03-May-2018 | 8:00pm | Kolkata Knight Riders Vs Chennai Super Kings | Eden Garden Stadium, Kolkata, West Bengal |
| 04-May-2018 | 8:00pm | Delhi Daredevils Vs Rajasthan Royals | Feroz Shah Kotla Stadium, Delhi |
| 05-May-2018 | 8:00pm | Royal Challengers Bangalore Vs Kings XI Punjab | M.Chinnaswamy Stadium, Bengaluru, Karnataka |
| 06-May-2018 | 4:00pm | Sunrisers Hyderabad Vs Chennai Super Kings | Rajiv Gandhi International Stadium, Hyderabad |
| 06-May-2018 | 8:00pm | Delhi Daredevils Vs Mumbai Indians | Feroz Shah Kotla Stadium, Delhi |
| 07-May-2018 | 4:00pm | Royal Challengers Bangalore Vs Kolkata Knight Riders | M.Chinnaswamy Stadium, Bengaluru, Karnataka |
| 07-May-2018 | 8:00pm | Kings XI Punjab Vs Rajasthan Royals | Punjab Cricket Association Stadium, Mohali |
| 08-May-2018 | 8:00pm | Sunrisers Hyderabad Vs Mumbai Indians | Rajiv Gandhi International Stadium, Hyderabad |
| 09-May-2018 | 8:00pm | Kings XI Punjab Vs Kolkata Knight Riders | Punjab Cricket Association Stadium, Mohali |
| 10-May-2018 | 8:00pm | Rajasthan Royals Vs Delhi Daredevils | Sawai Man Singh Stadium, Jaipur, Rajasthan |
| 11-May-2018 | 8:00pm | Mumbai Indians Vs Kings XI Punjab | Wankhede Stadium, Mumbai, Maharashtra |
| 12-May-2018 | 8:00pm | Delhi Daredevils Vs Chennai Super Kings | Feroz Shah Kotla Stadium, Delhi |
| 13-May-2018 | 4:00pm | Rajasthan Royals Vs Sunrisers Hyderabad | Sawai Man Singh Stadium, Jaipur, Rajasthan |
| 13-May-2018 | 8:00pm | Kolkata Knight Riders Vs Mumbai Indians | Eden Garden Stadium, Kolkata, West Bengal |
| 14-May-2018 | 4:00pm | Chennai Super Kings Vs Kings XI Punjab | M.A.Chidambaram Stadium Chennai, Tamil Nadu |
| 14-May-2018 | 8:00pm | Delhi Daredevils Vs Royal Challengers Bangalore | Feroz Shah Kotla Stadium, Delhi |
| 16-May-2018 | 8:00pm | TBC Vs TBC, Qualifier 1 | M.A.Chidambaram Stadium Chennai, Tamil Nadu |
| 17-May-2018 | 8:00pm | TBC Vs TBC, Eliminator | Eden Garden Stadium Kolkata, West Bengal |
| 19-May-2018 | 8:00pm | TBC Vs TBC, Qualifier 2 {IPL 2018 Match} | Wankhede Stadium, Mumbai, Maharashtra |
| 21-May-2018 | 8:00pm | TBC Vs TBC, Final VIVO IPL 2018 Match | M.Chinnaswamy Stadium, Bengaluru, Karnataka |