Cheer for your favourite IPL team with the new Vodafone #Hakke Bakke slogan, join the Vodafone SuperCheer contest
Click your picture with Zoozoo and become a part of the World's Largest online photo Album – Vodafone SuperAlbum
Enjoy a money can't buy experience, make your dream of watching your favourite cricketers come true with Vodafone SuperFan contest
Join the Vodafone FanArmy, go crazy with your friends cheering your favourite teams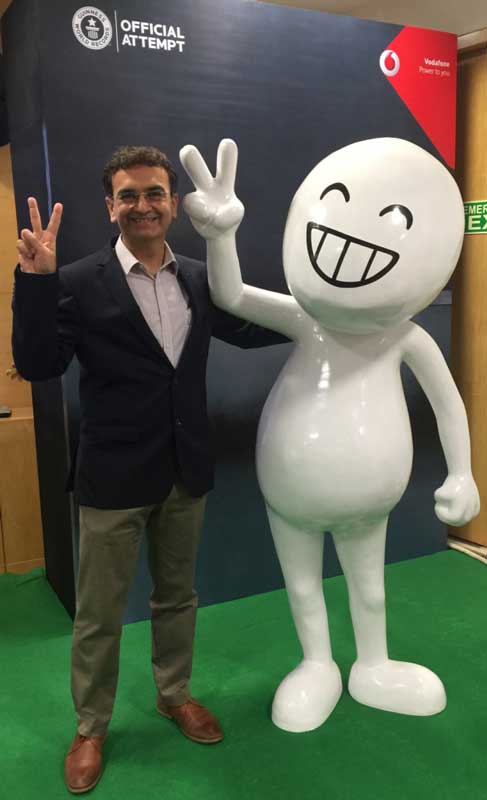 NewZNew (Chandigarh) : As the Indian Premier League (IPL) fever grips the country, Vodafone India, continuing with its rich tradition, is offering unique, innovative and engaging experiences to customers. The fun and excitement quotient at the on-going Vivo IPL 2016, has exponentially grown with a series of 'SUPER' experiences on offer, all aligned to its latest Vodafone SuperNet™ proposition.
Enthralling audiences will be marquee initiatives including Vodafone SuperCheer, Vodafone SuperAlbum, Vodafone SuperFan and Vodafone FanArmy – all designed specially to make a strong connect between the fans, the brand and their favourite sport. These money-can't-buy opportunities enable Vodafone customers to take centre stage on a global sporting platform like the IPL, creating memories to cherish for life!
Announcing the 'SUPER' exciting experiences on offer to Vodafone customers, Sandeep Kataria, Director – Commercial, Vodafone India, said, "Vodafone has been associated with IPL since its inception 9-years ago. As we look forward to another exciting season of cricket, we are using this edition of the marquee cricket tournament as an opportunity to promote our recently launched Vodafone SuperNet™ proposition celebrating the major improvements in our network bringing new benefits to our customers. A series of unique experiences and engagement opportunities that combine the best of the past with the excitement of the new have been specially created for customers to actively participate in the Vivo IPL 2016. Vodafone SuperCheer, Vodafone Super Album, Vodafone SuperFan and Vodafone FanArmy are all being promoted with a creative blitzkrieg and amplified with a high decibel 360 campaign. We hope that our customers and cricket enthusiasts will enjoy this 'Super' exciting and rewarding experience while enjoying the cricket-ainment at the stadium cheering their favourite teams."
Key Highlights of the Campaign
Vodafone SuperFan: The much popular Vodafone SuperFan is back this year too. Vodafone customers can win a money-can't-buy experience of watching the IPL match with full hospitality, meet the winning captain and get an autographed match ball. Customers need to simply SMS SUPERFAN <CITY> to 199 and the winners will be selected basis a lucky draw.
Vodafone FanArmy: Vodafone also gives an opportunity to customers participating in the Vodafone SuperFan, to be a part of the Vodafone FanArmy.
Vodafone SuperAlbum: One of the marquee initiatives this IPL is the Vodafone SuperAlbum. Click a picture with Zoozoo and be part of the Guinness World Record. Spot the adorable Zoozoo at stadiums where the matches are being held and at Vodafone stores near you. Click a picture and become a part of the World's Largest Online Photo Album with a Mascot/Mannequin.
Dance to #HakkeBakke – Vodafone has specially created a Cheer Slogan – Hakke Bakke, to help spread the joy and sprit of cricket amongst fans. This anthem will be promoted across all mediums including an online video featuring popular dance artist of film ABCD fame – Lauren Gottlieb. As the tournament progresses, Vodafone will give an opportunity to the fans to become a part of Vodafone SuperCheer.
Vodafone SuperCheer – Cheer for your favourite IPL team with specially created Vodafone SuperCheer slogan and spread the joy. Vodafone SuperCheer also invites fans to create a crowd-sourced mash up video of the Vodafone Cheer Slogan. Record the Cheer with Dubsmash or any other relevant medium in your own renditions and become part of a music video with stars.
Vodafone India is the official partner and official sponsor (on-air) of Vivo IPL 2016. Vodafone is the only national brand to be associated with IPL since its inception in 2008. Since then, Vodafone and IPL have become synonymous with each other and in the minds of sports lovers.