Volkswagen, Europe's leading car manufacturer, today celebrated its 10th year anniversary of its association in Punjab with its dealer partner, Lally Motors Pvt. Ltd. Over the years, this ten-year association has developed into a thriving partnership between two definitive brands, both driven by impeccable standards of quality and a constant pursuit of excellence.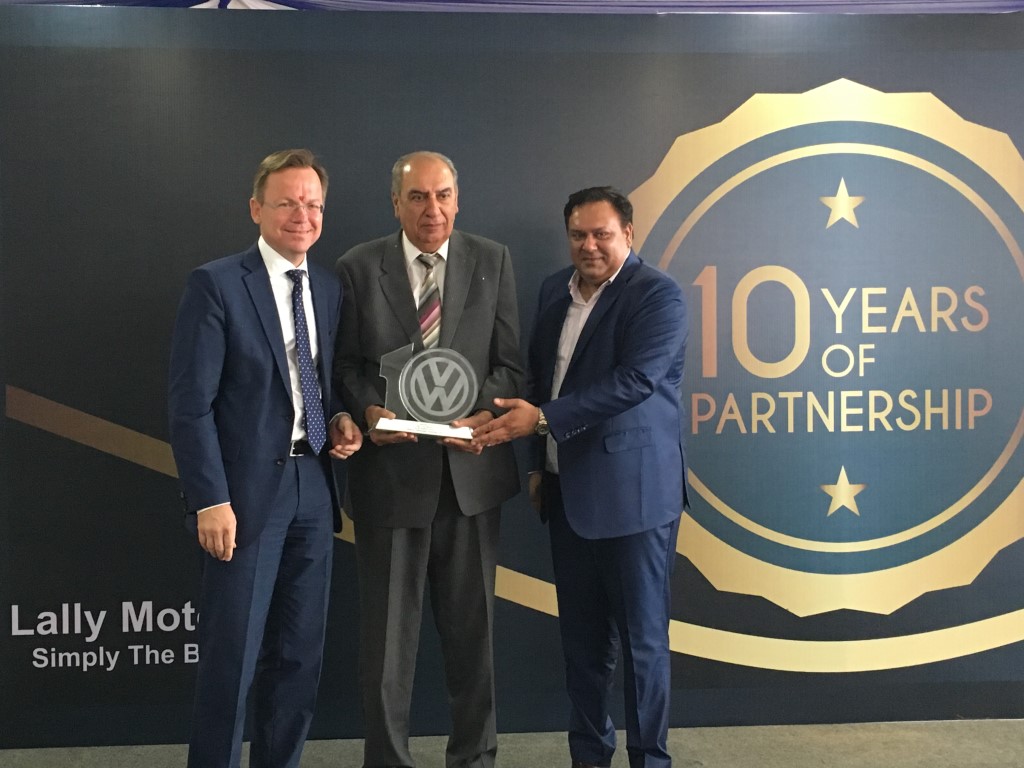 Under the able leadership of Mr. Saravdeep Singh Lally, Director, Lally Motors Pvt. Ltd. the network has sold over 10,000 units across carlines from Volkswagen India and has received numerous accolades. With significant recognition from Volkswagen India, including a Platinum Award for Service, the team at Lally Motors Pvt. Ltd. are also two-time recipients of the prestigious Volkswagen Gold Pin Award. The Lally Group has also successfully managed to retain its No. 1 position for customer satisfaction over the last ten years and was recently named, 'Dealer of the Year 2017' by FADA (The Federation of Automobile Dealers Associations).
Speaking on the occasion, Mr. Steffen Knapp, Director, Volkswagen Passenger Cars said, "Through this long-standing partnership, Volkswagen has successfully, over the last ten years, been able to strengthen its presence in North India. Our dealer partners are an integral part of solidifying our presence in the country and this milestone achievement stands testament to the collaborative efforts towards bringing the impeccable standards of Brand Volkswagen to the country."
Adding to this Mr. Saravdeep Singh Lally, Director, Lally Motors Pvt. Ltd. Said, "It has been an absolute pleasure to be a part of this association for the past ten years and look forward to the next milestone. We will continue to fortify our relationship with the brand as well as our premium customers in the region and are confident that we will maintain Volkswagen's world-renowned standards of customer care and service at every touchpoint."
In the last ten years, the partnership has evolved from a single touchpoint to a network of world-class facilities in North India. With four dealerships and workshops in, Chandigarh, Hoshiarpur, Jalandhar and Ludhiana, each dealership is equipped with a state-of-the-art 3S (Sales, Service and Spares) set-up.
Dealership Address:
Volkswagen Chandigarh:  Plot No.9, Industrial Area, Phase 1
Volkswagen Hoshiarpur: Near Sonalika Tractors, Jalandhar-Hoshiarpur Highway
Volkswagen Jalandhar:  G.T. Road, Opp.Lucky Dhaba, Near Ansal Plaza Multiplex
Volkswagen Ludhiana: G.T Road, Jugiana