Launches its new range of ACs with over 120 SKUs including All Star Inverter ACs

All Star Inverter ACs powered with "Two Stage Steady Cool Compressor" technology

Fresh Air Coolers powered with unique "Smart Humidity Controller" technology
Voltas, India's No. 1 AC brand from the house of the Tatas, fortified its leadership position by introducing the 2018 range of "Voltas All Star Inverter ACs". Based on the unique "Two Stage Steady Cool Compressor", the AC, unlike other ordinary Inverter ACs has two stage expansion of the refrigerant under two stage compression, which leads to "Steady Cooling & Steady Savings". This year, Voltas has launched over 120 SKUs in the AC domain which includes Inverter ACs, Split ACs and Window ACs.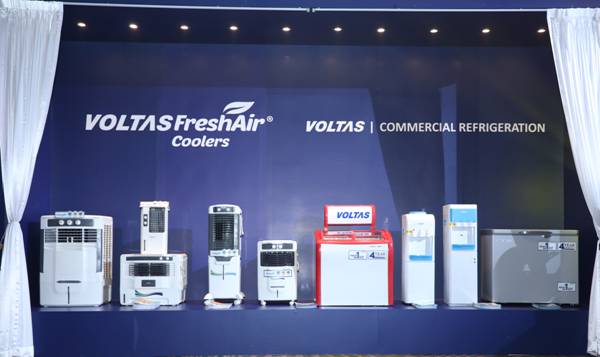 The new range of inverter ACs can cool up to 55 degree Celsius, run silently at 18 dB (A). It also comes with other features like advanced air purifier & 5D DC motor technology (all the motors in the AC work on DC principle). In addition, the product range also comes with a "5 year comprehensive warranty", "free standard installation" and "5% cashback through credit & debit cards".
Commenting on the occasion, Mr. Pradeep Bakshi, Managing Director and Chief Executive Officer, Voltas Limited, said: "Voltas has the highest Brand Equity in cooling and comfort domain, and is the No.1 brand in AC category. Consumers have developed a preference for Inverter ACs which are now the fastest growing category in the AC industry. Keeping pace with the industry trend, Voltas has launched one of the largest range of Inverter ACs in the market".
"All-Weather ACs"
Further building on the existing All Weather brand equity, Voltas has also introduced a new & improved range of All Weather ACs with key features of High Ambient Cooling, Intelligent Heating & Active Dehumidifier. These features help the consumer to run the AC throughout the year across all kinds of weather conditions.
With these introductions, the Company now offers a strong product line-up of ACs including Inverter AC, Split AC and Window AC, selling through more than 15,000+ customer touch-points nationwide. The new range of ACs will continue to support Voltas' growth momentum and sustain its market supremacy. As per the latest independent third party Retail Audit report across multi brand outlets, the Company is the No. 1 AC brand in India with a market share of 23.3% (Q3 FY 2017-18), way ahead of its nearest competitor.
Fresh Air Coolers
Expanding the horizons, the Company has extended its offerings this year with the introduction of the new range of 'Voltas Fresh Air Coolers' with a unique value proposition of "Har Garmi Ka Cooler" (A cooler which works in any kind of heat). It is powered by a "Smart Humidity Controller" which optimizes the humidity in the ambient air and gives balanced cooling. This is coupled with other features like turbo air throw & anti-microbial tank. Voltas Air Coolers come with an attractive "0% consumer finance" scheme.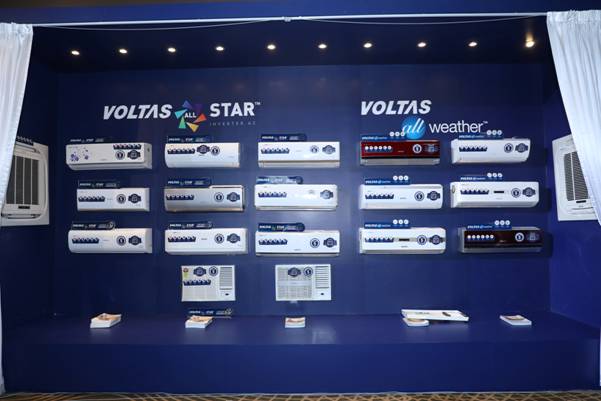 The product lineup has been further augmented this year to 35 SKUs in desert, personal, window & tower coolers space. As per the latest independent third party Retail Audit report across multi brand outlets, the Company is amongst the top 3 Air Cooler brands in India.
Commercial Refrigeration Products
In the emerging segment of CR products, Voltas has launched new SKUs like combo coolers, curved glass freezers & vertical display freezers. Also, Voltas has launched Water Coolers with RO & UV purification technology which is amongst the first in the industry.  Moreover, Voltas has also launched bottom mounted water dispensers. With these introductions, Voltas has over 100+ SKUs in Commercial Refrigeration Products.
With this augmented lineup of ACs, Air Coolers & Commercial Refrigeration Products, Voltas has introduced more than 250 SKUs of cooling products in the market in 2018.