Watch 10 Indian Crime Thriller Shows Based on Books That You Need to Watch: There are a lot of Indian Crime Thriller Shows Based on Books. For viewers who enjoy the adrenaline rush of delving into mysteries and learning the most sinister truths, crime thrillers have an enduring allure.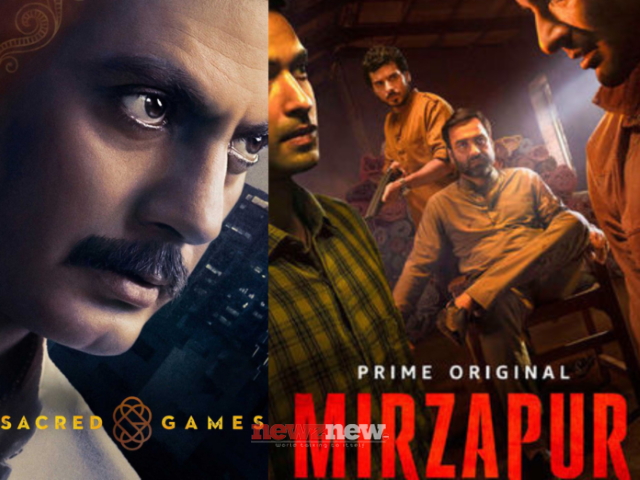 A burgeoning genre of crime thriller dramas has appeared on Indian television, frequently adapted from riveting books that have captivated readers for years.
Audiences are kept on the edge of their seats by these shows' riveting blend of suspense, complicated characters, and convoluted plots. This article will discuss 10 Indian crime thriller shows that you must watch. They are all based on books.
10 Indian Crime Thriller Shows Based on Books That You Need to Watch
1. "Sacred Games" (2018)
Based on: "Sacred Games" by Vikram Chandra
Based on the same-titled, much-praised novel by Vikram Chandra, "Sacred Games" is a seminal Indian criminal thriller series. The program focuses on the linked lives of a police officer and a mobster as they make their way through Mumbai's seedy underworld. Saif Ali Khan and Nawazuddin Siddiqui both give outstanding performances in this film that explores the complexity of politics, power, and crime.
2. "Scoop"(2023)
Based on the original concept
The writers of the renowned hit show Scam 1992 have created a riveting and intriguing thriller called Scoop about a crime reporter named Jagruti who is suspected of killing her coworker. The plot revolves around Jagruti's efforts to free herself from the situation while simultaneously identifying the real offender and defending herself from the law and those around her. In addition, the episode explores the murky side of journalism and how some people try to stifle the opinions of others.
3. "Mirzapur" (2018)
Based on the original concept
A crime thriller television series called "Mirzapur" is situated in the lawless interior of Uttar Pradesh. Although it wasn't based on a book, it tackles the dynamics of power, criminality, and family disputes by drawing inspiration from actual occurrences. It is an intense and immersive experience with a brilliant ensemble cast.
Recommended:Top 10 Hot Indian Web Series on Netflix India
4. "Criminal Justice" (2019)
Based on: "Criminal Justice" by Peter Moffat (UK)
The television show "Criminal Justice" is a remake of the same British program. It chronicles the story of a teenage taxi driver who is charged with a horrific crime that he has no memory of committing. The investigation of the criminal justice system and how it affects people in the episode is compelling and thought-provoking.
5. "Jubilee" (2023)
Based on The original concept
The exquisite Vikramaditya Motwane work Jubilee recounts a poetic tale of a group of characters who are all willing to take chances in order to pursue their goals, loves, and other aspirations.
It is a story about maximizing your life's potential and obtaining as much as you can.
Its screenplay, soundtrack, and storyline are praised for providing a distinct viewpoint.
6. "Bhaukaal" (2020)
Based on the original concept
The crime drama series "Bhaukaal" was influenced by actual occurrences in Muzaffarnagar, Uttar Pradesh. The story follows a daring policeman who is on a mission to clean up crime and corruption in his community. The program provides a realistic depiction of the difficulties faced by law enforcement in communities plagued by crime.
7. "Abhay" (2019)
Based on the original concept
Anthology-style Indian crime thriller series called "Abhay" Each episode examines a stand-alone criminal tale that draws inspiration from actual cases. The main character, played by Kunal Khemu, is a perceptive investigator who cracks difficult cases. A compelling trip into the deepest recesses of the human psyche, the show.
8. "Asur" (2020)
Based on the original concept
"Asur" is a psychological crime thriller that blends mythology and current methods of solving crimes. It follows two forensic investigators as they work quickly to solve a string of horrific killings. The show has a devoted following thanks to its original premise and gripping narrative.
9. "Aarya" (2020)
Based on: "Penoza" by Pieter Bart Korthuis (Netherlands)
"Aarya" is a translation of the Dutch television program "Penoza." It depicts the tale of Aarya, a lady whose husband's passing forces her to take over the family's drug operation. Her development from a domestic goddess to a formidable criminal boss is explored in the series. The leading lady's portrayal by Sushmita Sen has received high accolades.
Recommended: Top Hindi Crime Thriller Web Series on Netflix
10. "Rangbaaz" (2018)
Based on: The life of Shri Prakash Shukla, a notorious gangster
The Life of infamous criminal Shri Prakash Shukla "Rangbaaz" is a crime thriller series that follows the career of infamous gangster Shri Prakash Shukla from Uttar Pradesh. The program examines his ascent to prominence, illegal activities, and ultimate demise. It provides a grim and accurate portrait of North India's criminal underworld.