Watch Online Missing Rani Web Series HotMasti Cast, Actress, Release Date: Missing Rani is a newly released web series. The web series was released on 25 February 2022. Missing Rani web series cast features Lucky, Ravi Dutt, Hansika Baware.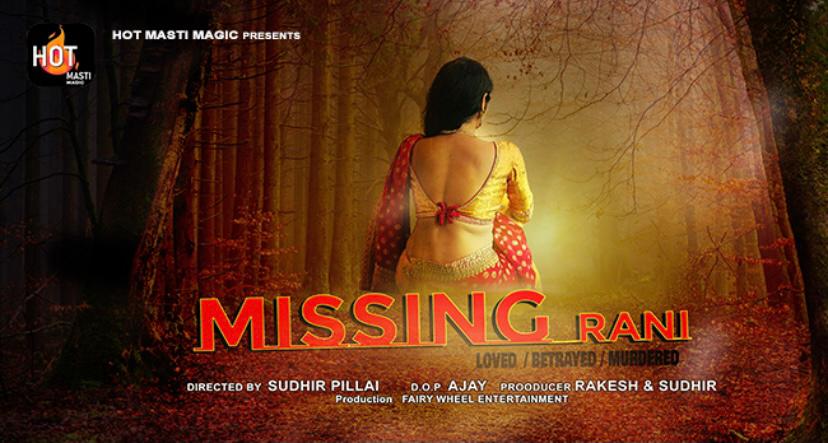 It is an erotic, drama genre web series. The web series was only suitable for audiences above 18 years of age.
Watch online Missing Rani web series on Hotmasti App. The web series is directed by Sudhir Pillai and produced by Rakesh & Sudhir under the banner of Fairy Wheel Entertainment.
Missing Rani Web Series Story
It is the story of a girl Rupa Rani who was proposed by a man and she accepts her proposal. But after some time she became pregnant and the man refused to marry her at that time.
For this, they fight with each other and after that Rupa got missing. That man marries another girl but he was unable to have a baby so for this, he called an astrologer.
The astrologer tells a way to have a baby. In the last police reach to man house in search of Rupa killer. In the last, it was found the astrologer had killed her. Missing Rani web series is streaming online on the HotMasti App from today.
Missing Rani Web Series Cast
Lucky
Hansika Baware
Ravi Dutt
Bobita Patidar
Suresh Dhale
Ranjeet Kahar
Missing Rani Web Series Details
| | |
| --- | --- |
| Title | Missing Rani |
| Cast | Lucky, Ravi Dutt, Hansika Baware, Bobita Patidar, Suresh Dhale, Ranjeet Kahar |
| Genre | Erotic, Drama |
| Type | Web Series |
| Director | Sudhir Pillai |
| Release Date | 25 February 2022 |
| Online Video Platform (OTT) | Hotmasti App |
| Language | Hindi |
| Country | India |