Wedding Summer Special National Silk Expo starts at Himachal Bhawan, Chandigarh: National Silk Expo, a national level exhibition cum sale of exquisite handloom products started at Himachal Bhawan, Sector – 28B, Madhya Marg, Chandigarh.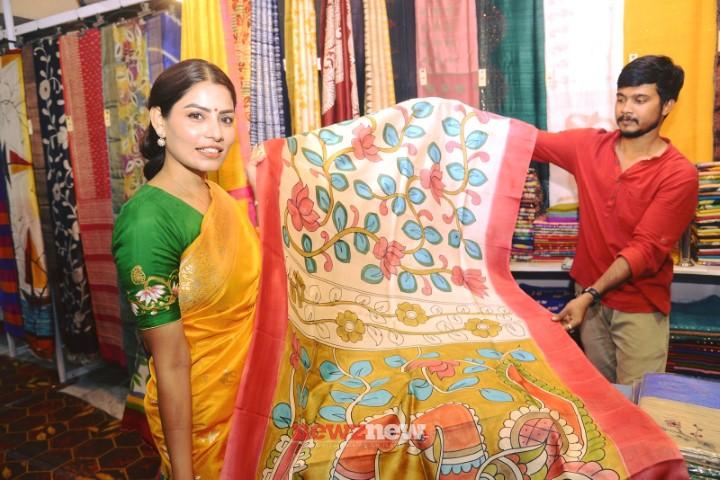 The exhibition is being organized from 6th to 11th of July 2023 and will remain open to the visitors from 11 am till 9 pm.
The National Silk Expo is an ideal place to visit for your Teej, Raksha Bandhan & Wedding shopping. With the latest collection here on display, you will be spoilt for choice as the fair has an awesome range of silk saris, salwar suits, dupattas, stoles and other textile material.
Saris with intricate Madhubani prints from Bihar are a highlight of the National Silk Expo. Tussar silk, the soft fabric noted for its simplicity and colour combinations and hand embroidered Kantha silks are also available.
Saris with tribal designs from Chhattisgarh stand as a testimony to the acumen of the weavers from the state. The stalls also have Chanderi, Maheshwari, Kanjivaram & Kosa saris while for the lovers of Pochampally, Ikkat silks, there is an exclusive collection of saris in varied hues from Andhra Pradesh.
The Expo is organised by Gramin Hastkala Vikas Samiti, which was founded by a group of artisans, designers, social activists, academics and environmentalists, to promote exquisite traditional skill, cotton and creations of the weavers and encourage them to be contemporary and economically relevant. The Organizer of National Silk Expo, Jayesh Kumar Gupta said that the intention of the organization is to make quality silks accessible and sell the products directly to the customers from weavers and artisans without the middleman thereby providing a direct market to the handloom industry.
More than 100 designers and weavers are part of this season's exhibition which includes designer clothes from each region of the country; the exhibition treats the consumers with a kaleidoscope of India's colorful diversity and talent.
Artisans from 14 handloom weaving States are displaying more than 1,50,000 varieties of sarees and dress materials of their work here for visitors to browse through and choose from. Sarees with beautiful designs from their states stand as a testimony to the acumen of these weavers.
Weavers are also offering Gadwal and Dharmavaram varieties of saris. Assam Munga silk, the most expensive on the show, is also available at very lucrative prices. The traditional Gathjoda and Patola collection of saris from Gujarat which carries the history of the place are also on display.