What should we look for before hiring a Mathematics Tutor?: If you are struggling with mathematics, then believe us when we say that you are not alone. Many kids find the subject daunting. This is where a tutor can help.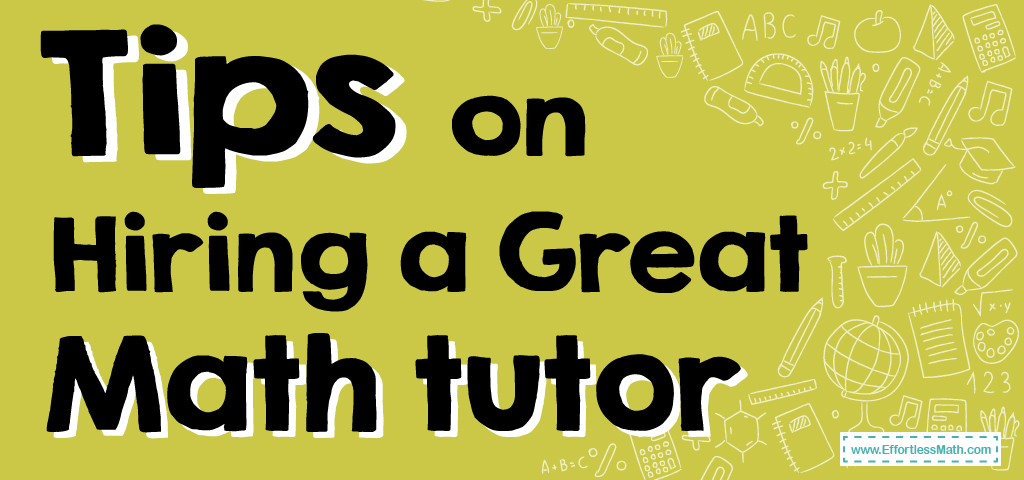 However, finding the right mathematics tutor is as important as the decision to hire one. Every student has a different need. A tutor who is a good fit for one student might not fit the requirements of another. The right tutor will ensure that learning mathematics feels like fun and not a chore. It is important that both the kids and parents take more effort in finding the right tutor and not just hire anyone.
Should I go for an experienced tutor or anyone with the desired knowledge will do?
Should I take one-on-one tuitions or join a group class?
Will the tutor help me score more?
Should I hire someone with a Bachelor's degree or do I need a tutor with a Master's?
These questions can be endless and can make the process of hiring a math tutor tough. But, don't panic. If you are looking for guidance to hire a math tutor, then you are in the right place. The following pointers will make your search quicker and more fruitful!
Understanding the Need
Students decide to look for tutors if they score poor grades and are struggling to complete their assignments. The student and the parent need to identify exactly what they are looking for. Are you looking for a tutor who will help you acquire an in-depth understanding of the concepts or someone who will help you in improving your speed and accuracy? Is this a one-off requirement or does the child need regular help? Look for tutors who understand the curriculum and the needs. Goals should be discussed in detail with the tutor so that everyone is on the same page. When the target is clearly defined, it makes both the students and the tutor accountable and more focused. Choosing a tutor with a good amount of knowledge on the subject is not sufficient. One should also ensure that the tutor can meet the expectations that he/she may have set for their learning journey.
Communication/Articulation
Anybody who possesses knowledge in mathematics, required for the concerned grade, can solve math problems. But this qualification alone does not make one a great teacher. A great teacher always communicates well with the student and tries to understand the root cause of the student's problem. A student may have a good understanding of a particular topic while lacking an understanding of the basics. The right tutor always identifies the student's challenges and finds ways to address them. For instance, Cuemath teachers focus on the 'Why behind the What' to make sure that the students understand the concepts and their applications and not just rote learn them. 
Rapport with Students
The bond between a student and the teacher is a special one. They don't have to be friends but it certainly helps if there is a good rapport between the two. If the student doesn't feel comfortable with the teacher or has a hesitation in communicating, then the whole learning process becomes a lot harder. On the other hand, if the teacher maintains a good rapport with the student and is genuinely interested in helping the student get better, he/she will put in more effort to achieve the same. It is also true that a student seldom complains about a teacher who has a good sense of humor. If they can laugh together and learn at the same time, the sessions become more engaging. Don't you think so?
Experience in Math Tutoring
A person with sound knowledge in mathematics is not necessarily a great tutor. A good tutor takes effort to keep the learning process engaging as well as fun. How a tutor explains a concept and its applications is as important as his expertise in the subject. There is no point in hiring a tutor who knows the concepts well but fails to transfer his knowledge to the student, right? Hence, the tutor needs to have relevant teaching experience in addition to possessing strong expertise in the subject.
Mode of Learning
Are you a better learner in a group or do you prefer a one-on-one session? Do you want to take the classes online or you find it easier to concentrate only when the tutor is physically present in the same room? You need to answer these questions before making a choice.
Professionalism
When it comes to your child's education, you want a teacher who is reliable and sticks to the agreed schedule and plan. It is always better to hire a tutor who has the reputation of being a professional. For example, if the tutor has promised to help out with test preparation, then he/she needs to do so at the right time. This helps build the trust factor and you can count on him/her to deliver an efficient learning process. A teacher is no good if he/she cancels classes abruptly or is unreachable at the time of need. Besides being subject matter experts, these are desirable characteristics in a tutor.
Patience and Encouragement
Being patient and encouraging are the key qualities expected in any good teacher. When the student gets overwhelmed while trying to grasp a concept or while solving problems, a good tutor always patiently helps the student understand the concept. Most kids have the aptitude to do well in math. What they may be lacking is a patient teacher who encourages them to keep at it. It gives a great sense of relief to the parents when they know that the tutor will not give up on their kid!
Ask questions
If you are hiring a tutor, then do not shy away from asking questions. Enquire about his/her experience, availability, the average grade that his/her students get, X-factor, methods of teaching, fees that he/she plans to charge, etc. Ask the tutor the reason for choosing this profession or how he/she would handle a student who does not pay attention during the class. Since you are investing in education, which will essentially shape a major part of your child's future, you may want to make sure that you are making an informed and right decision.
Resourcefulness
If your child is struggling in the subject, then it is wise to have a tutor who is not afraid to try new and innovative methods. Traditional teaching methods that are similar to classroom-teaching can sometimes be mundane and fail to inspire the student. However, a resourceful teacher would think of a variety of techniques to explain the concepts in a nonconventional way resonating more with the child. A great tutor will gauge the student's comfort level and mends the teaching methods accordingly.
Set your budget and follow it
Do the math on your budget before you look for a tutor. You do not want to compromise on your child's education but you also need to make sure that you don't end up paying more than what you can afford. If you are willing to research, you will find a great teacher without shelling out a bomb.
Trial class
Always make it a point to request a trial class with the tutor. Choose a topic that you find the most challenging for the trial class. This will give you a chance to assess the tutor's way of teaching, patience levels, clarity in the concepts, and the ability to explain them in the right manner. Not every student-teacher combination works well. So go ahead and keep trying until you find the right one!
What if I still can't find the right tutor?
Open mind
All these points are just general guidelines to help you in your search for the perfect tutor. However, it is important to have an open mind. The world is full of talented people and it is worth going with your gut at times! If the tutor doesn't perform according to your expectations, then think of switching. Do not settle. Keep looking for the tutor who fits your needs. You never know! You may find the perfect tutor when you least expect it!
Now that you have a fair idea of the key points to focus on, you will be more confident in your search for the right tutor. Put this newfound knowledge to test with the expert teachers at Cuemath. Know more about them with a free trial class. They have a personalized learning plan for every student and focus on building a strong foundation on the concepts in such a way that students feel at ease with math and stop fearing it. Good luck with the hunt!
If you have any more suggestions or want to share your experience of looking for the right tutor, please comment below and tell us about it!