Emerging economies are playing an increasingly important role in clinical trials
Out of 119,109 human trials in 190 countries, less than 3000, or 2%, are being done in India compared to 9,352, or 8%, in neighboring China as per clinicaltrial.gov

NewZNew (New Delhi) : With a young and informed workforce, high density of population and prevalence of all major diseases, India is an attractive destination for conducting clinical trials. However, lack of clarity surrounding recent regulations and guidelines are hampering new research projects, pushing some of them to other countries.
In this light, Deptt of Academics and Research, Fortis Health Care headed by Prof Upendra Kaul, today organized a one of its kind workshop to bring together all key stakeholders on one platform, generate a discourse on the key subject and raise the issues that need to be clarified or ironed out.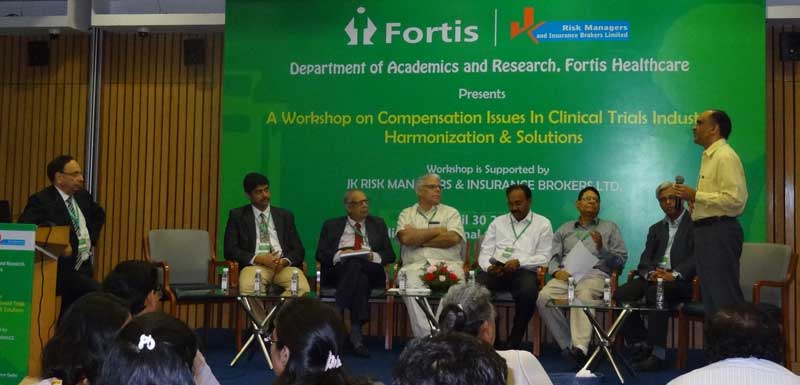 Supported by JK Risk Managers and Insurance Brokers Limited, the "Workshop on compensation issues in Clinical Trial Industry – Harmonization and Solutions" aims to create a more open and conducive environment and to let the policy makers realize the progress made in executing new trials and some of the issues which are still of concern so that clarifications are made in this regard.
The day-long discourse had as speakers senior members of regulatory body (DCGI), Dy.Drug Controller General Mr A K Pradhan, Sponsors of Clinical Trials like Astra Zeneca, Boehringer Ingelheim, Medtronics, Boston Scientific, Biotronik, St Jude etc., representatives from Clinical Research Organizations (CROs) like Quintiles, Max Neeman etc and representatives from Insurance Companies like ICICI Lombard, New India Insurance, and Oriental Insurance etc.
The clinical aspects will be brought to light by senior doctors from the Fortis chain of hospitals including reputed Medical Oncologist Dr Vinod Raina, leading Neurologist Dr Shamsher Dwivedi, apart from eminent Cardiologist Prof Upendra Kaul. Other prominent personalities who have been associated with the field of Clinical trial in India such as leading clinical pharmacologist Prof Ranjit Roy Chaudhury; Dr. S. K. Gupta – Director & Dean, Institute of Clinical Research (India); and legal luminaries such as Dr B T Kaul Chairman,Delhi Judicial Academy.
"India offers a very lucrative environment for clinical trials. It has a large English educated young population including scientists and researchers. India also offers significant cost advantage as compared to developed and other emerging economies, 40- 60% lower than in developed countries and around 10- 20% lower than emerging economies. Indian companies have already proven its capabilities in discovering and developing drug candidate molecules and they are highly capable in research and development particularly in drug discovery. Given the concerns raised globally about practices in clinical trials, Indian authorities have rightly revised their guidelines to make the process more transparent. We as stakeholders need to make sure that there is absolute clarity about the new guidelines, efficiency in execution and rectification of lingering concerns so that crucial clinical trials go on smoothly," said Dr Kaul.
India has 3–4 million scientists, 500 investigators, 572,000 doctors, 43,322 hospitals and dispensaries and about 8.7 lakh beds including both private and public. Many of these scientists are English-speaking and have an excellent technical skill. A number of contract research organisations , pharma companies from developed countries forging R&D alliances with Indian companies because they offer quality and cost-effective services in medicinal chemistry, formulation development, and toxicology areas. These alliances are also giving preclinical candidates or clinical candidates proof of concept in humans.
The scope of the workshop was to track & discuss the current regulations in clinical research which have been made by the regulatory authorities during the last few years. These new guidelines were made to make clinical research more transparent, ethical and meaningful. The issues of proper consenting process and regulations for compensations for the subjects participating in clinical trials evaluating drugs or devices have also been incorporated as new rules. Many of these guidelines and rules still are not very clear to various stakeholders involved in clinical research leading to hesitation to start new Research projects.
As they discussed the issues around clinical trials in India, the organizers and participants hoped to instill greater confidence in various stakeholders regarding the progress made in encompassing the amended guidelines so as to get India back on the global map as a safe, logical and efficient clinical trials hub.