World's Largest Diya with 3,000 Litres of Oil to be Lit at Hero Homes in Mohali:  Renowned real estate developer, Hero Realty has planned a unique celebration on the occasion of Diwali on October 22 this year.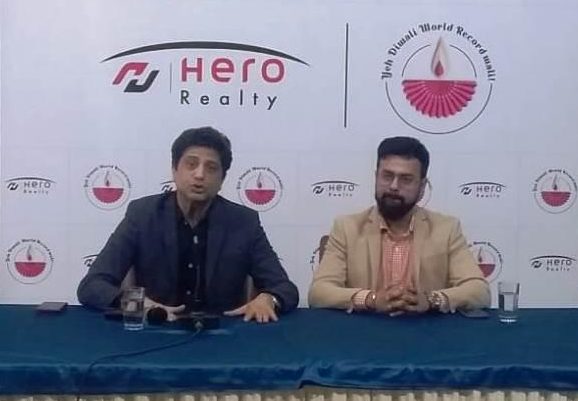 Combined with the dual intent of ringing in the celebrations in the spirit of Diwali, the unique event has been conceptualised to spread social messages in unconventional ways. A mega sized, and also the world's largest known, diya (earthen oil lamp) will be lit with 3,000 litres of oil to promote unity and brotherhood. It will be the largest symbol of peace, secularism, and humanity.
The construction of this large-scale diya has been commissioned and will be housed at the Hero Homes Court Yard in Mohali. The diya, when lit, will symbolise the common emotions of Indians across the world and their intent to spread and stand up for world peace, freedom, and humanism.
Approximately 3,000 litres of oil for this diya will be crowdsourced from various donors, contributors and constituencies participating in this iconic exercise for unity. The main purpose of lighting diya is to symbolise restoration of peace following the triumph of good over evil.
While announcing this event, Mr Dharmesh Shah, CEO of Hero Realty, said, "Culturally, Diwali marks the restoration of peace and harmony. To epitomise that spirit in our Diwali celebration this year, we are working towards creating the world's largest diya that will serve as a symbol of world peace, secularism, and humanism.
The diya represents our country with its diversity, and the oil in the lamp symbolises all Indians, irrespective of regions, languages, religions and other cultural differences. When we gather in the diya, we become one like the oil in it and the ensuing flame, when lit, is the spirit of Indians in unity." This milestone event is likely to create world record on its completion.
Over the years, the state of Punjab and its inhabitants have become exemplary for selfless service around the world. They have always led humanitarian services right from the front, no matter the region, country or catastrophe – be it nature or man-made.
With the initiative to create the largest diya to spread the message of Indian unity and brotherhood this Diwali, the state will add another feather to its crown, which stands for justice, equality, and peace for everyone.