World's smallest heart pump – Impella—saves life of 81-year-old woman with heart attack: In a respite for the patients suffering from life-threatening heart attack, there is a new ray of hope for living as the Protected Angioplasty with Stenting (PCI) procedure, a treatment that can save the life using a miniature heart pump – Impella, is now available at Paras Hospitals, Panchkula.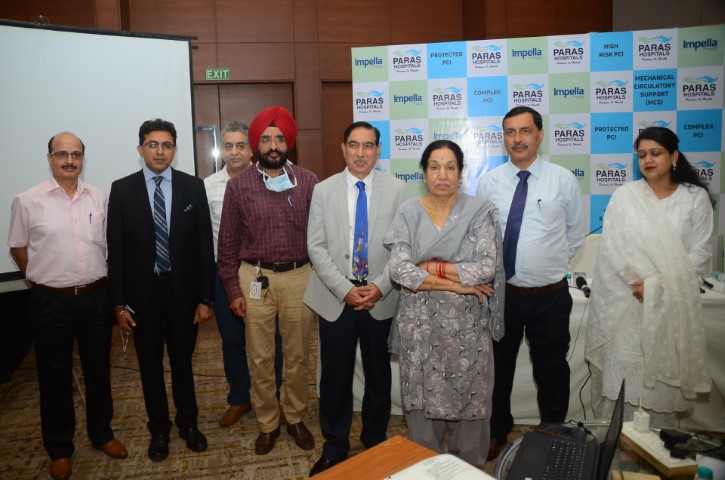 Protected PCI is recommended world-wide for heart patients for whom surgery is not possible or anaesthesia can't be given. This exemplary medical treatment will not only benefit the people of Chandigarh tricity but people from neighbouring states can also avail the facility.
Recently, a team of cardiologists at the hospital successfully performed the PCI to save the life of an 81 years-old woman, resident of Panchkula, who was admitted with a life-threatening heart attack and also had co-morbidities.
Impella – the world's smallest mechanical heart pump – was implanted by Dr Harinder K Bali, Chairman – Cardiac Sciences, Paras Hospitals.
 "The patient was suffering from Acute Myocardial Infarction, with all the 3 arteries including the left main artery were heavily calcified and critically blocked. Heart surgery was ruled out due to co-morbidities, advanced age and calcified aorta (porcelain aorta). After a detailed discussion with the patient and her family, the option of protected PCI was offered to them. The miniature heart pump – Impella, was non-surgically implanted from the femoral artery in the groin. The entire procedure of angioplasty and stenting was done in one sitting and left main bifurcation stenting and right coronary stenting was done", said Dr HK Bali.
He added, "Five stents were deployed during the procedure and stent optimization was confirmed by OCT (Optical Coherence Tomography). The procedure gave her new life and the pump was removed after angioplasty, once the heart was stable."
Protected PCI using an Impella heart pump has been successfully performed for the second time at the hospital.
The hospital has a very competent, experienced and dedicated cardiology, cardiothoracic and cardiac anaesthetist team to tackle such high risk and critically sick patients. We expect far less adverse effects, faster recovery and a better quality of life for these critical patients, most of whom have no other option," added Dr Bali.