NewZNew (Chandigarh) : COLORS as a channel has always been at the forefront of creating meaningful entertainment and shows that are a reflection of our society, an embodiment of a belief that moral transformation is conceivable. Taking this premise further, COLORS' show Code Red provides a beacon of hope, addressing issues of human frailty. To shed light on the inner conflict a human being goes through when faced with a crisis of conscience, Yash Sinha and Manish Chaudhari who are seen on the show were in the city today. Code Red, an hour-long solution-driven show, airs on COLORS every Monday to Saturday at 10:30 PM.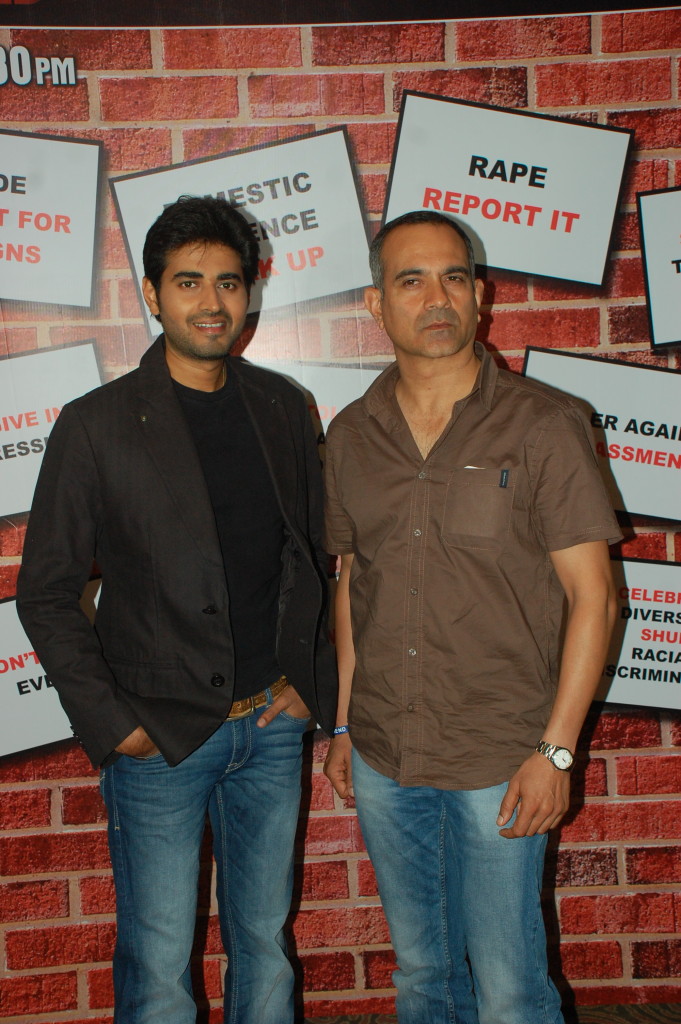 Each week, Code Red features six episodes which bring forth stories based on various human frailties, presented through three prominent themes under the brand umbrella of Code Red – Umeed – focusing on stories who are on the verge of ending their lives, Awaaz – focusing on violence against women and children and Chakravyuh – focusing on various forms of entrapment: physical and psychological. The show features actors Yash Sinha essaying the character of a crime reporter named Kabir, and Manish Chaudhari portraying the role of an NGO representative named Bhaskar, who take viewers through various instances where circumstances and conditions often push a person against the wall. In upcoming weeks, Code Red will touch upon issues such as gender bias, sports-based exploitation of women, abandonment, domestic violence, the plight of NRI brides and apathy from administrative bodies.
[blockquote author="Speaking about the show and his experience of being in Chandigarh, Yash Sinha said," pull="pullright"]"Every part of the country today is speaking up about the injustice that is meted out against citizens and the steps that are required to be taken in this regard. Code Red is a movement which leads the way in creating layered conversations with finding a solution at its helm. Portraying the character of a crime reporter has been a tough journey, but today many viewers recognize me and reach out to me in the hope that I will be able to help them. Being in Chandigarh today has been an incredible experience. The city is quite sensitized towards such issues and citizens are motivated to make Chandigarh a better place."[/blockquote]
Elaborating on his experience of being a part of the show, Manish Chaudhari said, "The amount of positive change that we are enabled to bring about is very encouraging. I have gotten the opportunity the work with the suicide cases and, to me it has brought to light the different psychological factors that can drive people to take such adverse steps. My experience of working on this show has been quite enlightening and I am happy to be in Chandigarh today – a city that has always been very kind to me, whenever I have come here."
Code Red has associated with multiple NGOs such as the Vandrevala Foundation, Mr. Kailash Satyarthi's Bachpan Bachao Andolan, and Shakti Vahini to empower individuals who are victims of these frailties to reach out and ask for help via their helplines. The response that these NGOs have received on their helpline numbers following the launch of Code Red has been encouraging. The overall call volume has increased as more people are searching for solutions for the problems they face at home or work which have affected their morale adversely.
Code Red attempts to understand human weaknesses amidst the daily struggles of life and how people react to situations beyond their control. The show, through different perspectives, showcases the steps that people are likely to take when they are pushed into situations where a breakdown is imminent. Each theme is brought to life by a different production house and the stories are presented by Sakshi Tanwar, who embodies the inner voice and becomes the voice of reason. Over the past weeks, Code Red has touched upon topics ranging from soured relationships, infidelity, misunderstandings, and ragging, to acid attacks, human trafficking, psychological reasons fuelling suicides, revenge, payback, drug abuse and impotency among others.
Code Red is an endeavor to address the broader question that persists beyond the show: "Can we step outside the shadow of our own prejudices and doubts to pay heed to our inner voice that is coaxing us to take action? Are we willing to give hope a chance?"