Young cast and crew unveil poster of Hindi web series 'Aakhri Gaon': Using cinema as a social force to sensitize the audience  – Meghashu Films has come up with a Hindi web series 'Aakhri Gaon' that deals with sensitive issues which women face and are generally considered taboo.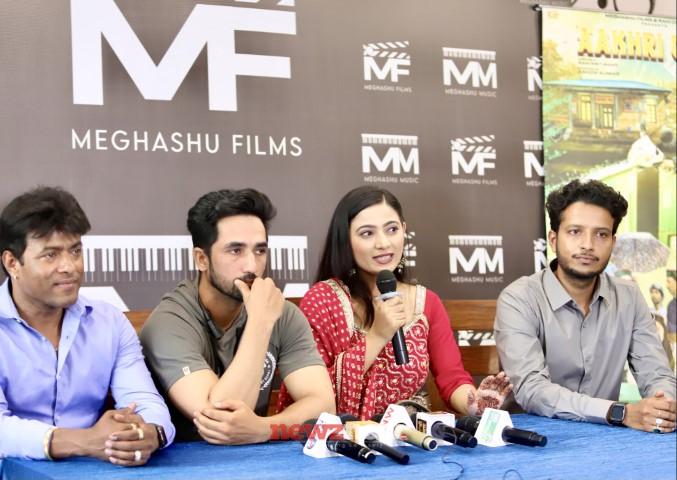 The plot of the series revolves around  bringing up problems like unprotected sex leading to abortions, menstrual hygiene and other several social issues, which village women in far-flung areas face in their daily lives.
The poster of the upcoming Hindi web series 'Aakhri Gaon' was unveiled here in the presence of its Producer-Singer Ashok Kumar, Director Rahi Krit Hans, Actress Kanchan Rai, Writer Gagan Singh and Music Director, D Sanz at Chandigarh Press Club, Sector 27.  Members of the web series star cast- Daler Mehta, Shankar Gupta and Babbi Maan were also present at the event.
Ashok Kumar, who debuts as a producer with the web series informed that the shooting of the web series has taken place in Chandigarh and village Matru Suja  in HP's Mandi district. He said, "'Aakhri Gaon' depicts the perseverance of Indian women. The story focuses on a young doctor  Dr Umang Singh who gets upset on her first posting in the remote village of Matru Suja in Himachal Pradesh. The village is quite inaccessible and so the name 'Aakhri Gaon'. The young city girl, who was brought up and completed her studies in a city like Chandigarh, hesitates to shift to such a village."
"But when Dr Umang starts the new chapter of her life in the village, she quickly falls in love with the locals, their culture and traditions and feels herself to be a part of the community. she immensely gets involved with issues faced by the village women  and  tries to mitigate their problems," added Ashok Kumar, who is also the founder of Meghashu Films.
Director Rahi Krit Hans said that 'Aakhri Gaon' shows women's power in a real sense. "In the web series, the young doctor breaks the stereotypes by highlighting several social problems women face in the village such as unprotected sex, menstrual hygiene, patriarchy etc., and fights for local women's rights. The first season of 'Aakhri Gaon' will have 6 episodes, shooting for which has been completed in 20 days and now the post production work is on."
A renowned Zee Punjabi actress, Kanchan Rai who is playing the role of 'Dr Umang' in the web series told that 'Aakhri Gaon' is the story of every village and every woman. "As a woman, we have to struggle a lot to adjust ourselves to a new environment, but we do that by virtue of inner strength which Indian women have in abundance," said Rai.
Gagan Singh writer said, "Rahi asked me to create a story around this sensitive issue to make people aware. The web series is basically a story of a small and backward village where people do not discuss and even think of sensitive issues considering it as a taboo. Due to this, the women of these villages suffer a lot."
Expressing happiness over the making of 'Aakhri Gaon' Ashok Kumar said: "When Rahi came to me with this idea I was impressed as there is a lot to be aware of. People do need to know about the pain and problems of women, especially those who live in rural areas, we are really excited about the series hitting OTT platforms after 2 months " he said.
During the event, Producer, Ashok Kumar also announced that his romantic track 'Rubaroo' will be released soon under the banner of Mesghashu Music. While Meghashu Films is  creating video content on a regular basis, Meghashu Music will be the vertical which will take care of all music releases.