NewZNew (Chandigarh) : Zee Classic, with its core proposition 'Woh Zamaana Kare Deewana', endeavors in reviving nostalgic moments and memories while providing wholesome entertainment. It is all set to take its offerings a notch higher by presenting an ode to the pioneer of Indian cinema and celebrating noteworthy work from the golden era. Commemorating his 50th death anniversary, Zee Classic will celebrate the life and work of the legendary filmmaker, Bimal Roy, with an exclusive 'Bimal Roy Festival presented by Boman Irani'.  The versatile actor will present some of extraordinary and undiscovered facts and trivia about this prolific filmmaker whose films, even after five decades, are still innovative and relevant today. In a five-part weekly series, the channel will showcase Bimal Da's most awe-inspiring films every Saturday at 8 PM starting with 'Do Bigha Zamin' on 6th February followed by Devdas, Madhumati, Sujata and Bandini.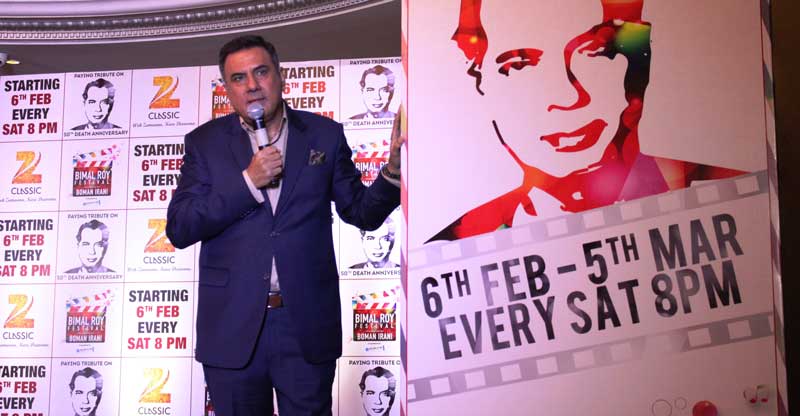 Satyajit Ray referred to Bimal Da as the 'Pioneer of Indian Cinema'. He was known to be everyone's first choice as a director and he received a lot of international accolades. Bimal Da began his career as a cinematographer under director, P.C. Barua. His first project as a cameraman was 'Devdas', based on the novel of Sarat Chandra. He turned director with a Bengali film, Udayer Pathe. After shifting his base to Mumbai, he made few films but the world took notice of this gentle legend with the classic film, 'Do Bigha Zamin'.
 For the connoisseur of Hindi cinema, Bimal Roy's 'Devdas' remains as one of the most accomplished and factual rendition of Sarat Chandra's classic. It is still remembered for its stunning performances by artists Dilip Kumar, Suchitra Sen and Vyjayanthimala.
One of his popular films that represented India in 1960 Cannes Film Festival was Sujata. It is based on a Bengali short story written by Subodh Ghosh and dealt with the subject of untouchability. Its simplistic narrative and compassionate performance by Nutan won many admirers. The seasoned actress repeated her outstanding performance in Bimal Da's melodious Bandini, an intense romantic drama that shed light on mental and physical rehabilitation of a female murderer. To top it all, his Madhumati was the first Indian film to be launched abroad and its opening shot was taken in front of the Karlovy Vary International Film Festival Theatre in Czechoslovakia.
To bring Bimal Da and his legendary films in the forefront through this festival, an ecstatic Boman Irani says, "I am honored to be presenting the 'Bimal Roy Film Festival' on Zee Classic. Bimal Da was an institution in himself. Decades have passed and there is still a lot more to learn from his school of filmmaking. Through this festival, we are aiming not only to appreciate but relive his passion, his outlook towards society and its reform which are still relevant today."
Ruchir Tiwari, Business Head, Hindi Movie Channels, ZEEL said, "We pride in showcasing the best of the golden era to our audiences with our positioning being 'Woh Zamaana Kare Deewana'! And, any mention of the golden era is incomplete without its plinth, i.e., Bimal Roy. We wanted to commemorate the work of this legend and it all fell in place when Boman Irani agreed to be a part of this series. He is the perfect presenter for this series as he not only believes in the ideology of Zee Classic but is also a huge admirer of Bimal Roy's work. It will be interesting to see how his passion for the filmmaker translates on-screen with anecdotes and unheard facts."
Movie schedule:
| | | | |
| --- | --- | --- | --- |
| Date | Day | Time | Movie |
| 06-Feb | SATURDAY | 8:00 PM | DO BIGHA ZAMIN |
| 13-Feb | SATURDAY | 8:00 PM | DEVDAS   |
| 20-Feb | SATURDAY | 8:00 PM | MADHUMATI  |
| 27-Feb | SATURDAY | 8:00 PM | SUJATA    |
| 13-Feb | SATURDAY | 8:00 PM | BANDINI |