NewZNew (Chandigarh) : Sh. Mohinder Singh Ji, Chandigarh Branch Sanyojak, Sant Nirankari Mandal told that the Ten couples tied their nuptial knot at a mass marriage ceremony organized by the Social Welfare Department of the Sant Nirankari Mission here today, in the benign presence of His Holiness Baba Hardev Singh Ji Maharaj. Even though small in number, the brides and bride-grooms represented 6 States of India and 2 other countries, besides Delhi, of course.
Among bride-grooms, 4 came from Delhi and one each from Punjab, Haryana, UP, Rajasthan, Maharashtra and Odisha. One bride-groom came from USA. Among brides 6 came from Delhi, 2 from Punjab and one each from Maharashtra and UK. In this way, while 3 couples belonged to Delhi, 5 weddings took place on Inter-state and 2 on Inter-country basis.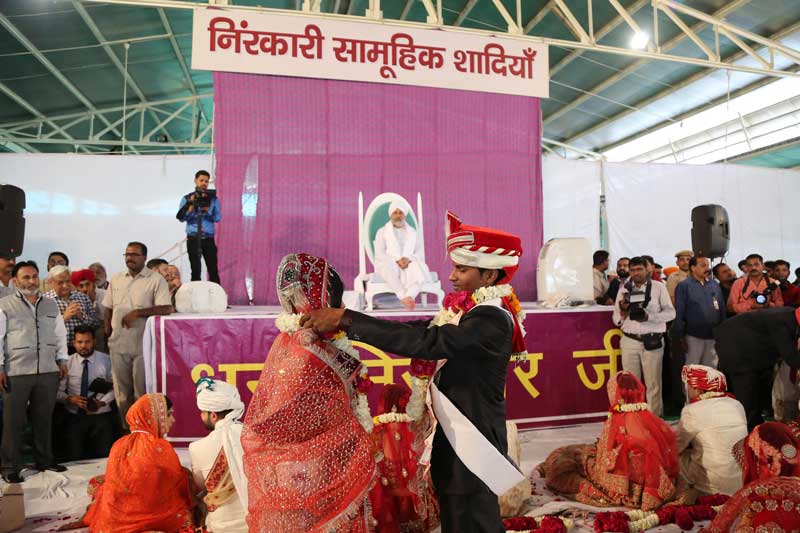 The simple ceremony was marked by the traditional Jaymala followed by a Common Garland for each couple – a special feature of a Nirankari wedding. Four sacred hymns (Lawan) were recited by singers with full spirit of devotion. Simultaneously, His Holiness Baba Hardev Singh Ji Maharaj showered the flower-petals from the dais. The devotees also joined him in showering the flowers.
Blessing, the couples Baba Hardev Singh Ji Maharaj said that all the families participating in the ceremony today have been connected with the Sant Nirankari Mission for long. Even the brides and bride-grooms have been attending congregations and serving devotees. Even today a couple has come in the Sewadal uniform. While the bride-groom belongs to Jaipur, the bride is from Pune. Baba Ji said that saints have always been leading their social life hued in the colour of devotion. Kabir Ji and other saints are the examples before us. They followed the path of devotion while fulfilling their responsibilities towards their families and society. They had their own occupations to see that they do not become a burden on others.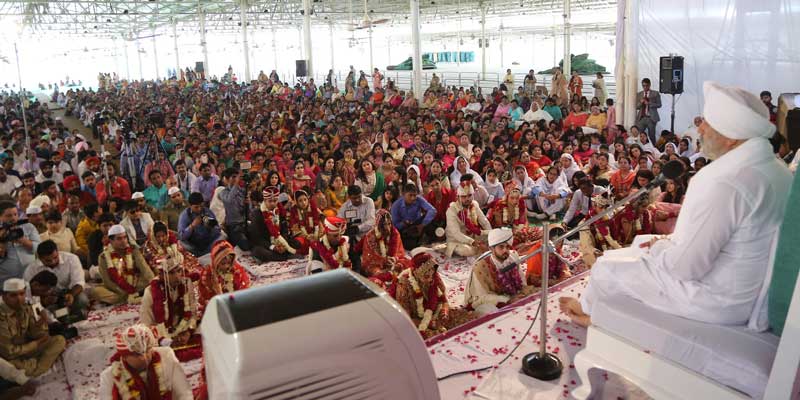 Baba Ji said that the message of unity, equality and understanding given to the couples during the ceremony (Lawan) is relevant to other members also. The couples, after all, are a part of the family where everybody will require these virtues of humility, broad vision, tolerance, sweet language, etc.
Wishing all the couples to make their life happy, prosperous and blissful, Baba Ji advised them to remain linked with the company of saints so that they strengthen their faith and devotion even while negative forces of material world create hurdles.