108 Ambulance sheds light on the demand notice rendered by the employees!: 108 ambulance services furnished a clarification today regarding the 72 hours strike notice rendered by 108 ambulance staff to pay increment, starting of insurance cover, reducing the working hours of the emergency response team and reinstate the objectors.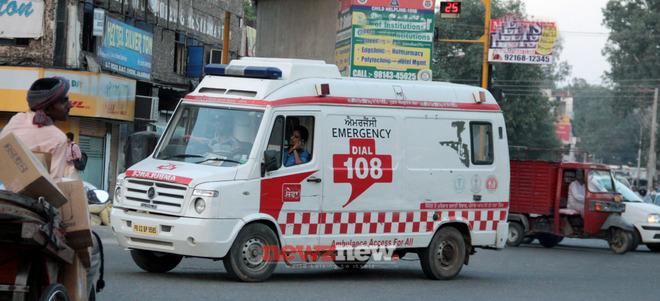 Punjab Health System Corporation operates the 108 ambulances through private emergency medical services (EMS) providing company Ziqitza Healthcare Limited (ZHL).
Clarifying on the issue, Manish Batra, Project Head, 108 Ambulance said, "It saddens me to put out a clarification on issues raised by Ambulance Employee Association yesterday during a press conference. I would start by saying that ZHL participated in the open transparent bid process in 2011, 2015 and 2020 and quoted the lowest price thereby winning the tender in fair bid process to serve the people of Punjab. This is completely a contractual job for the time of contract period decided as per terms and conditions.
Firstly, regarding the pay increment demand, the wages of 108 Ambulance services staff is fixed according to the Punjab Govt. minimum wage notification under skilled category (DC rate) and have been given an increase in the pay last year in October along with arrears which were due to the staff. The company staff is also granted leaves according to the labor laws which is 1.75 paid Leaves every month or 21 paid leaves in a year.
Secondly, our employees are covered under Employee's State Insurance Scheme of India which is a multi-dimensional Social Security Scheme tailored to provide Socio-economic protection to the 'employees' which provides limitless financial protection in case of an untimely health-related eventuality.
Further employees are covered under Employees Provident fund act and pension scheme also, accordingly any deceased employees under this act are receiving the benefits of withdrawals, Death benefit and pension to family and kids. Thirdly, according to Motor Transport Workers Act, an emergency response team or professionals can work in a 12 hrs spread over shift with actual working of 8 hours, though the hours of work are spread over for 12 hours, during the said spread over of 12 hours they are not at all required to do actual work for more than 8 hours and that therefore merely because every day their working hours are spread over for 12 hours.
Lastly, Mr. Manpreet Nijjar who headlined the conference on employee demands is not part of Ziqitza Healthcare/ 108 Ambulance as per the officials at the organization. Our ambulance crew is an integral part of our team, and they have always stood with the company to serve people of Punjab. I am hopeful that our employees will not stir a strike and if they do go ahead with disrupting the emergency services, the company and government will take necessary disciplinary action as per the law. "Added Mr. Batra
Ziqitza Healthcare Ltd. has never been blacklisted by any state or central Govt. and is providing the services successfully in the various states like Uttar Pradesh, Odisha, Jharkhand, Chhattisgarh, and Punjab since last 12 years.