Chitkara University signs MoU with Tafe Motors and Tractors Ltd: Building strategic partnership, Chitkara University, Punjab, signed a Memorandum of Understanding (MoU) with Tafe Motors and Tractors Ltd. (TMTL).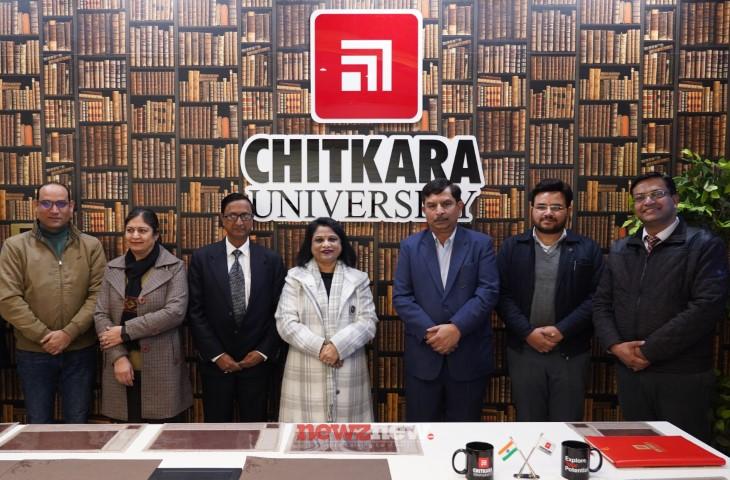 The MoU was signed in the presence of Dr. Madhu Chitkara, Pro Chancellor, Chitkara University; Mr. Nikhil Sinha, Associate Vice President, TMTL, and the chief guest for the occasion; and Mr. Piyush Garg, Vice President, Chitkara University Centre for Entrepreneurship Education and Development (CEED).
Under the agreement, TMTL will provide CSR funding investment to Chitkara University which will encourage innovative technology startups and agritech startups that will benefit the society and the country. Another key initiative of this MoU is that TMTL will encourage IT startup by providing logistics, funding support and a 3D Printing Machine Design Space.
Students of Chitkara University will also get the opportunity of internships and career opportunities in TMTL and benefit from their resources.
On the occasion, Dr. Madhu Chitkara, Pro Chancellor, Chitkara University said, "We, at Chitkara University, believe in providing our staff and students the perfect environment and opportunities to hone their skills and engage in ideas with each other. With such collaborations, we are able to bring inquisitive minds under one roof that motivate our students who are the passport to the future."
Mr. Nikhil Sinha, Associate Vice President, TMTL, said, "Tafe Motors has a strong presence in the retail, agro, telecom, and industrial segments, with more than 18 years of service. Hence, the MoU will serve as a comprehensive partnership for industry-academia collaboration, for the promotion of innovation, startups, and research with a special focus on CSR."