1st state camp conducted by Chandigarh Vigyan Parishad : The national level science examination was conducted on 25th and 28th November. Around 1.47 Lakh students appeared. Top 20 students from each class (120 from each state) were identified as eligible for participation in the state level camp. Result for the same was declared on 15th December.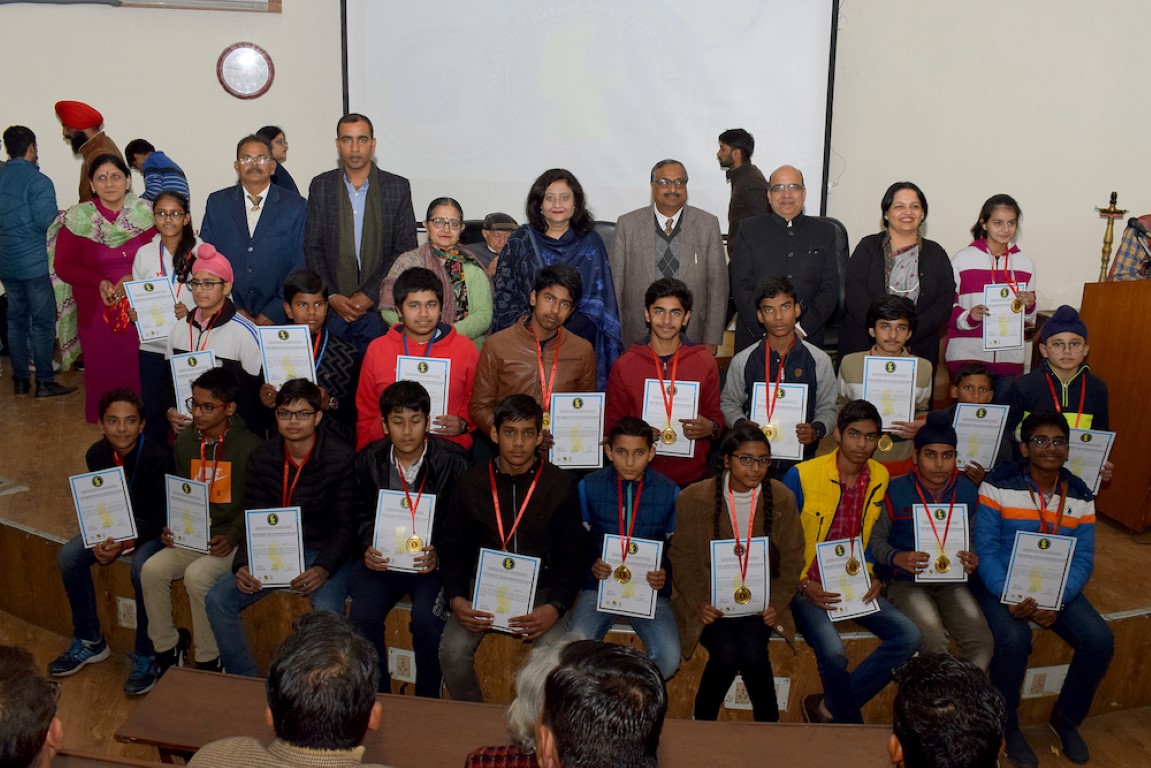 From Chandigarh, a total of 3700 students appeared from 138 Schools out of which 125 students were selected to attend the 1st state camp conducted by Chandigarh Vigyan Parishad, Vigyan Prasar an autonomous body, Department of Science and Technology Govt. Of India, National Council of education research and training (NCERT), Ministry of Human resource development and Vijnana Bharti. The state level camp was conducted at Panjab university, Chemistry Department on 6th Jan 2019. The student appeared for three types of examination.
Application Oriented Scholastic Aptitude Test (AOSAT), Experimental Skilled Test (AST) and Analytical Scientific film(ASF) dedicated member of Vijnana Bharti, Renowned Scientist and research scholars from different parts of the country evaluated the students.
Dr K.N Singh the chairperson of the chemistry Department appreciated the examination pattern of VVM which helps to identify and enrich young children to understand and know Indian Contribution to science as well as read about two Indian scientists biography and contribution as a special study material provided by Vijnana Bharti for VVM syllabus.
DR KS Arya Former Principal DAV college talked about the contribution of science in every field of work. Dr Rajnish Arora Ex Vice Chancellor Panjab Technical University- Governing Council member (Vibha) Vijnana Bharti addressed and interacted with the students and parents to motivate them and inspire for the career in science and why swadesh science is the need of our country? He also encourages Volunteers for the social responsibility and how Vijnana Bharti is one of the medium to the social service.
Mrs Mayuri Dutt, national-co-convenor motivated the audience to "change" – The clean growth of our country cannot be imagen without science and technology in modern Times, Mrs. Alka officiating district education officer, Dr Jagdish Mehta, Dr SK Tomar President Chandigarh Vigyan Parisad, School Principal and school co-ordinator were also present on the occasion.
State Co-ordinator Arvind Garg thanked the august gathering for making this camp successful. 18 successful students were awarded prize money, certificate and memento and the 1st and 2nd winner were nominated to represent Chandigarh for national level camp to be held on 18th and 19th May at Hyderabad. The students who were finally successful were as
| | | | |
| --- | --- | --- | --- |
| Class | 1st | 2nd | 3rd |
| XI | Arnav Jain | Jaskirat Kaur | Girish |
| X | Pushpraj Poonia | Chirag | Shivansh |
| IX | Agrim | Anirudh | Hariansh |
| VIII | Iitish Sharma | Puranjay Bansal | Vaasu |
| VII | Satvik | Jairaj | Gurnoor |
| VI | Abhinav | Bhavya | Yashraj |