NewZNew (Panchkula) : The 25th Mango Mela is being organised by Haryana Tourism jointly with the Horticulture Department, Haryana on 2nd and 3rd July, 2016 at Pinjore Gardens on a grand scale. The Mela is a much-awaited annual event that celebrates Mango as the 'King of Fruits'. The Mango Mela is a fun-filled fiesta that provides an excellent opportunity to the public to see and taste good quality of mangoes and be a part of various activities and events organized during the Mela.
Sh Sameer Pal Srow, IAS, Managing Director, Haryana Tourism Corporation, informed that the Mango Mela will be inaugurated on 2nd July, 2016 (Saturday) at 6.00 p.m. by Shri Ram Bilas Sharma, Hon'ble Tourism Minister, Haryana. Sh Bikram Singh Yadav, Hon'ble Minister of State for Agriculture, Haryana, Smt. Seema Trikha, Hon'ble Chief Parliamentary Secretary, Tourism & Hospitality, Haryana and Smt. Latika Sharma, Hon'ble M.L.A., Kalka will also grace the occasion.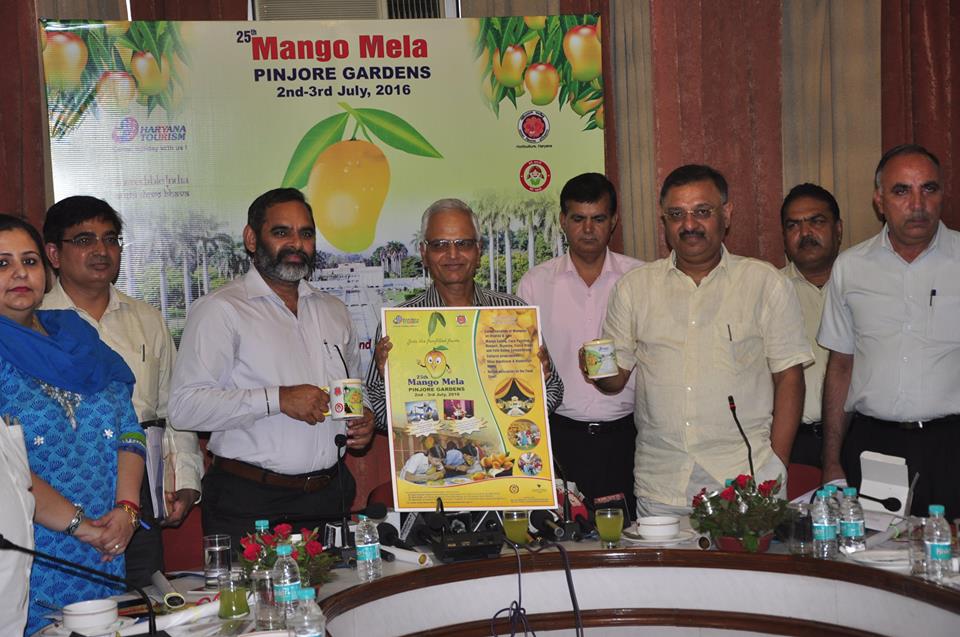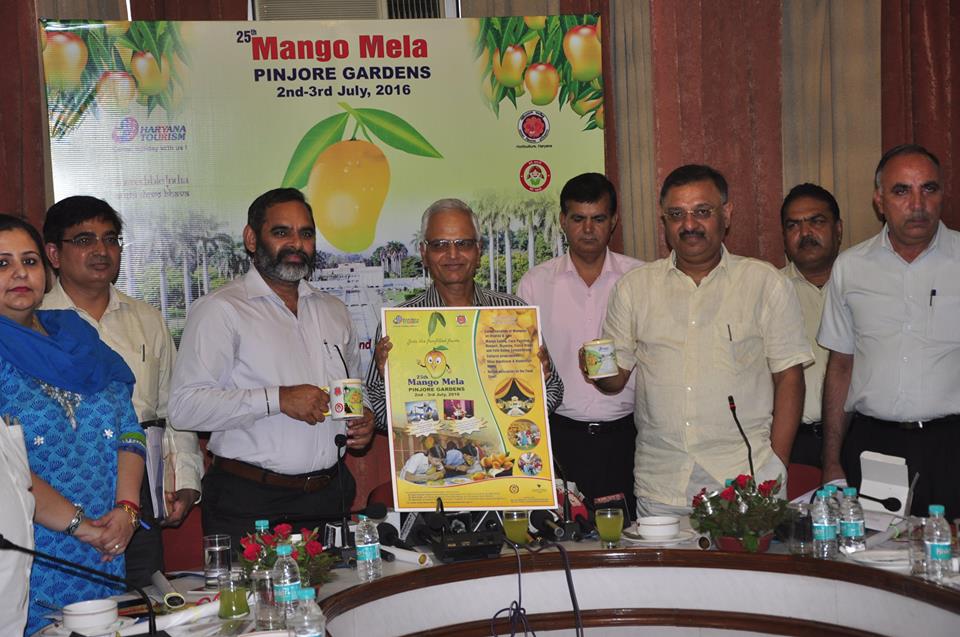 Sh Srow further said that the main objective behind organising this two-day Mango Mela is to encourage growers to adopt latest practices to increase the mango production and quality, so that they may get maximum return from their produce by tapping domestic and international market.
With passage of time, the Mela has become a major cultural event of this region, as there are interesting competitions organised for school students, enthralling cultural performances, a Crafts Bazaar and a multi-cuisine Food Court that make the Mela a treat for all age groups.
Scintillating evening cultural programmes will mark the 25th edition of the Mela.  On 2nd July from 6.30 pm onwards, watch the mesmerising Sound, Sight & Light Show on the life of Baba Banda Singh Bahadur commemorated to the 300th year of martyrdom of the great Sikh General. Renowned Punjabi Sufi singer Satinder Sartaaj will perform live on 3rd July (Sunday) from 6.30 pm onwards.
On the first day of the Mango Mela i.e. 2nd July, the receipt of entries of Mangoes & Mango products will start from 7.00 a.m. onwards.  On the same day, the Competitions for students like Solo dance, Rangoli, Face Painting and Mango Eating (open for all) will start from 10.00 a.m. onwards.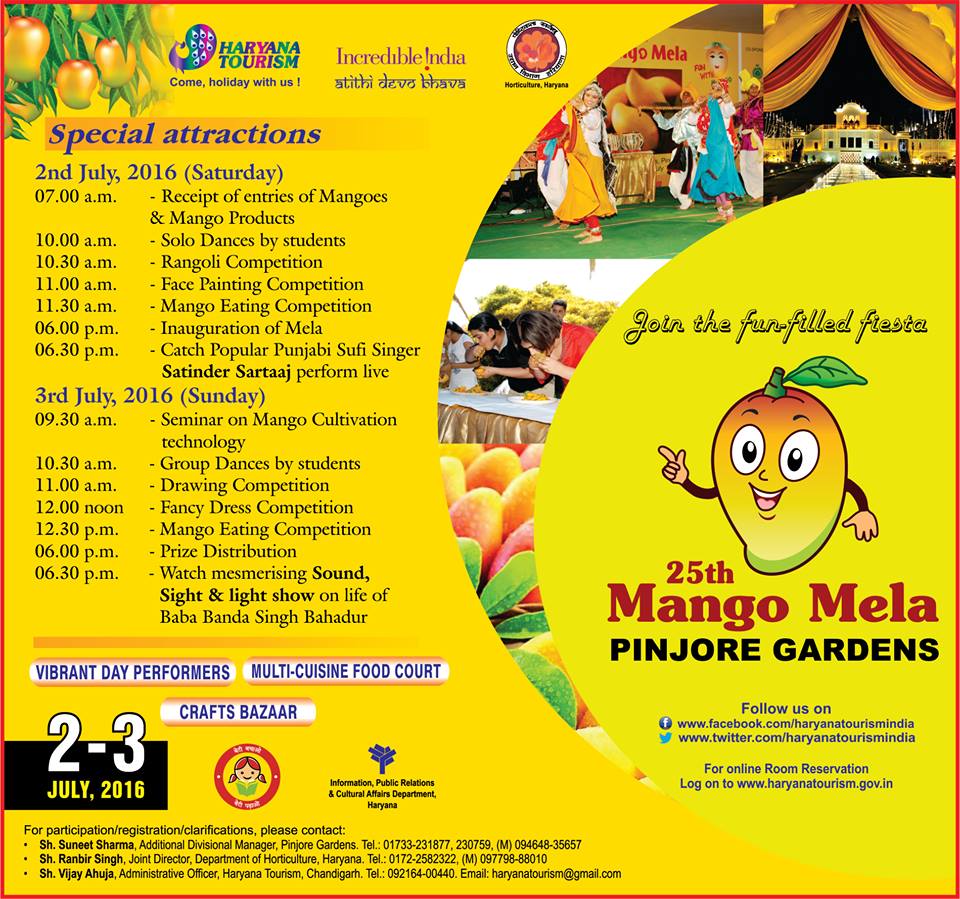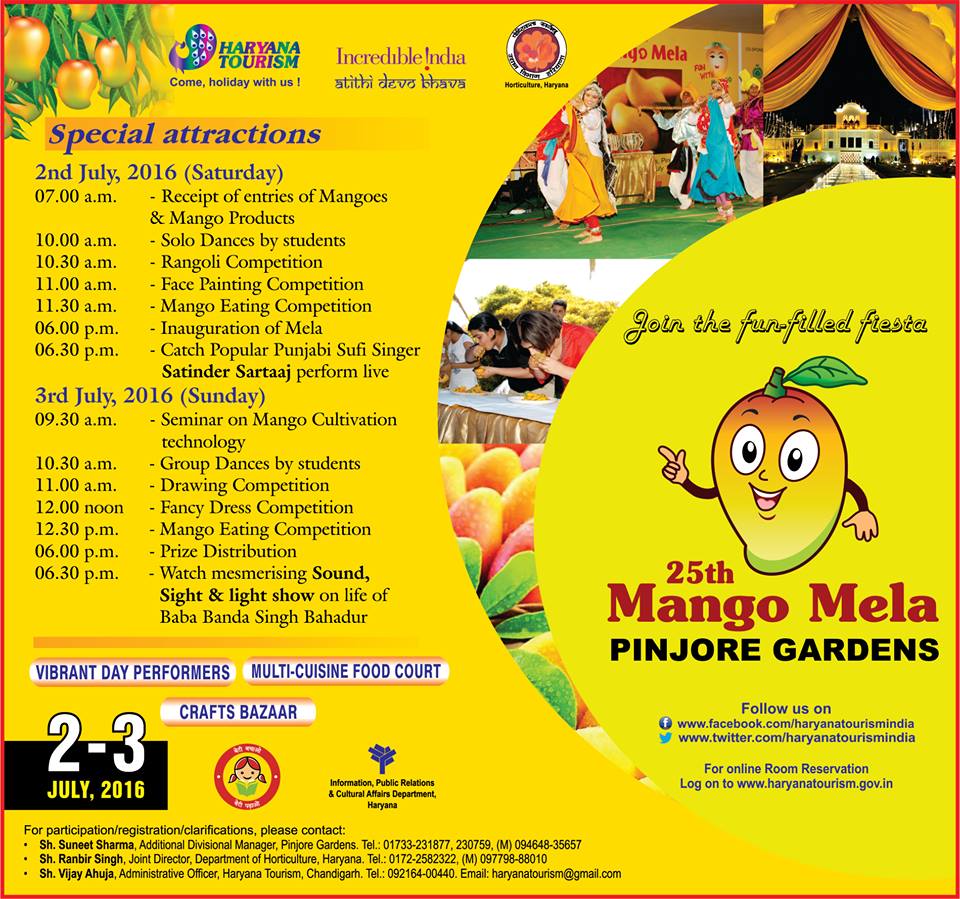 The Day Two of the Mela i.e. 3rd July unfolds new set of activities – there will be a Seminar on Mango Cultivation Technology at 9.30 a.m. and from 10.00 a.m. onwards, competitions for students like Group dances and Drawing. Following which, Fancy Dress for tiny tots in the age group of 3-5 years and Mango Eating (open for all) competitions will be organised.
Special emphasis is laid on creating an eye-catching ambience and illumination of the Gardens. The Gardens sparkle like a jewel with LED lights installed on the palaces, ramparts and bastions. It is a step towards conserving energy as a part of the 'Go Green' initiative.
Further adding to the charm of the Mela will be the enthralling performances of Day performers & Cultural artistes sponsored by North Zone Cultural Centre, Patiala (Ministry of Culture, Government of India) presenting varied folk dance forms – Bhangra & Gidha and folk singer duo Subhash Goyal and Anjuman Goyal performing live on 2nd July.
In tune with its Corporate Social Responsibility initiative, Haryana Tourism has invited differently-abled students to visit the Mango Mela on 2nd July (Saturday) and senior citizens from registered senior citizen societies of Panchkula and Chandigarh on 3rd July (Sunday). They will be allowed free entry and also served complimentary lunch.
A multi-cuisine Food Court will be set up to serve mouth-watering cuisines including the robust flavours from Punjab, subtle aromas of the South and oriental flavours of Chinese along with Indian street food.
Similarly, the Crafts Bazaar will be another added attraction of the Mela. At the Crafts Bazaar, there will be display and sale of handlooms and handicrafts by craftspersons/weavers from Haryana, Punjab, Himachal Pradesh, Jammu & Kashmir, Rajasthan, etc.
The Mango Mela offers an ideal platform to the mango growers to display and sell their mangoes and mango products. Prominent commercial mango varieties that will compete at the Mela include Dasheri, Chausa, Langra, Amarpali, Bombay Green (Malda), Ratol, Malika, Ramkela (a pickle variety), etc. Over 3,000 entries of different mango varieties are likely to be received from mango growers in the Mango Mela this year.
A large number of mango growers from Haryana, Punjab, Uttar Pradesh, Himachal Pradesh and Uttarakhand will participate and exhibit different mango varieties and mango products that will be adjudged under the following categories:-
Category A: Commercial varieties of mango (Open to Institutions, Departments and Universities)
Category B: Commercial varieties of mango (Open to Individuals)
Category C: Mango Products (Open to all Institutions, Govt. Departments, University and Individuals)
Category D: Display of mango varieties
Category E: Best Mango Grower in Haryana/ other state and Best District in Haryana