NewZNew (Chandigarh) : India's largest stock exchange National Stock Exchange of India Limited (NSE) in association with the market regulator SEBI, Citizen Awareness Group and Press Club – Chandigarh organized a Regional Investor Awareness Programme on "Financial Inclusion through Financial Education" at Chandigarh today. The program was conducted to educate people about benefits of financial markets and to make them aware about opportunities to grow their wealth.
The welcome address was delivered by Mr. Jaswant Singh Rana, President, Press Club. "SEBI has always taken the lead in spreading awareness about the market through such programs. The regulator will continue to take steps to ensure faster financial inclusion", he said. Mr. Amit Pradhan, Regional Director, SEBI delivered the keynote address and spoke about SEBI's role in ensuring fair trade and its role in monitoring the financial market. He also informed that the regulator is now playing a larger role as it started monitoring the commodity market as well.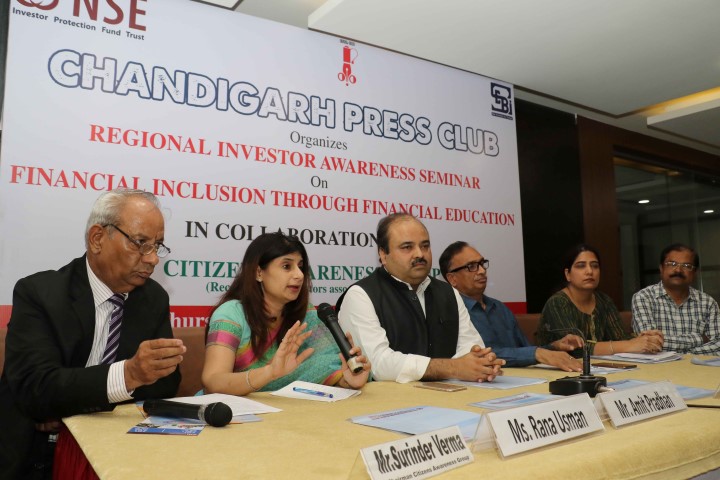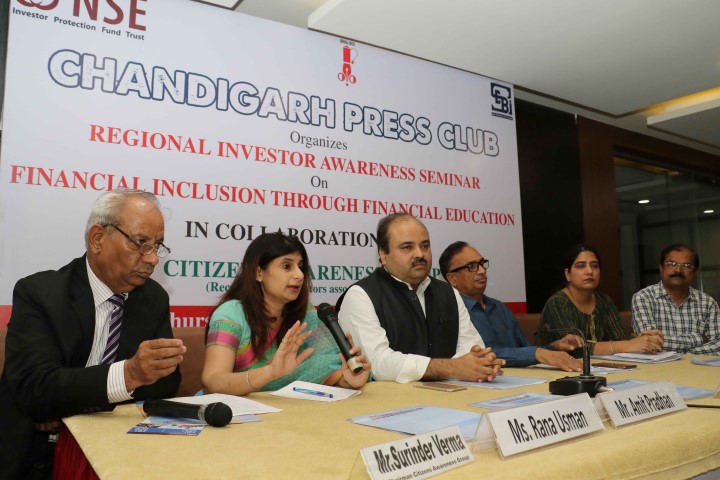 Ms. Rana Usman, Sr. AVP, NSE was also present during the program. Referring to SEBI's publication, she informed that North India plays a critical role in India's capital market as states like Punjab, Haryana, among others, contribute heavily and NSE is witnessing healthy participations in new age products like ETF from these states in particular. AUM of ETF has surged to an all-time high recently, hovering around Rs 16000 cr. "Nifty based ETFs are witnessing a high participations as the benchmark index captures the India's growth story", she said. ETF's are low costs and well researched products. For instance, an investor can invest in the top 50 stocks traded on NSE, by buying just one unit of Nifty ETF, for just around Rs 600.  The units are easy to buy and sell on an exchange platform. At the same time, risk is reduced, because you are investing in 50 stocks (of the Nifty index) and not in only one stock.
A technical session was also delivered by Mr. Suryakant Sharma, DGM, SEBI, NRO and Ms. Renu Bhandari, CM, NSE. Investors were advised on the steps they should take to ensure that their interests are protected. "Investors needed to execute few mandatory and voluntary documents with a member broker. They must read them and should know the 'do's and don'ts' of investing while entering the market", they said during the interaction.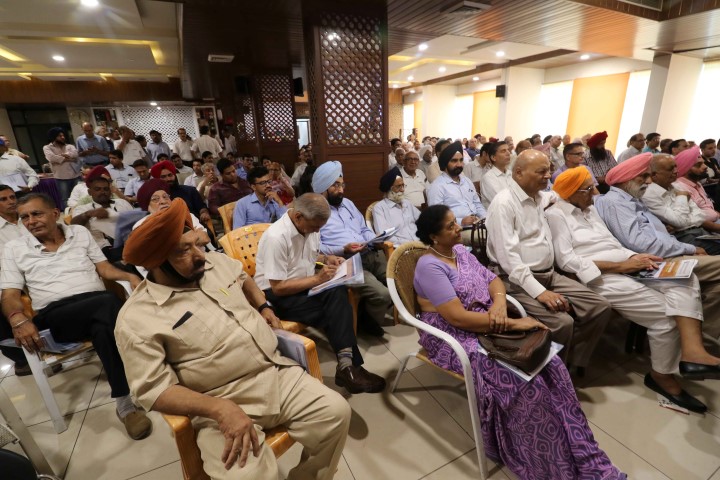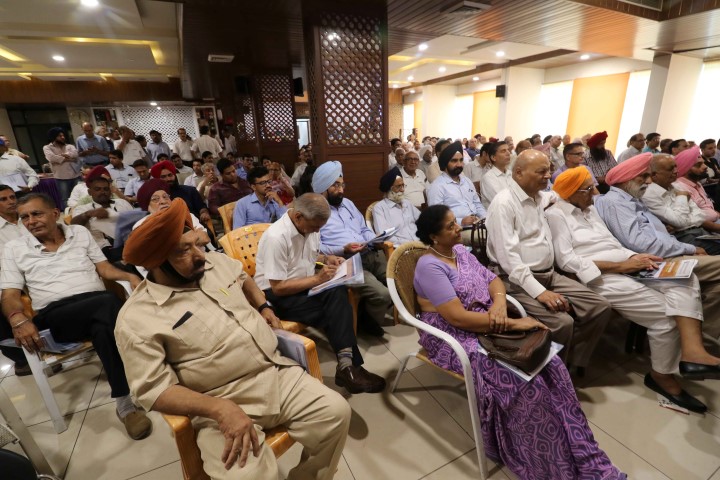 The program ended with a vote of thanks presented by NSE.