NewZNew (Chandigarh) : The Blood plays very important role for running & stimulating human body. A patient who is admitted to Hospital for some disease when requires blood for his recovery, knows the significance of blood as number of times same group blood is not found available or Blood Bank is not having blood in their reserve stocks, often some relative or friend possessing same group of blood are motivated to donate blood to save the precious life of deceased patient. In that situation, the importance of saving Blood is known by all.
To avoid above situations, Blood Banks came in to being, where willing volunteer donors donate their precious blood on important days or otherwise, which is recouped in day to day life. In our country such challenging tasks are also taken by NGOS and Corporate too under Corporate Social Responsibility Concept periodically or to celebrate certain important occasions.
Keeping in view the above, today under the dynamic leadership of General Manager, Hotel Taj Chandigarh Surinder Singh, a Blood Donation Camp in collaboration with Rotary, Sector-37 was organized in Banquet Hall Of Hotel Taj Chandigarh with an object that collected blood may be utilized to save lives of those, who needs it very badly.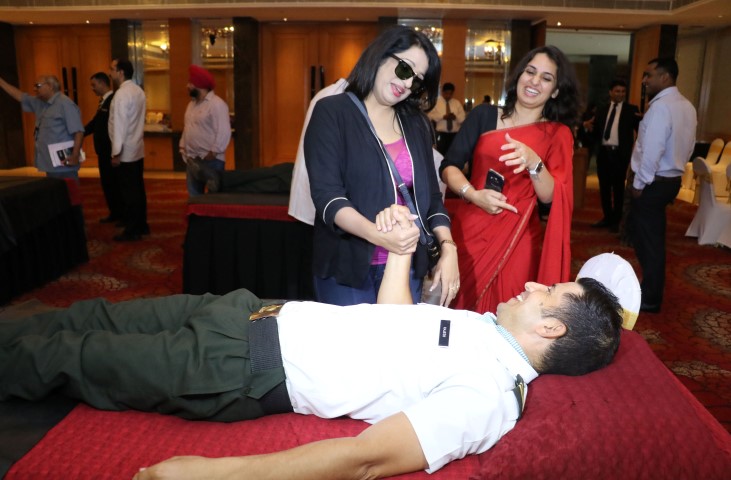 This Blood Donation Camp was inaugurated by Celeberity Meenakshi RJ of 94.3 MY FM who not only appreciated the valuable & far-sighted ideology of General Manager Hotel Taj,  Surinder Singh, but also predicted that by organizing such social activities, this 5 star Hotel will make progress by leaps and bound in future.
"I feel proud of myself to inaugurate this Blood Donation Camp and congratulate the entire team of Hotel Taj headed by General Manager Hotel Taj Sh.Surinder Singh, who come forward to accomplish such job of Social relevance" Meenakshi remarked.
After being asked by NewZNew team that, What steps should be taken to control adulterated Blood units supply in the market now a days?, Meenakshi said, we will start a campaign against it on 94.3 My FM to stop this very bad thing happening now a days. She said she will personally aware people about this.
On this occasion, General Manager Hotel Taj Chandigarh, Surinder Singh thanked Celebrity Meenakshi RJ of 943.3 My FM Radio, who accepted their request for inauguration of this Blood Donation Camp organized by Hotel Taj. Sh. Surinder Singh also appreciated the very creative/inspiring role being played daily by Meenakshi Rj on 94.3 My FM Radio for entertaining and educating the listeners.
In this Blood Donation Camp total (Hotel TAJ Staff & others) 102 volunteers donated their precious blood.