3-day PharmaTech Expo begins at Chandigarh, 250 companies to participate: The PharmaTech Expo & LabTech Expo 2023 today kicked off in Chandigarh at the Parade Ground in Sector-17.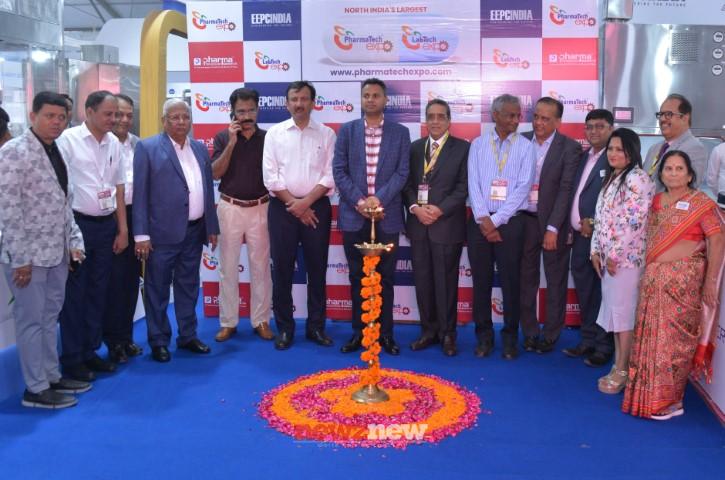 The 3 days expo which has been organized by PharmaTechnologyIndex.com Pvt. Ltd in association with Engineering Export Promotion Council of India (EEPC India) is North India's largest event which is dedicated to pharmaceutical innovation and technology and knowledge.
PharmaTech Expo is an international exhibition on pharma machinery, formulations, nutraceutical, lab, analytical & packaging equipment and is the biggest B2B trade shows of the sector that involve people from the healthcare and Pharma Machinery industry to participate and share innovation related to advanced technologies in the pertinent sector.
The exhibition has been planned in the space of 9000 square meters, with more than 250 exhibitors displaying machinery and equipment for producing drugs and pharmaceutical products. Around 6,000 people from the industry are expected to visit the Pharma Tech Expo in Chandigarh.
North India contributes substantially to the country's production of Pharmaceuticals raw materials and formulation products with more than 60% well-developed Industrial Estates. It has become the home of raw material suppliers. It also provides background for Pharma Processing Machinery, Packaging Machinery and Laboratory Equipment and is considered the Pharmaceutical Hub of Asia.
The Expo this year will showcase pharma products, machinery and technological innovation to buyers from various countries including India, China, USA & Germany which are a major market for this sector. Previously, 13 such events have been already organised in Indore, Ahmedabad Mumbai and Chandigarh over the years.
The inauguration ceremony of the Expo was attended by Sh Lalit Jain, IAS, Director, Dept of Environment, Science & Technology, Govt of Himachal Pradesh, Sh Arun Kumar Garodia, Chairman, EEPC India. Sh Manmohan Taneja, State Drugs Controller, Food and Drugs Administration (FDA), Haryana. Sh Sanjeev Garg, Join Commissioner Drug, Punjab. Sh Pradeep Kumar Mattu, Former Joint Commissioner Drugs, Punjab. Dr.Rakesh Suraj, Regional Director, EEPC India. Dr. Rajesh Gupta, President, Himachal Drug Manufacturers Association. Sh Ramesh Shah, Chairman, PharmaTechnologyIndex.com Pvt Ltd. Sh Ajay Bansal, National chairman Pharma Connect, ISHRAE. Sh Pankaj Sareen, President, ASHRAE Chandigarh Chapter and representatives from Industry associations, private bodies, and leading Corporates graced the Occasion.
Speaking at the occasion, Sh Lalit Jain IAS said that,"PharmaTech Exhibition with the support of EEPC – India (Ministry of Commerce & Industry-GOI) serves as an excellent platform for pharmaceutical, health & Laboratory equipment manufacturers to explore new and better ways of manufacturing. Besides, it connects the entrepreneurs looking for specific needs of their production & regulatory requirements". He further said that," those who are looking to start their own pharma, API, medical & health equipment industry must come and explore the possibilities for domestic & overseas market.
Sh Arun Kumar Garodia said EEPC India has been the face of Indian engineering exports over a span of 67 years when India grew from a nation exporting just $10 million of engineering goods in 1955 to $112 billion in 2021-22 and is regarded as the model EEPC in India by the Union Ministry of Commerce and Industry.
Sh Manmohan Taneja said that it is a great opportunity for us as regulators to interact and guide various stakeholders. This expo showed the hard work of organizers, he wished them success in their upcoming Pharma and Lab Expo at Gandhinagar.
Sh Ramesh Shah, Chairman, PharmaTechnologyIndex.com Pvt Ltd said that with all cooperation of industry, we are pleased to announce 60% growth in the exhibition during expo. In his address he thanked all the Organizations / Sponsors which included Engineering Export Promotion Council of India (EEPC India), Himachal Drug Manufacturers Association (HDMA), Ambala Scientific Instruments Manufacturers' Association (ASIMA), Drug Marketing & Manufacturers Association (DMMA), The Indian Society of Heating, Refrigerating and Air Conditioning Engineers (ISHRAE), The American Society of Heating, Refrigerating and Air-Conditioning Engineers (ASHRAE) and other industry associations and Industrial Houses who have supported the event.
A seminar on "Synergistic Growth of Pharma Industry – Development and Challenges" will be organised on 12th April 2023.  Experts and eminent government Departments, Industry and speakers will share their views during this seminar.