newznew (Chandigarh) : With a view to achieve target of 50% farmers to be covered under Pradhan Mantri Fasal Bima Yojana (PMFBY) by 2019 more and more initiatives are being taken by insurers & the Government. 2016 -17 has been the year of lot of activities and the credit goes to Hon'ble Prime Minister of India, Shri Narendra Modi, Haryana Government and various Insurers.
According to Alok Agarwal, Executive Director, ICICI Lombard General Insurance Company Ltd. "ICICI Lombard is having a great focus on Fasal Bima Yojana and we have decided to use combination of Physical reach (Feet on Street) & Digital Technology to reach the farmers located in 7 districts of Haryana to ensure maximum coverage of both loanee and non-loanee farmers in the Districts allotted to ICICI Lombard.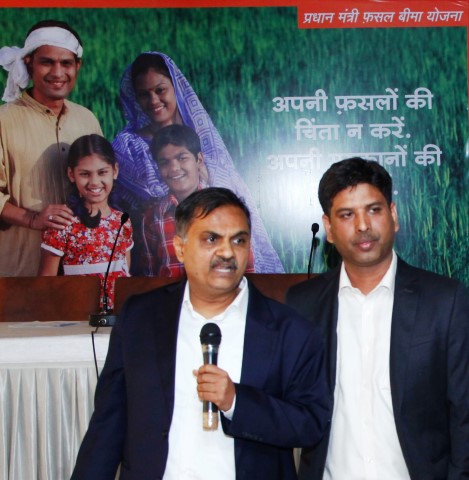 He further informed "In Haryana, ICICI Lombard has insured 1.8 lakh farmers for Kharif 2016 (mostly Paddy crop) & 1.3 lakh farmers for Rabi 2016 (mostly wheat crop) in seven districts of Palwal, Panipat, Rohtak, Fatehbad, Mewat, Jhajjar and Yamuna Nagar.
During the interaction we had with him in Chandigarh on March 2, 2017, Mr. Agarwal apprised us that ICICI Lombard is doing extremely well in rural business, where Pradhan Mantri Fasal Bima is the major contributor. We are also informed that in addition to Haryana it is handling Fasal Bima Yojana in clusters of Andhra Pradesh, Madhya Pradesh, Meghalaya, Orissa, Tamil Nadu, West Bengal, Himachal Pradesh & Uttar Pradesh.
During the year 2016 – 17, with the initiative of Central Government duly supported by State Governments and participation of various Insurance Companies, our country has seen very robust growth of Fasal Bima. It is heartening to see that such growth has been achieved in one year. On all India basis, premium collection during the year has gone up from Rs. 5700 Crores (previous year 2015-16) to Rs 21000 Crores (estimated 2016-17). This is an increase of 268% in single year. According to Mr. Agarwal "Our estimates show that this figure will go up to Rs 23000 Crores during 2018-19 and Fasal Bima will become a major part of Indian General Insurance Industry."
Fasal Bima (Crop Insurance) Growth in India
ICICI Lombard Crop Insurance key statistics are:
o        GWP in 2015-16: Rs. 592 Crores
o        GWP in 2016-17: Rs 2100 Crores An increase of 255%
o        Pan-India Farmers Insured in 2015-16:  49 lacs
o        Pan-India Farmers Insured in 2016-17:  39 lacs (estd)
Mr. Alok Agarwal, Executive Director, ICICI Lombard General Insurance informed that number of farmers insured under Fasal Bima Yojana (Crop Insurance) has touched more than 39 Lakhs (Kharif/ Rabi combined and during 2017-2019 period this number will go up significantly)
Answering the question how ICICI Lombard plans to reach the farmers in villages in Haryana we are informed that "The Company is utilising various intermediaries to reach Crores of farmers by utilising the services of various banks (ICICI, other Banks, Cooperative Banks/ Rural Banks/ Gramin Banks), its own branches/ offices, Insurance Broker Firms, Agents, CSC (Common Service Centres) as well as POS. Objective is to reach to each and every farmer, who is residing in 7 districts allocated by Haryana  Government to ICICI Lombard.
We are putting special efforts to use local youngsters by creating jobs for them in their own villages. In addition to selling Fasal Bima we will use them for insuring vehicles, tractors, cattle, health insurance & shop insurance. This initiative of Prime Minister Modi will result in generation of employment as well as increase in insurance penetration in rural India. We will provide these representatives with Tablets so that they can complete the proposal, while sitting in front of the farmer."