This year, the International Equanimity Olympiad is entering into its 3rd year. This year, exams can be conducted till 10th August and the School registrations are open till 28 July which can be done on its website www.equanimityolympiad.in . Another addition from the organiser, the exam can be conducted in Assamese language beside English, Hindi and Punjabi. Like last years, for this social welfare work, the trust is not charging any fee from students and schools for this exam.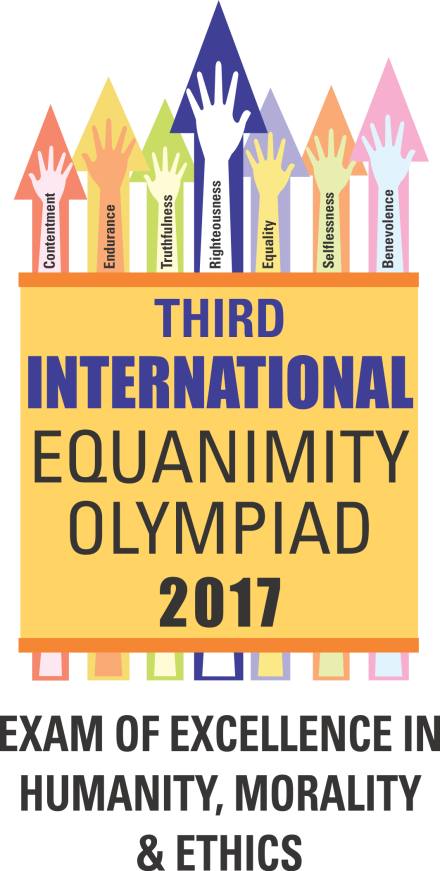 Through this unique exam the students were motivated to become a good human-being by adopting the state of equality. So that to remain humane in a dignified way the students can introspect and rightly assess their own level of morality. This way, understanding the importance of development of good human character and perfect human personality through self-control one can become a good and noble human-being.
There were three modules of Olympiad exam.
Module 1. Exams were organised for students in the classrooms of their schools. The students from class 9 to 12 had participated in the exam without any discrimination on the basis of education board, sex, religion, caste and domicile. More than ten Lakhs students of 2648 schools had participated in this year exam from 20 states, one Union Territory and one international school of Oman. The limit of this exam was 45 minutes and the medium could be selected from Hindi and English.
Module 2 of Olympiad the exam was also organised for the prisoners and people in the correction homes at their prisons and correction homes. The duration of the exam was 45 minutes and the medium of the exam could be selected from English and Hindi.
 Module 3 of Olympiad theexam was conducted through online in which people of any age group and any state of the world can participate. In this online examination- more than 25,000 person from India and abroad had participated. In this exam the duration was 30 minutes and at the end of the examination, the participant immediately can obtain their digital certificate by downloading it.
The Trust got cooperation of various state Directorates/Deptt. of Education who have been kind to allow to conduct this exam in all their schools. It includes Haryana, Delhi, Punjab, Uttar Pradesh, Assam, Uttarakhand, Rajasthan, Madhya Pradesh and Union Territory of Chandigarh.
The Olympiad Coordinators for the Tricity Mrs. Anita Kapoor &  Mrs. Jaya Ahuja and  a told the reporter that , almost all schools , private and government, from Tricity participated in this Olympiad.
Satyug Darshan Trust (regd.)  thanked the Director of Education, Chandigarh Haryana and Punjab and to  participating schools to participate in this noble cause and said that this exam would reflect as a combined effort to motivate children for building their humane character necessary for holistic personality development and betterment of the human society as a whole.
Olympiad Coordinators requested school principals to register themselves on its website www.eqianimityolympiad.in.