Kick-starting Diwali festivities for the year, Confederation of Indian Industry (CII) is all set to organise the 22ndedition of CII Chandigarh Fair 2017 at Parade Ground, Sector 17, Chandigarh, from October 13 to 16. Having become the most awaited pre-Diwali mega shopping festival over the past two decades, the festival will feature special attractions for people of all walks of life this year as well. As many as 260 exhibitors will put up their stalls at the fair for Diwali shoppers from the region. The mega exhibition will be spread over an area of 16,000 sqm. West Bengal, Rajasthan, and Jharkhand are participating states, Mr Man Mohan S Kohli, Chairman, CII Chandigarh Fair 2017 and CEO, The Aroma Group, Chandigarh, said here today.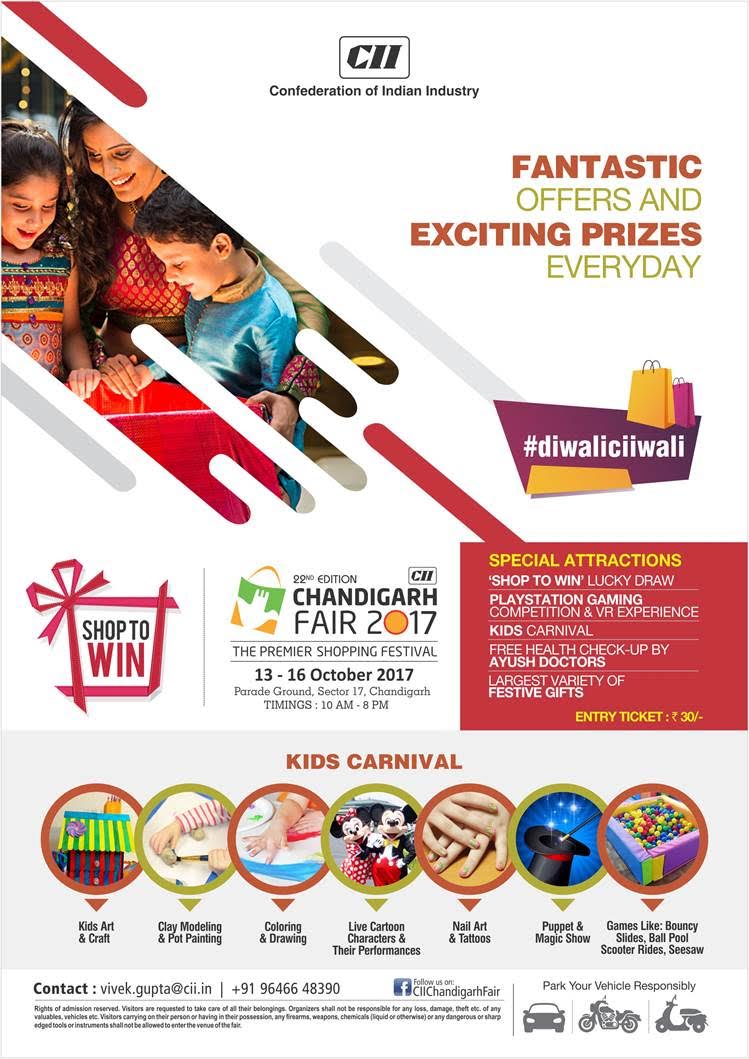 The mega exhibition will be divided into 14 Concurrent Expos this year.  Started in 1995, this will be the 22ndyear in a row that the fair is being organised by CII. The exhibition area is spread over 16,000 sqm (gross area). The fair will be held from 10 AM to 8 PM, Singh added.
"Living up to its repute, CII Chandigarh Fair would bring delights for everybody ranging from cars, bikes, electronics, consumer durables, apparels & accessories, food, home décor, kitchen appliances, financial institutions, banks, beauty aids, cosmetics, healthcare, fitness gadgets and much more," Singh said.
"With CII Chandigarh Fair 2017, CII has once again provided direct access to artisans, small traders, handloom and handicraft workers as well as small and medium-scale industries to directly market their products. MSME units and Self Help Groups (SHGs) have been brought under one roof to reach out to the people of the region. In future also CII will continue to provide such platforms especially for the small-scale industry," Mr Babu Khan, Regional Director, CII Northern Region, said here today.
The event is supported by National Small Industries Corporation Ltd (NSIC); Indian Oil as event sponsor; BSNL as Principal Sponsor; ATS Group; GBP Group; SBI and Veeba as associate sponsors.