4-day Interior Exterior & Building materials Expo from Friday Feb 08 to Feb 11 : Four-day Interior Exterior & building materials show "INT-EXT EXPO" would be held at the Parade ground, Sector 17, Chandigarh from 8 to 11 February.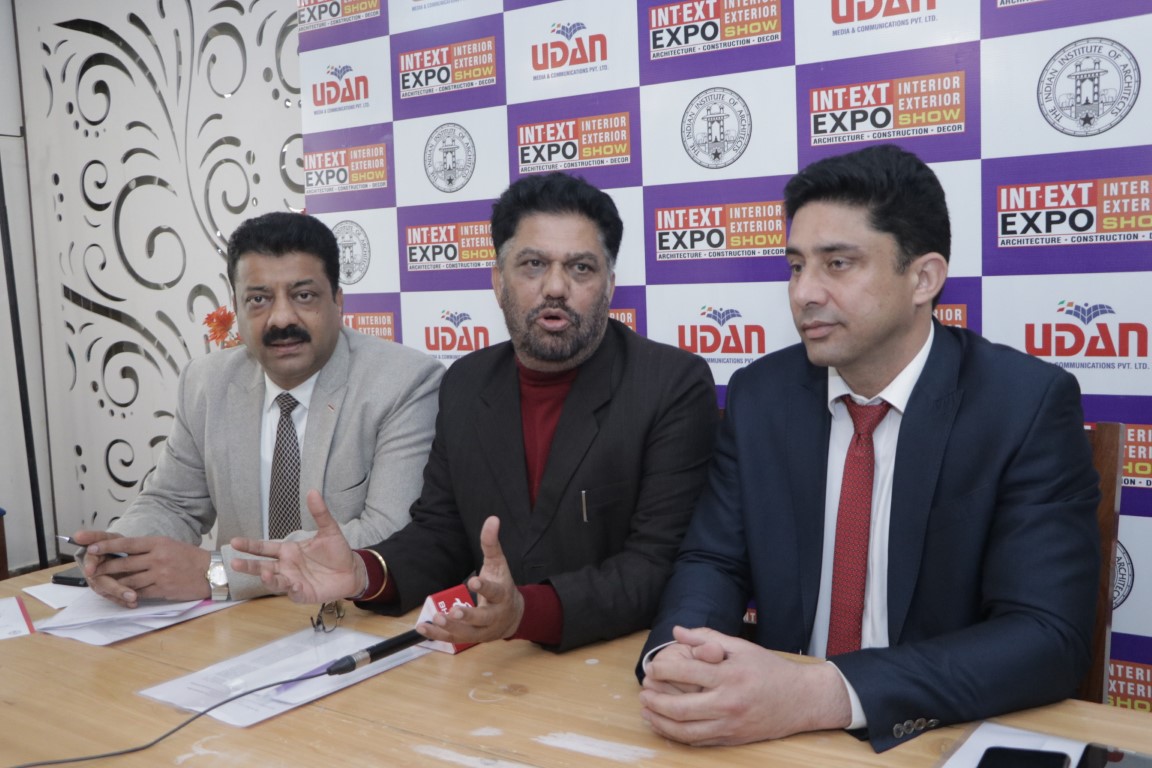 The show will be inaugurated by V.P. Singh Badnore, UT Administrator and Governor of Punjab.
The INT-EXT EXPO-2019 would showcase more than 250 exhibitors who will present the latest trends in the world of interiors, exteriors and building materials with exclusive varieties in the  world of Doors & Windows, bath & Sanitation. Elevators & Escalators, Flooring, Architectural & Decorative lighting, Air Conditioning, hardware, Furniture & Fixtures, Glass, home & Office Automation, Kitchen Modular, Land Scaping & Gardens, Paints & Coats, Roofing and Cladding, Safety & Security, Solar Systems and Lightings, Steel, Tiles & Ceramic. Water Management and  Wood and Veneer.
This show is being organized by 'Udan Media & Communications Pvt Ltd.' which has a track record of conducting highly successful industrial exhibitions. This exhibition is highly supported by Indian Institute of Architects, Punjab Chapter. The exhibition will remain open from 10 am to 7 pm daily from February 8 to 11.
Mr. G.S. Dhillon, Director Udan Media and Communications Pvt. Ltd, organizer of this event informed that in line with Int-Ext Expo, we will be showcasing latest innovation, trends and technologies. To make Nation a better place to live in, INT-EXT EXPO is a meeting point where companies will present the latest trends in the world of Interiors, elaborating technology, innovations, equipment and concepts for the Architects' & Designers' community. The objective of this event is to provide the latest trends and technology to our citizens to turn their dreams into reality.
He appraised that to make this expo more appealing and captivating, many new activities are being organized. This show is a must-visit for suppliers, architects as well as for interior designer, Builders and to the public. This exhibition will showcase a wide range of products by the leading companies from Pan India.
The exhibition seeks to provide a golden opportunity to the general public a wide range of choice under one roof, to meet all their needs. The exhibition houses national and international brands more than 250 stalls showcasing over 3000 unique products and services for the first time in India.
The products are of interest to architects, interior designers and builders, engineers, hoteliers, consultants and the general consumer. The exhibition will be open till Monday.
Architect Surinder Bahga, Member Advisory Committee on UTs to Home Ministry of India, said, the objective of the expo is to provide the latest trends in interiors and exteriors under one roof. INT-EXT EXPO 2019 will bring in the latest technology, trends and innovation products to the need of future generation in the field of interiors and exteriors. He said as a part of this event, Architects' Meet is being organized on 8th February. About 300 architects of entire North India are likely to participate.
The theme of the architects' seminar will be 'Smart Cities: Concepts and Reality', which is in sync with Chandigarh's Smart City project which is underway. An awards nite would be held on February 9, in which architects from North India would be given away awards in 15 different categories.
Giving the information, Ar. Sanjay Goel, Chairman IIA, Punjab Chapter, informed, "The changing needs of modern living are identified in such exhibitions which motivate the manufacturers and service providers to meet the requirements of the users. Such Events provide an exposure to latest trends for smart and healthy living."
This exhibition is not only open to the public, but it expects around 50,000+ visitors to attend this grand show. This exhibition will spread over the display area of 2,25,000 sq. feet.