Croma customers in Mohali can now claim their Loyalty Privileges! : Croma, India's only Omni-channel electronics retailer from the Tata Group, welcomed customers to claim their Loyalty Privileges at their newly opened store in Mohali's lifestyle destination, VR Punjab Mall. The store which opened recently has been seeing a steadily rising flow of customers.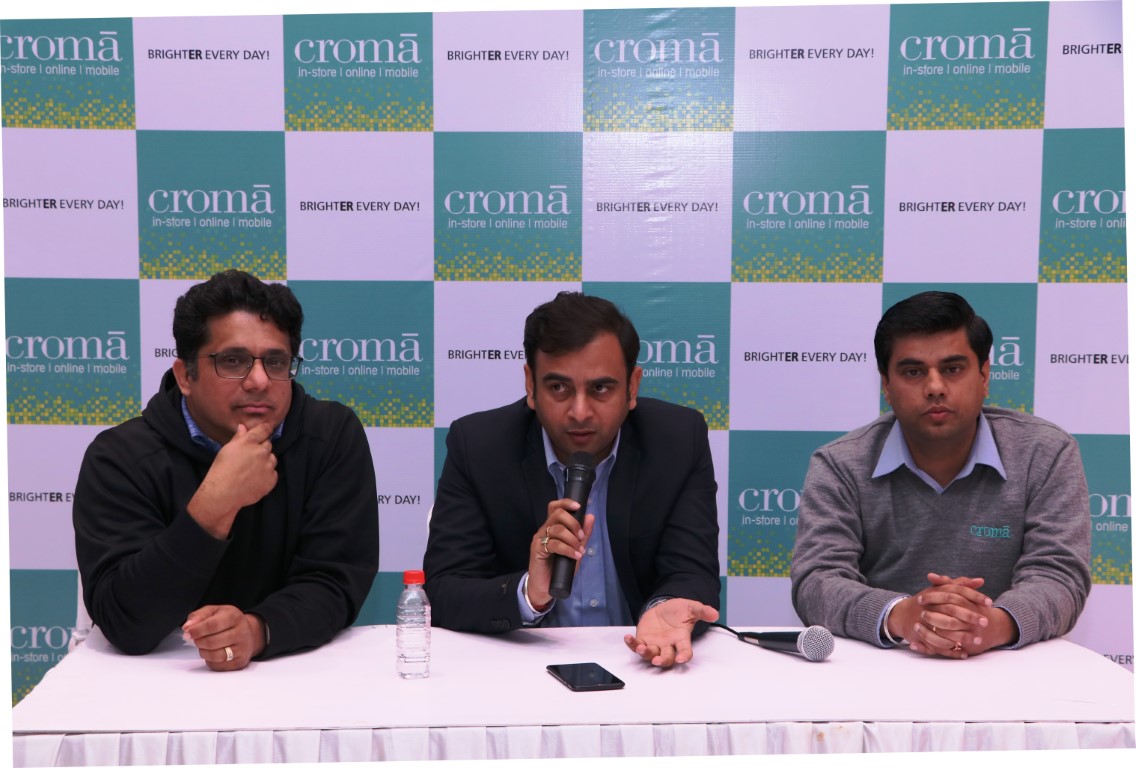 The recently launched Croma Privileges programme gives Croma customers one more reason to visit the new store. A first-of-its-kind loyalty programme, it rewards members with Loyalty Discounts, Upgrade Benefits on products bought at Croma and even offers help on E-Waste Disposal.
Ritesh Ghosal, CMO Croma said, "We understand that our customers like using the latest gadgets, put a premium on their time and of course seek value. The Croma Privileges Programme is tailored to deliver on these needs. 10 Million Croma customers are already enjoying the perks of being loyal, we have now opened the gates for everyone to join in and reap loyalty privileges from the day of purchase. The benefits include Assured Lifetime Service, E-Waste Pick- up and Loyalty Discounts!"
~ Croma launches India's first loyalty programme in the world of electronics~
~ Loyalty Discounts, Assured Lifetime Service, Upgrade Benefits, Pre-Qualified Credit, E-Waste Pick-up and much more ~
Croma customers can avail of multiple benefits once they sign-up for the loyalty programme. These include transactional benefits like exclusive Loyalty Discounts, Pre-Qualified Credit and Upgrade Benefits. But it doesn't stop there, customers are also eligible for benefits like E-Waste Pick-up on call and Assured Lifetime Service and much more. The E-Waste Pick-up on Call allows customers to just call the customer care number to request an E-Waste Pick-up from their doorstep.
Mayank Sangani, Head of Operations Croma added, "Customers find it difficult to keep track of warranty cards, service centre numbers, etc. and struggle to reach the brands when they have a problem. Informally, we have always been helping our customers get their service requirements fulfilled for years. We have now formalized this program as 'Assured Lifetime Service', where every customer is encouraged to bring their service problems to us rather than go to the brands!"
New customers need to purchase the Croma Privileges Card to enroll. For existing customers, the process of signing up for the Croma Privileges programme is even simpler – just send an SMS <MYPERKS> to 7200-666-000. On enrolment, customers will receive an SMS with the list of offers they are eligible for. Adds Mayank "We are committed to giving our best customers the best price and the Privileges programme is how we do it."
The Mohali store is spread over 13,000sq.ft. and 2 levels and is designed to empower customers looking for the latest in electronics with over 300 leading brands and over 9000 unique products. Customers will be able to access the aspirational lifestyle through a curated range of desirable electronic gadgets, showcasing life-changing possibilities with the latest technologies. Tech-savvy staff at the store will guide customers and answer their queries to help them make the right choice for their needs.