5 different Styles of Jeggings under $25 : We all want to look fashionable and stylish and mainly choose those kinds of outfits that increase our personality many folds. While deciding clothing for the wardrobes, women enjoy more options and variety in terms of dressing style and colors as compared to men who have limited range of options to consider.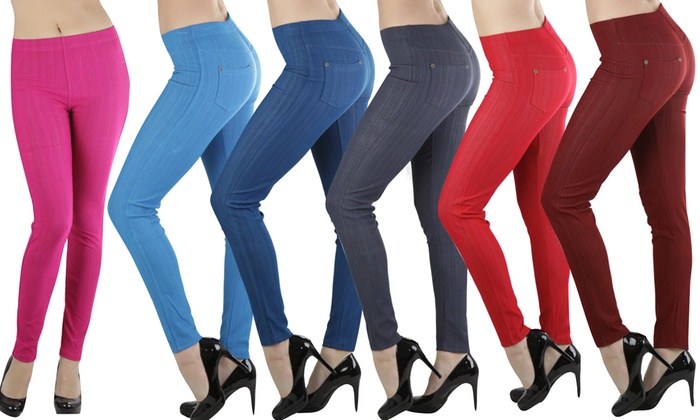 Jeggings are yet another form of women's outfit that you can be paired with any of the favorite top, sweaters etc. as they don't have any set rule and can do well with any of the blouse.
Following are some of the hot and trendy variety of jeggings which you can wear as your regular pants, since they also have side pockets, and can give you more comfort while heading to any party or simply to your office.
Ripped Jeggings
Jeggings which a mixture of jeans and leggings, comes in variety of styles and designs, out of all the most trending is ripped and distressed style jeggings. Thought ripped style jeans are available everywhere in the market but they don't offer you the comfort which a jegging can offer. These ripped jeggings are all you need to look trendier without losing the comfort even in the scorching heat as well.
Despite of your height, weight or body color, you can buy your pair of jeggings as it suits on every body type. If you are going for a party with your friends, the combo of ripped jeans and off shoulder top will go hand in hand, carry a sleek body bag to increase the charm.
Low-Rise Jeggings
These low-rise jeggings are perfect to wear with stylish and elegant tops that will make you fashionable trendy; you can easily wear it during at all your occasions. They start little below your waist but from the back it looks normal, you can explore a wide variety of colors and designs in low-rise jeggings that will go well with almost all kind of blouses.
Try not to wear it if you are curvy as it will work against your body posture and types making you look fattier. Winters are approaching and our wardrobe is fully occupied with hoodies, sweaters, etc. take out your favorite winter blouse and pair it a simple yet stylish pair of jeggings and finish the look with boots.
Skinny Jeggings
No matter how many skinny jeggings you have you still want to add more into your wardrobes as its comfort can't be replaced by even a pair of jeans as well. Wear a dark colored jeggings with a light colored top or vice versa to increase your personality many folds, they are relatively thinner and will offer the best comfort a leggings can lot.
With designed side pockets in jeggings, you will never lose your cash or your car keys; so quickly grab your favorite pair of jeggings and wear at all your formal and informal meets. There are wide variety of jeggings available online; use Kohl's promo code to get the different style of jeggings that are under $25 and fits your budget.
High waist jeggings
These high waist jeggings will make you slimmer and smarter, nothing can beat their look and comfort zone. By switching towards high-waist jeggings you can easily hide your tummy and gives an impression of long slender legs. Give your wardrobe a new makeover by choosing from different and new colors apart from just blue, black and white colored jeans.
Wear jeggings with your most liked pair that match your personal style and skin tone, and hit the street with your own fashion statement. Wear crop tops or tuck your tops with high-waist jeggings as they allow you to show off the top portion of your jeggings which might have attractive design or pattern on it.
Low-waist Jeggings
These low-waist jeggings looks like a jean but fits like jeggings only and go incredibly well with all pair of blouses. You might know the size of your jeggings, but might not know your jeggings rise? While shopping for the perfect pair of jeggings, do consider your body shape and requirement; low-waist fits perfectly on women who are slimmer. Also it's a great option for the pregnant ladies since it will not pressure their belly area and they can carry it easily in a more stylish and elegant way.
These are some of the different styles and varieties of jeggings available at Kohl's. Give yourself a new makeover by switching to smart pair of jeggings that can be worn easily in all the weathers including winter, summer and even in the spring season due to availability of jeggings in different fabric and designs.
Also, avail Kohl's promo code to get the best discounts on jeggings. You can easily grab your favorite pair of jeggings for $25 or even lower than that. So hurry up and purchase your favorite pair of jeggings and wear it with the matching tunics and footwear's to have that flattering look, discover a wide variety of jeggings. Get jeggings for all age and sizes including Women's jeggings, women's plus jeggings, junior's jeggings, girl's jeggings and much more at your Kohl's.