GAPIO FOUNDED IN 2011 WITH A VISION OF IMPROVING HEALTH WORLDWIDE
GAPIO AIMS TO BRING TOGETHER 1.2 MILLION PHYSICIANS OF INDIAN ORIGIN ON A COMMON PLATFORM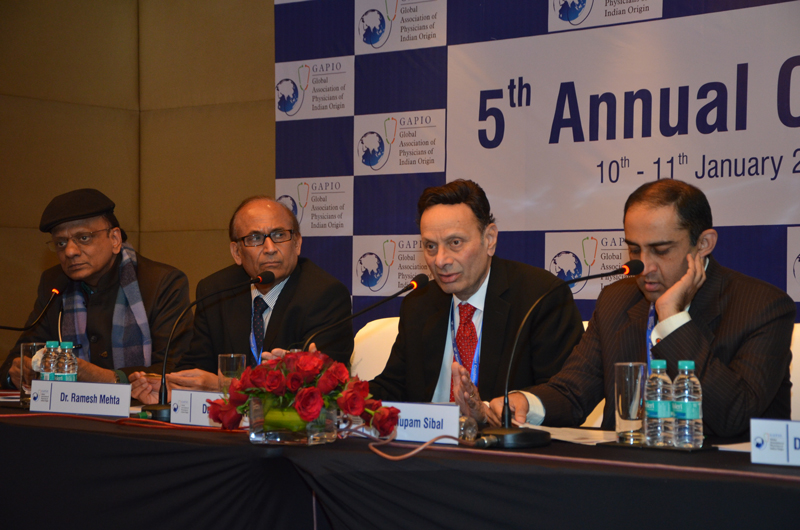 NewZNew (Chandigarh) : The 5th Annual Global Association of Physicians of Indian Origin has brought together more than 70 renowned national and international faculty from India, USA, UK, Australia, Canada, Singapore and UAE to share their knowledge and skills with more than 300 delegates participating in this conference.The theme of this two day conference is "Meeting the Healthcare Challenges".
Dr. Sanku Rao, President said, "As a combined force, physicians of Indian origin can make a huge impact on development and improvement of healthcare delivery to make it affordable and accessible to the deprived and the needy".
[blockquote author="Dr. Ramesh Mehta, Vice President GAPIO said, " pull="pullright"]"GAPIO has assisted in creation of a web portal known as Swaasth India (www.swaasthindia.gov.in) in collaboration with MOH Government of India, BAPIO and AAPI and was launched by Hon'ble Union Minister of Health and Family Welfare Government of India on 28th June 2014 at San Antonio Texas USA. Government of India has accorded the SwaasthIndia web portal as a Government of India official website. This portal is now acting as matchmaking site where Government of India and State Governments are posting their requirements and Indian Medical Diaspora is viewing and applying for the same". [/blockquote]
Dr Ramesh Mehta will be organizing the next Midyear Conference on 27th June 2015 at Leicester UK.
Dr. Anupam Sibal, Secretary General GAPIO said, "GAPIO now has representation from 25 states in India and 27 countries globally. GAPIO is a nonprofit organization and it's vision is Improving Health Worldwide. We were delighted to receive a message encouraging our work from the Hon'ble Prime Minister, Shri Narendra Modi".
GAPIO which was founded in the year 2011.Dr. Prathap C Reddy, Chairman of Apollo Hospitals Group is the Founder President. Over the years, several programs have been organized to help the underprivileged.A free Plastic and Reconstructive Surgery Camp was held at Bilaspur where 105 surgeries were performed during the four days camp – cleft lip, cleft palate, palatal fistula, polydactyly, hypospadias, ptosis eyes, to burn contractures of face and neck and hand and palm contractures.  All hospital services were provided free of cost to the patients like hospital bed, anesthesia, consumables, surgeon fees, nursing care, meals, and free meals to the attendants of the patients.
Total Health Aragonda project was launched on 27th October 2013 at Aragonda village of Thavanampalle Mandal of Chittoor by Dr Prathap C Reddy. This project is now progressing very well. Approximately 10,922 population have been covered so far out of which 75.4% population were above the age of 15 years. 2.64% people have been detected to be as diabetics and 6.4% people have been detected to be hypertensive. Population has been mapped against many other parameters. Apart from this, under the holistic approach, a RO plant has been set up for safe drinking water, vocational training center, awareness about household Garbage Disposal and Disuse of Plastics.
First in the series of GAPIO charitable clinics, a multispecialty GAPIO Charitable clinic was inaugurated by Dr. Sanku Rao to provide affordable medical services in a slum area at Secunderabad. The clinic runs from 10 am to 1 pm every day. It has conducted five general and two specialty camps.The clinic has adopted St. Joseph's old age home in mud fort with inmate strength of 30 old people from different backgrounds.
IMA GAPIO Initiative
Indian Medical association, the collective consciousness of over 2.5 lac doctors of modern medicine in India signed an MOU with GAPIO to work on subjects of public importance. The MOU was signed by Dr Anupam Sibal from GAPIO and Padma Shri Awardee Dr K K Aggarwal Honorary Secretary General IMA.
Padma Shri Awardee Dr A Marthanda Pillai, National President and Dr K K Aggarwal said that "Under the IMA GAPIO" initiative both the organizations will exchange faculty;  issue joint travel advisory on periodic basis; exchange researches, start bilateral orations; faculty and collaborate in developing a white paper on "what is not unethical". IMA will also provide a platform to NRIS who want to do community service in India.GAPIO will also nominate nine international medical icons for IMA's Swasthya Bharat Movement.
Next Annual Conference of GAPIO will be held on 09th and 10th January 2016 at Bangalore.
For further information, please contact: Ms. Kusum 9999973090