Today, 645 economically weaker section (EWS) youth awarded skill training certificates and stipend of Rs. 2000 each, through Direct Benefit Transfer (DBT) by Mr. Vivek Trivedi, SDO, State Urban Poverty Alleviation Cell (SUPA) Chandigarh at the Valedictory function of Livelihood Skill Training Program at Post Graduate Govt College, Sector 46 Chandigarh.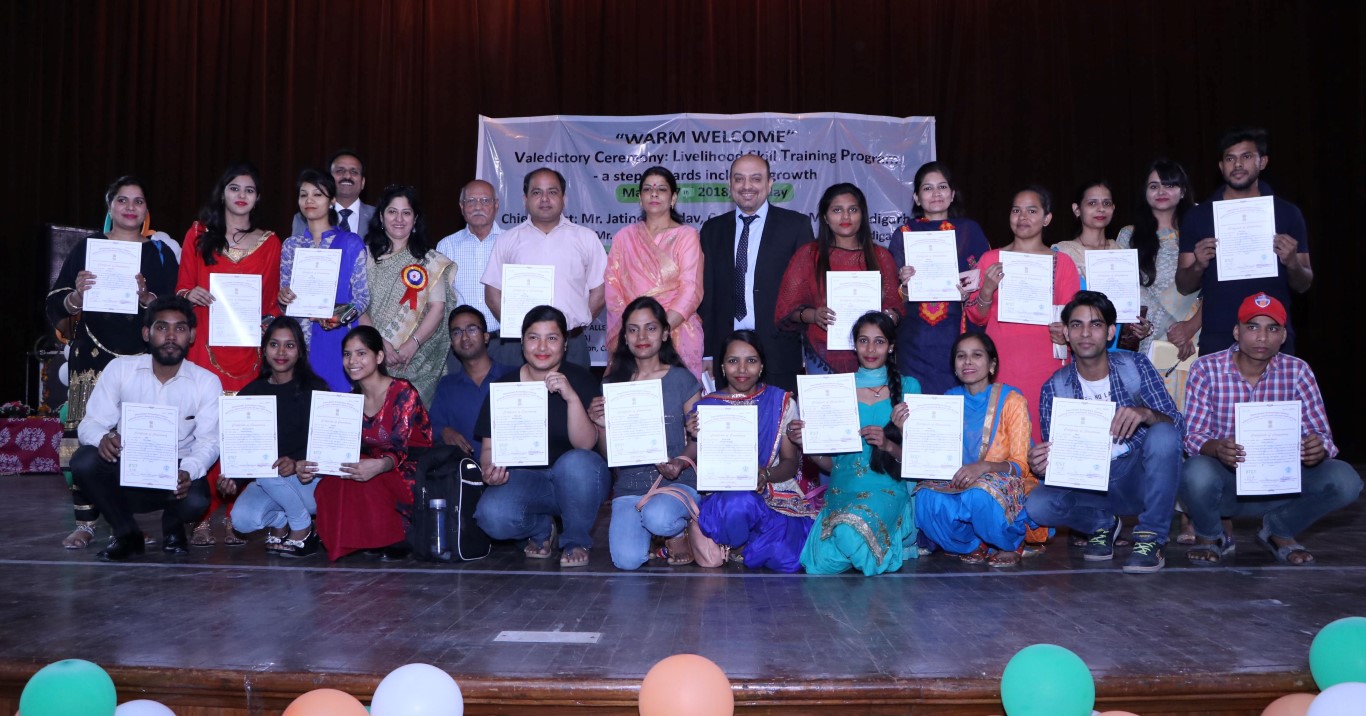 The training was conducted by BTGT, with collaboration and support of State Urban Poverty Alleviation (SUPA) Cell, Municipal Corporation, Chandigarh. Special efforts are being made by SUPA cell and the CDS (Community Development Service) workers in strengthening the eco-system for inclusive growth.
Mr Vivek Trivedi inspired the students with his inspiring speech. He said, "I am happy to witness the program where students in large number are provided with Certificates and stipend. Skill development programs help students to grow and excel in their fields. Our PM Narinder Modi is also encouraging these programs all over India so that Youth gets maximum employment and possible salaries according to their talent."
While talking about SUPA collaboration with Bridging The Gap Together (BTGT), Mr Trivedi said, "Our collaboration is from past 5 years and we started our journey with retail sector. After completing Skill development program, more than 360+ students are now working in retail outlets and private sectors and also earning salaries more than 20 thousand per month."
Students shared their experiences during this program and also talked about current salary package and growth aspects which led to their promotions.
Mr Ashwani Kumar, Vice-President, Bridging The Gap Together (BTGT) who headed the front end team of this project told that: "These initiatives and support results in empowered youth which is a key enabler for Empowering Family. It is not only the students but also their family which gets support and growth with our program as students can earn better after doing skill development program. Training was for 460 hours which was completed in 4 months period which included retails skills, life skills, computer knowledge, communication skills, personality development and social ethics.
Mr Trivedi said that credit goes to Government of India for structured skill programs. In Chandigarh, 16 prestigious & credible institutes are running our skill development program. While explaining students, he said that they need to work on 2 things more after taking skill development program. Language skills & Networking skills are as much important to grow. Students should build their network by interacting with co-students who are earning more than them.
The key employment partners includes Shopper stop, Lifestyle, Pantaloons, Westside, Tanishq , Big Bazaar, Cinepolis, ICICI, PVR, KFC, Bajaj Finance, Being Human, People and some unorganized retail good employers etc. Around 5% of students have taken up self-employment as their career. These beneficiaries are true example of empowerment and moving towards the objective of Sustainable growth of India. Some of them have taken self-employment as their professions.
Ms Reena Raheja, Director, Bridging The Gap Together (BTGT) who headed R&D team told that "There is a need to strengthen and co-create the sustainable and inclusive growth platform for providing the direction and required support to the youth. And all stakeholders including Policy makers, Parents, SUPA team, CDS Workers, Schools, CSRs, Employers, Training providers etc need to be a part of the same."
Students who are earning more after completing this skill development program shared their journey so far.
Amit Kumar who took this training in 2015 told that he is earning 20-25 thousand per month by working in Lifestyle store at Flange. He is also doing his 2nd year of Graduation.
Shyam Verma who is earning 22 thousand salary per month, shared that I am working in Mobikwik Business Account and get very handsome salary. I completed my +2 and later studied Computer course C++ & Java Programming.
Having gained a confidence to work in a German company, Amrita Chauhan said that I never dreamt that I will ever work in International Brand. I am designated as Beauty adviser and earn 20 thousand per month. This has helped me in repaying my housing loan and also support my family.