Framed Fabric Wall Art
This is a very simple DIY project that involves taking a sample of fabric that you can find at your local fabric or craft store, and then putting it into a picture frame, which you can also find at your local fabric or craft store. To do this, you should find about three or four samples that you like, and then buy about three or four picture frames.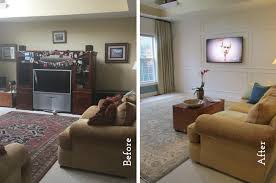 Then, you remove the back of the frame, cut the fabric to fit the frame, but leave a little extra fabric, and then put it in. After that, you just need to find a good spot to put it! That's all there is to it, and it will only take about ten to fifteen minutes to put the fabric in each frame.
Purchase And Install A Rug
The most difficult part of all of this is simply obtaining the rug, and then moving certain furniture out of the way so that you can fit the rug in and make it look all nice and pretty! But, other than that, this is a very easy DIY project, and it will make your home look very different when a change is just what you need. There are many different types of rugs you can look at and consider, though it all depends on your own tastes and stylistic needs. One popular rug style is a Moroccan Rug, which evokes feelings of exoticism, taking an otherwise bland home, and spicing it up!
Stencil A Message On A Piece Of Wood
Take a piece of wood that is in the shade and size you desire, and then stencil a message on it. You can print out a good stencil on a piece of printer paper, and then use whatever paint you have on hand. Chalk Paint is perfect for this craft. This is a very fun creation that you can do in about twenty or thirty-minutes, depending on the materials you currently have at the moment. But, if you have the wood, a stencil you want to use, and some paint, this is a fun and easy project!
Cork Board For Messages And Notes
This is an equally simple and easy DIY project. What you do is go to a craft store and buy however many cork trivets you want to buy. These are small, circular cork boards that can hold about four sticky notes in total, but you can buy quite a few of them for very cheap. Then, you purchase a few small strips of fabric that you like. Once you do that, cut out the fabric, leaving some extra space, and then staple it to the board. If you have sticky notes or tape, that is very helpful in making sure that your messages and notes stay attached to the board itself!
Paint Your Front Door
This should only take one-day, but it depends on when you start the project, and the materials you need. For that reason, we recommend sticking to one color and then coating it once, waiting, and then coating it again. Or, if you'd like, you can paint one side red, for example, and then the other side green. Believe it or not, this actually makes a huge difference to the atmosphere your home evokes!
Build A Large Chalkboard
This is a fun project that enables you to write all kinds of little messages and to make lots of little drawings that you can share with your family! To do this, you need a thin plywood board that you can get at your local hardware store, and then spray primer, and a foam roller with multiple types of chalkboard paint. First, you should cut the plywood and make sure it is the right size and that it is level. Then, prime it, and put the chalkboard paint on it, let it dry, and put it up! Now, you or anybody else can write little messages, put little poems and rhymes, and even draw random pictures!
Stained Open Shelving
Using plywood boards, you can stain them using a stain of your choosing. Then, install iron brackets in the shelves, and mount them on a blank wall. Depending on the color of the stain you use and what you put on the shelves, this is more than likely to spice things up!