Nirankari Satguru Mata Ji Inaugurated 75th Annual Nirankari Sant Samagam Sewa: On the inauguration day of the 75th Annual Nirankari Sant Samagam 16 to 20 November, Samagam Sewa was inaugurated by Her Holiness Satguru Mata Sudiksha Ji Maharaj at Sant Nirankari Spiritual Complex, Samalkha, Haryana.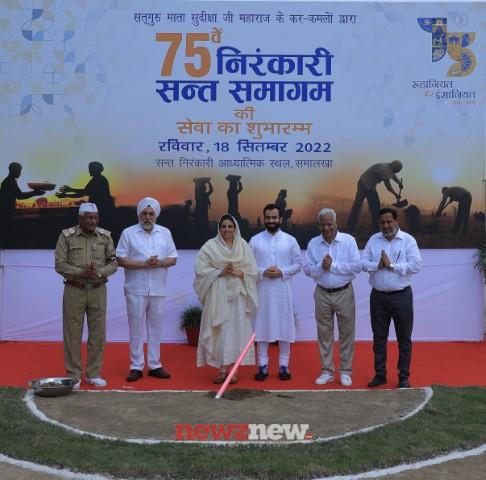 On this occasion, Sant Nirankari Mandal's members of the Executive Committee, Central Planning and Advisory Board, Sewadal Incharges and volunteers apart from the devotees from Delhi and adjoining areas were present.
Satguru Mata Ji was greeted by respected Shri Sukhdev Singh (Chairman, Coordination Committee) and respected Shri Joginder Sukhija (Secretary, Sant Nirankari Mandal).
On this occasion, Satguru Mata Sudiksha Ji Maharaj stated while addressing the entire Nirankari fraternity and God loving people, that selfless service should be executed with complete surrenderance and dedication.
Mata Ji further said that Sewa is considered meaningful when it is done consciously and no one should ever be despised by our actions and our behavior, knowingly or unknowingly. Everyone should be respected and honoured because everyone is a creation of Nirankar. With God remembrance in our heart we should contribute selflessly for the upcoming Samagam.
After completing a series of successfull 74 Nirankari Sant Samagams, Nirankari Missions devotees are looking forward to the upcoming 75th Annual Nirankari Sant Samagam. Lakhs of devotees and God loving people will attend this blissful Sant Samagam, under the Divine presence of Satguru Mata Ji. Many volunteers and devotees of Sant Nirankari Mission will render their services at the Samagam venue in the upcoming days.
In order to provide maximum facilities to all the devotees attending this Samagam, a beautiful city of shamiyanas will be erected in which proper arrangements for the stay, refreshment and basic necessities are being taken care of with the cooperation of the administration and government officials. Facilities for various management offices, publication stalls, exhibition, langar, canteen and dispensary will be made available at the venue of the Samagam.
Conveyance arrangements are being made to ferry devotees back and forth from the railway station, bus stand and airport. Along with this, parking areas for other vehicles are also being arranged.
Like every year, this Divine Sant Samagam will display a unique view of Unity in Diversity which will be inspirational and enjoyable for all the devotees and God loving people.