8th Global Festival of Journalism Propagated Positive Journalism: The first ever festivals of Journalism of Asia and second in the World created a wonderful opportunity for journalists from all over India and abroad a powerful cultural exchange.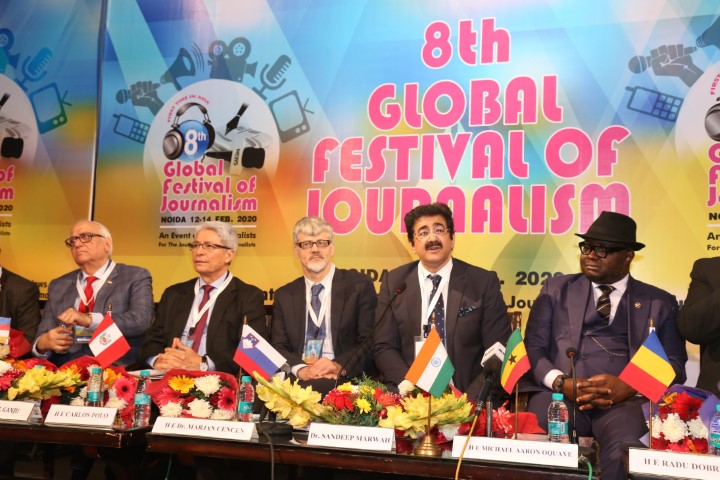 International Journalism Center and International Chamber of Media and Entertainment Industry in association with AAFT- Asian Academy of Film and Television jointly presented the 8th edition of Global Festival of Journalism Noida at Marwah Studios at Noida Film City.
"It was exactly nine years back we announced 12th February as the International Day of Journalism under International Journalism Center. To Mark respect to our own decision we started first ever festival of journalism on the fixed dates of 12th, 13th and 14th of February. We feel elevated now, when hundreds of organizations all over the World have started celebrating this particular day," said Sandeep Marwah President of the festival.
On This Occasion National Secretary of BJP Tirath Nath Singh, Ambassador of Republic of Peru H. E. Carlos Polo, Ambassador of Slovenia H.E. Dr. Marjan Cencen, Sandeep Marwah, H.E. Michael Aaron Oquaye Ambassador of Ghana, H.E. Radu Octavian Dobre Ambassador of Romania, H.E. Muhamed Cengic Ambassador of Bosnia and Herzegovina, Mophethe Sekamane Counselor High commission Lesotho, Film Critic Komal Nahata, Ashok Kumar Tondon Senior Journalist, Madhwan Narayanan Senior Journalist& K.L. Ganju Present there.
"We are amazed to see the   quality and quantity of the program. Never ever attended a festival of journalism before though I have in journalism for many years before joining Foreign Service," said H.E. Muhamed Cengic Ambassador of Bosnia and Herzegovina. The cultural diplomacy is the most remarkable in building relations. I am happy to be here and would like to join hands with ICMEI for more activities," expressed Michael Aaron Oquaye Ambassador of Ghana. Later Dr. Sandeep Marwah honored all the dignities with the life membership of International Journalism Centre of ICMEI.