9-1-1 Season 4 Episode 11: The Procedural- drama and Action series "9-1-1" didn't take much time to become a hit show due to its brilliant storyline and exceptional characters.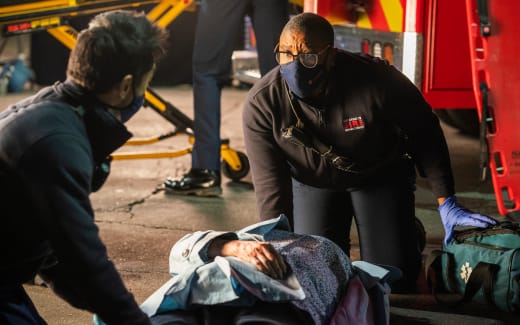 Though, on its original release on 3rd January 2018, the series gained mixed reviews but slowly and gradually with every new season arrives, the audience started gaining more interest in its plot and the ratings of the show also improved since its inception.
Now, the show is renewed for the fourth season which already started airing on January 18, 2021, and has released 10 episodes in total so far. After increasing the excitement of the viewers in the 10th episode, the viewers are all set to watch 9-1-1 Season 4 Episode 11 which is scheduled to air this week on Monday.  
9-1-1 Season 4 Episode 11: What to expect?
The upcoming 11th episode of 911 Season 4 is titled "First Responders" and we might go to see the 118 facing a life-threatening mission that involves a hit-and-run that is likely to affect a familiar face very adversely. Just like the previous trends of the show to bring up the past quite often, there is a chance that we may possibly going to see an old character coming back. In the meantime, Athena is going to be seen investigating a case along with Buck who will assist her in this case that involves a missing woman.
9-1-1 Season 4: Release Date of Episode 11  
The Fox channel drops a new episode of 9-1-1 season 4 every single week on Monday. This week also, we are going to watch the upcoming 11th episode of 9-1-1 Season 4 on Monday as it is scheduled to be releasing on 3rd May 2021. Now, coming to its timing, the viewers can watch this upcoming episode at 8 pm ET on Fox. Just like the previous episodes of the series in season 4, the 11th episode is also likely to run for around 43 minutes.
9-1-1 Season 4: How to Watch 9-1-1 Episode 11 Online?
As we have said above, the fourth season of 9-1-1 is scheduled to air on Fox every week on Monday. However, if you don't have a cable connection or any access to the Fox tv channel then you can also stream this show online. In order to watch the upcoming 11th episode of 9-1-1 season 4, the viewers can go to the official website of the Fox Now app.
However, you have to wait a little more like the upcoming episodes on its online site drops shortly after the episode is actually aired on the Fox channel.  Other than the official site of Fox, you can also stream '9-1-1' latest episodes on the live-TV as well as on-demand platforms like Hulu, iTunes, Fubo TV, and DirecTV. In addition to this, you can also stream every latest episode of the series on Amazon Prime Video by purchasing the complete season 4 for $33.99 or else buying an individual episode for $2.99.