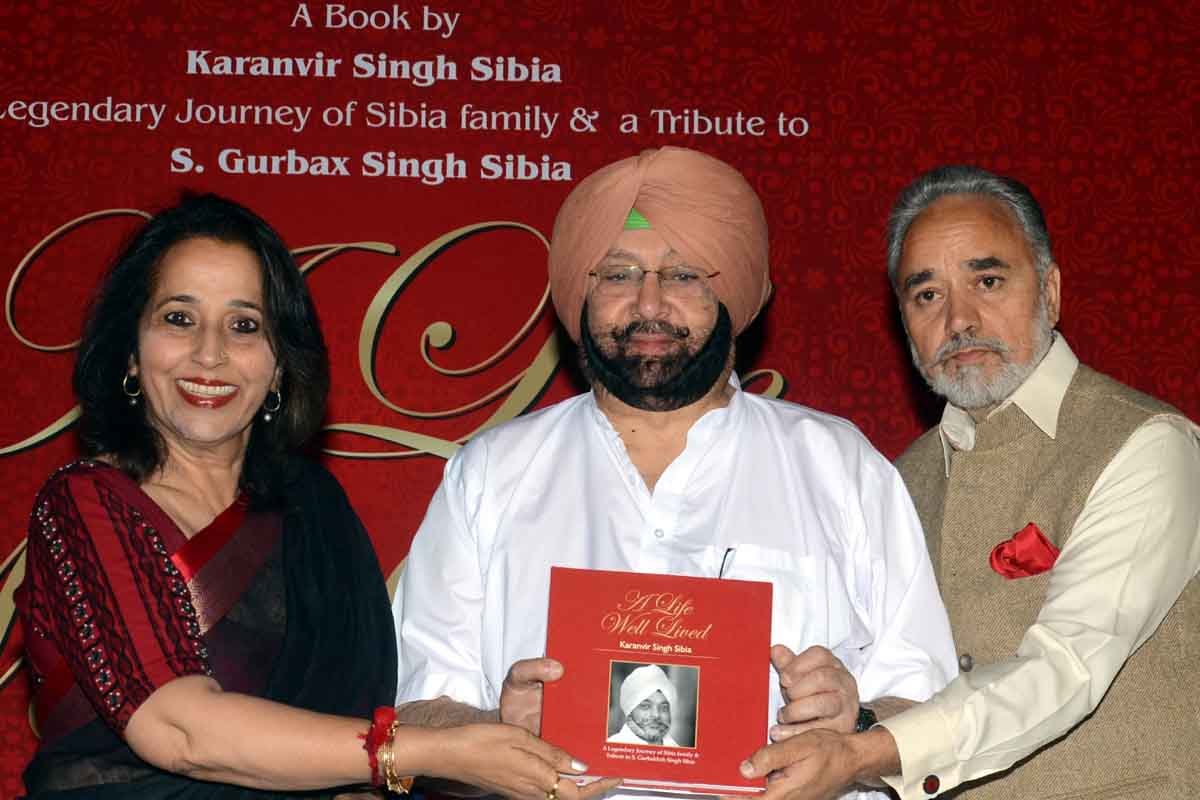 NewZNew (Chandigarh – Kulbir Singh Kalsi) : Capt Amarinder Singh released a book on one of the popular statesmen of Punjab Sardar Gurbakhsh Singh and the story of Sibia's forefathers, "A Life Well Lived" written by his son Karanvir Singh Sibia, at a function held at St Stephen's School here today.
Former judge of Panjab and Haryana High Court, a close associate of Sibia family, Mr Justice (retd) Kamwaljit Singh Grewal and Safina Bittu Sandhu also shared their association with the family.
Karanvir Singh Sibia sharing his journey in writing this book said that the Gurbani recital in Raag Basant on a winter morning of 15th January 2013, triggered the nostalgic journey into his childhood to meticulously collect those scattered pieces of information about the life of his father.  And as he started drawing the family tree, the personal experience transformed into more research-based documentation of the great heritage of the states of Jind and Sangrur where his ancestors left a great legacy.
Karanvir's personal quest led him to great-great-grandfather Nazim Daya Singh Sibia who pioneered land settlement of then tehsils of Sangrur and Jind in late 19th century (around 1840s).  He has not only found inspiration in the contribution that the generations before had made to the society and the country, the book also brings to the fore the values that Sibia family so proudly pursued inculcated through Gurbani.  Karanvir's narration is well-punctuated with quotes from Sri Guru Granth Sahib.
S. Gurbakhsh Singh Sibia rose to his political career by sheer dint of his empathy to the people at the grassroot and genuine urge to do good which is visible through numerous modern temples of education and economic development that he setup in Punjab.
The book also serves as a great connect between the family and the Sibia's circle of friends who find their mention and many have contributed to the compilation.
"I have attempted to go down the timeline and write about my forefathers, and especially two personalities Sant Maharaj Attar Singh ji and the freedom-fighter  Bhai Randhir Singh ji who greatly inspired my father to dedicate himself for social causes," Karanvir says.
Though Karanvir spent 35 years managing one of country's best stud farms and breeding several Derby winning race horses, he has totally immersed himself in carrying out the rich legacy of working for the larger good of the society by preserving the heritage of Sangrur and Jind, working for girl education, as well as getting himself involved in saving the lives of the children under "Nanhi Jaan".
"I believe that the best gift that children can give to their parents is to realize and pursue their dreams", Karanvir says. "Let us dedicate every living moment of our lives for others so hat we can proudly say that his was "a life well lived", he adds.
Published by Bluejay Books, Delhi, the hardcover coffee book is priced at Rs 1100 and part of the proceeds from the sale of the book shall go to support the projects of 'Nanhi Jaan', which works for saving the lives of the infants.