newznew (New Zealand) : Wellington, the capital of New Zealand, is located at the south-western tip of the North Island and separates the North and South Islands of the country.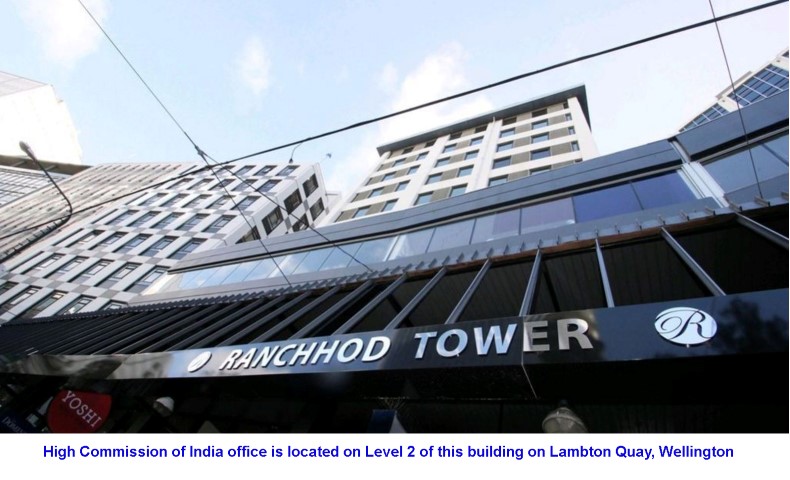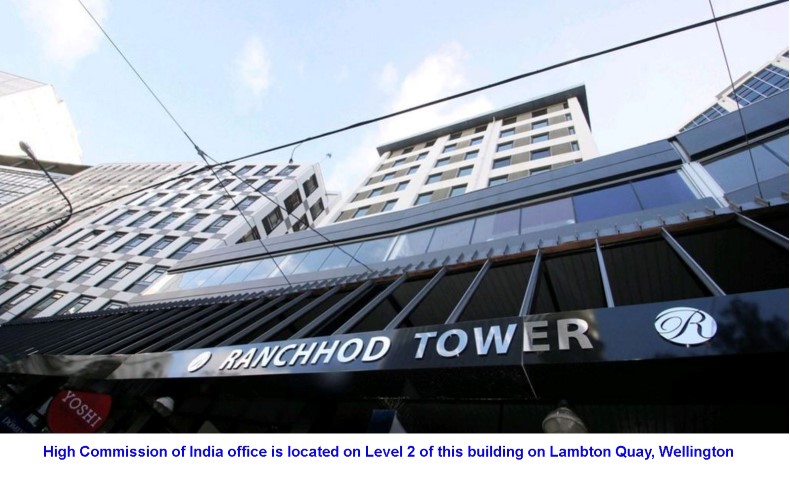 At the bottom of the world at the water's edge, this 'little city with a big heart' is surrounded by ocean and hill. Wellington is a compact city with a powerful mix of culture, history, nature and cuisine, and is often referred to as New Zealand's art and culture capital.
Also Read : Wellington chosen 'Best Place' to live in world
With a population of 496,000, it is the third most populous urban area in the country. This vibrant city has been rated as having the "world's best quality of life" and the world's "coolest little capital". Wellington was dubbed as the 'world's windiest city' by The Guardian of London for high velocity winds that blow across the region most days.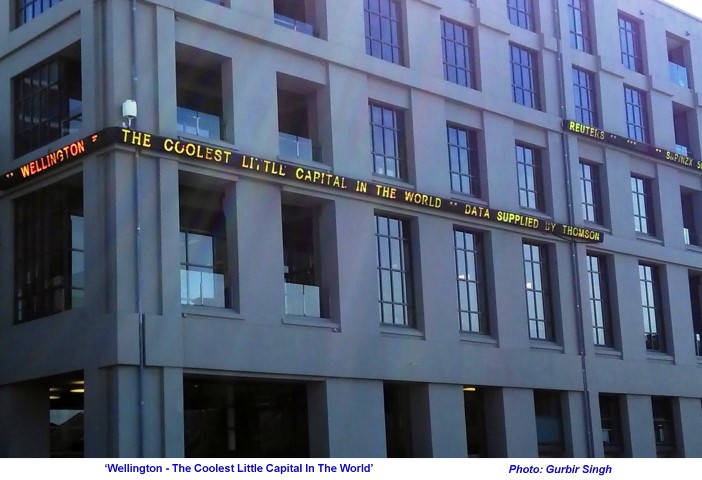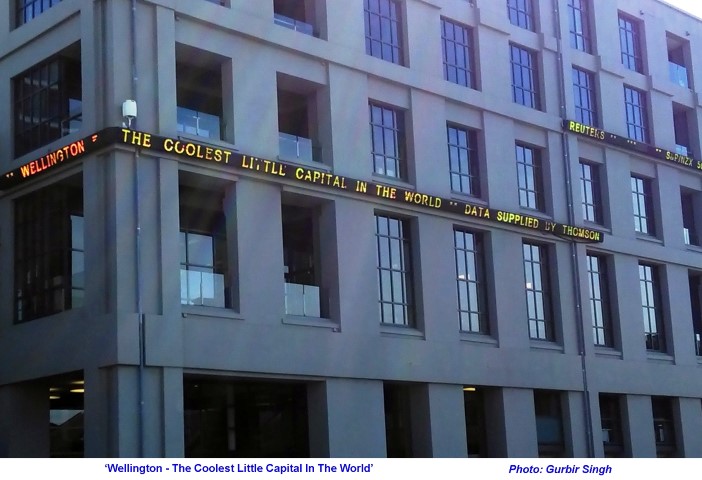 Wellington is also the seat of the Government with the Parliament, Supreme Court, National Gallery, National Museum, etc located here. The High Commission of India and diplomatic offices of other countries are also housed in the city.
Wellington – encompasses a stretched waterfront walkway, sandy beaches, a working harbour, colourful timber houses clinging to lush green surrounding hills, making the city famous for its gorgeous picturesque views.
Also Read : Kiwi sets new World Record with his 430 bungy jumps
Wellington is easily the country's most bustling and energetic metropolitan hub with a unique inner-city focus. At least 30% of local commuters use public transport in Wellington and it is the highest in New Zealand and about 10% walk to work. Malls and side alleys connect its streets, many cafes are housed in refurbished Victorian buildings and diverse street art is scattered throughout.
Some of the country's best art galleries, restaurants, microbreweries, and coffee outfits are located here. In fact, Wellington has more cafes, bars and restaurants per head of population than even New York.
You will not have to go far for Indian food also as there are at least 70 tandoori places spread across the city centre and sprawling suburbs.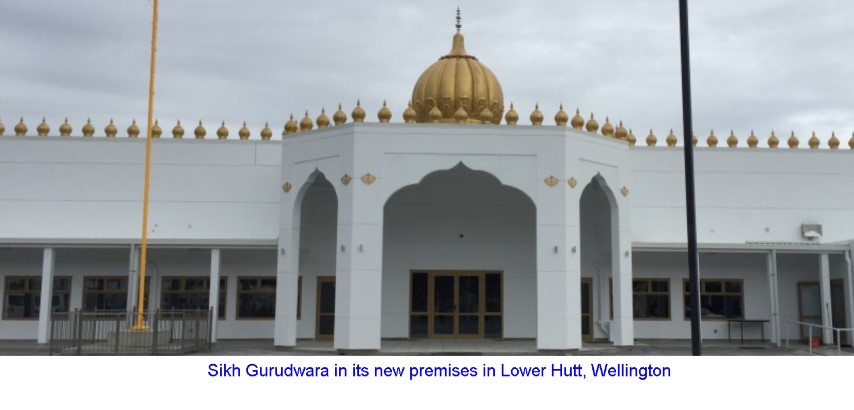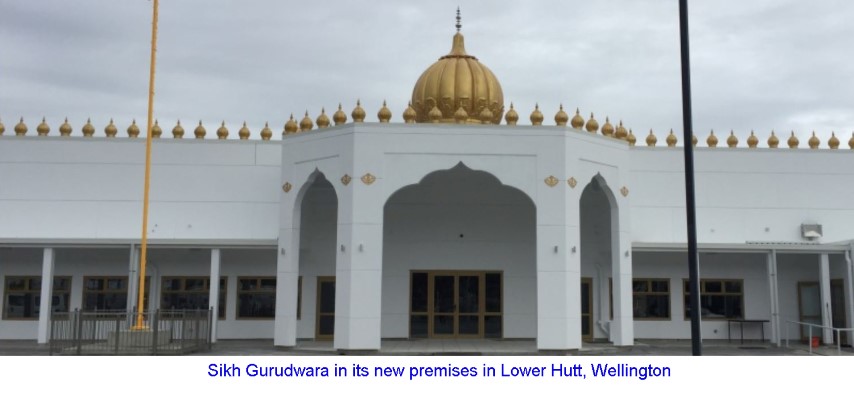 Wellington is also associated with several highly acclaimed and blockbuster movies, including The Lord of the Rings, King Kong, Avatar and The Hobbit. Every year Wellington also showcases 'World of Wearable Art', a combination of fashion and art, and over 50,000 attend these shows.
Also Read : Wellington chosen 'Best Place' to live in world
The city is also popular amongst domestic and international students for its three universities, three institutes of technology and a large number of private training establishments.
Earthquakes are a big reality in Wellington as the fault line runs through the middle of the city. Last year alone, there were 145 jolts, most were minor and did not cause any damage or injuries.


There are nearly 17250 Indians living in Wellington and amongst other religious centres, there is a Sikh Gurdwara, Gita Mandir, Shri Swaminarayan Mandir and a temple devoted to Sai Baba.
When to visit
Wellington is attractive during most periods of the year, but best time perhaps would be during spring or summer, between the months of September and March.
The average temperature here in mid-summer is only 20.3 degrees C, and in mid-winter 5.9 degrees C. But at times, weather can change to have all four seasons in one day also.
How to reach Wellington
There are no direct flights from India to New Zealand yet. So,you could fly first to Singapore, Kuala Lumpur or Hong Kong and then fly to Auckland or Wellington.
If travelling from Auckland, you can take a direct flight to Wellington and takes an hour and a half. At times, fare varies depending upon the time of day you fly and you could take advantage of frequent fare deals.
Also Read : New Zealand a 'Hot Destination' for Indian Tourists
If time is on your side, you can travel by train, Northern Explorer and experience extraordinary range of scenery on the way. Train journey costs $159, runs thrice a week and takes about 12 hours.
You could also easily rent a car with your valid Indian driving licence and drive yourself from Auckland to Wellington. The 645 kms distance would take 8-9 hours and you could stop and enjoy several other towns on the way.
Wellington has many attractions for the tourist. So, in your itinerary keep at least 2-3 days for this 'coolest city'.
— Gurbir Singh is a New Zealand-based freelance writer & journalist, [email protected]
Editor's note: In the next series, Gurbir would be writing about the five top attractions of Wellington.