NewZNew (Moga) : AAP Action Plan to prevent Farmer and Farm Labourers Suicides, make them Debt Free and Prosperous by December 2018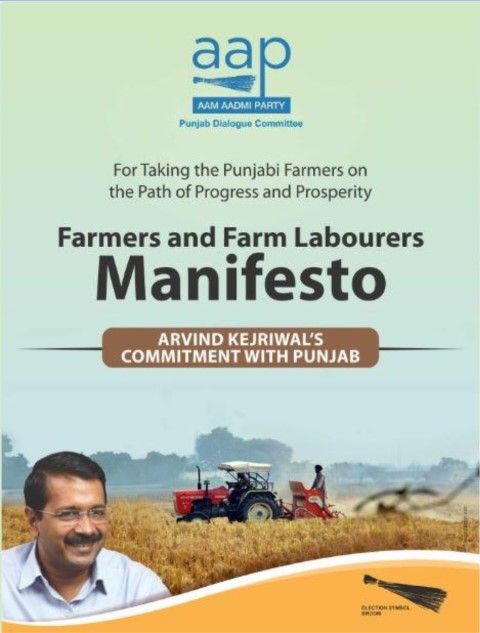 Re-enactment of the Sir Chhotu Ram Act of 1934 (Moneylenders' Debt).
Under no circumstances will the sum of interest payable exceed the principal amount.
All debts where a farmer has paid a sum twice the amount of the principal shall be deemed to be wholly discharged.
Every property mortgaged by a debtor whose debt is deemed to be discharged shall stand released.
No indebted farmer shall be dispossessed of his Land Holdings & House.
The interest rate payable on the debt shall be "Bank Base Rate Plus 1 per cent."
All loans, big or small, shall be covered under the Act.
All private moneylenders shall be registered; borrowers shall be issued passbooks.
Loan "Waive Off Plan" For Bank Debts.
a. Loans of Poor Farmers & Farm Labourers will be waived off; Loans of SCs and BCs will also be waived off.
Interest on Loans of Other Farmers will be waived off.
Punjab Farmers to be Debt Free by December 2018.
No coercive recovery proceedings against farmers will be launched till December 2018 when they will be debt free.
A Bank Debt Settlement Committee will be formed to work out the modalities of the "Waive Off Plan". The Committee will negotiate with banks in order to bring parity of Farmers with Corporate Houses for purpose of settlement of loans.
Making up Crop Loss:Compensation of Rs 20,000 per acre for crop loss due to drought, floods, pest attack, unseasonal rain, etc.; In the event of crop failure, Farm Labourers shall be given a compensation of Rs 10,000 for every month of loss of work.
Proper Crop Price:Minimum Support Price of "Cost plus 50 percent" & Full Implementation of Swaminathan Commission Report on crop pricing by December 2020.
Return of SYL Land:Re-registration of Land acquired for the Satluj Yamuna Link (SYL) Canal by Congress and Shiromani Akali Dal governments earlier, in the name of original owners; Set-Up Water Regulatory Authority to protect and conserve the water of Punjab.
Instant Crop Payment:Lifting of farm produce within 24-hours after reaching Mandi and full payment to farmers within 72 hours of the purchase.
12-Hour Power for Farmers: It will be ensured that farmers get 12-hours of Free Electricity for farming – no electricity bills on "motors".
Shagan at Birth & Wedding: Shagan of Rs 51,000 within one week of wedding of the daughter of a Farmer/ Farm Labour; Shagan deposit of Rs 21,000 in a bank account in the name of a newly born daughter born to a Farmer/ Farm Labour.
Free Medical Facilities:a. Modern "Pind Sehat Clinic" (Village Clinic) in every village; Free Medical Treatment in Govt. hospitals & cashless treatment up to Rs 5 Lakh per year in private hospitals for every farmer, farm labourer & his family; All diagnostic tests, medicines and complete treatment shall be free at Pind Sehat Clinics and Government Hospitals for Farmers and Farm Labour.
Education Loans for children:Collateral-free education loan of Rs 10 lakh for children of Farmers and Farm Labourers.
Jail for Corrupt Akali Ministers:High-level and time-bound Inquiries will be initiated against Agriculture Minister, Tota Singh, Food & Civil Supplies Minister, Adesh Pratap Singh Kairon, Revenue Minister, Bikram Singh Majithia, Rural Developments and Panchayats Minister, Sikandar Singh Maluka and others, besides their cahoots who allegedly amassed properties and diverted money from schemes/ grants earmarked for farmers; Such properties will be confiscated and the guilty jailed in accordance with the law.
Canal Water: Revival of Canal System in the State, besides construction of canals in areas deprived so far, including Kandi belt; Irrigation Department will be made free of Corruption.
Diversification Push:
Tax-free Holiday for Agri-units:The mainstay of the diversification programme will be setting up of clusters of Agro-industrial units in specific areas which will get a 10-Year Tax Holiday, interest free loans for units employing at least 80 per cent work force from Punjab. Requisite Marketing Infrastructure for Agro-industrial produce will be established.
Price Assurance:To promote diversification differential amount between MSP and market rate for Maize, Basmati and Pulses (Dals) shall be paid to farmers.
Govt. Warehouses:Modern Cold Chain Infrastructure in all 20 major Fruit & Vegetable Markets; Government-run cold storages in all 22 districts .
Agri Export: To provide a big boost to agriculture exports, State-of-the-art Perishable Cargo Centres will be established at International Airports at Amritsar and Mohali.
Farmer Problems & Awareness:Free wi-fi in every village to give farmers latest information & knowledge. All vacant posts of Agriculture and Horticulture Development Officers, besides Soil Conservation Officers will be filled up; "Kisan Mittar" will be appointed in each village to disseminate agriculture-related information to farmers.
Revival of Sugarcane:Modernization and Expansion of nine Cooperative Sugar Mills; remunerative price for sugarcane; all farmer arrears will be cleared; henceforth payments to sugarcane farmers within 7 days.
Boosting Cooperative Movement:Cooperative Societies will be freed from political interference; there will be independent auditing of Cooperative Societies; Incentives to successful multi-purpose societies; Increase in plant and machinery subsidy for Farmers Cooperative Societies from 40 to 60 percent.
Farmer Litigation:Fast Track Courts to dispose of all pending land related litigations of farmers within 2 years; all false cases lodged against farmers and farm labourers by the SAD-BJP Government shall be withdrawn; revenue teams in each village to deal with partition ("takseem") of agricultural land between heirs in time-bound manner. Use of technology for accurate mapping of all agricultural land.
Crackdown on spurious products: Life Imprisonment for those involved in manufacture & sale of spurious pesticides, insecticides & spurious milk and their properties shall be confiscated.
Farmer Suicides: Rs 5 lakh and a Government job for every eligible adult member of the families affected by farmer suicides in the past 10 years.
Private push to Markets:Large scale private investment in Markets and Processing Centres in every district where farmers will sell their produce; rural entrepreneurs shall get same benefits as industrial & IT Start-ups.
Best Price for Farmer:APMC Act shall be amended to allow farmers to sell their produce to buyers & markets of their choice in and outside the state.
Realistic Pension: Old Age Pension shall be increased from Rs 500 to Rs 2000.
Atta Dal for more:A total of 10 lakh more families shall be covered under Atta Dal Scheme.
Punjab will be declared a Dairy State: 25,000 new dairy farms through various incentives like Interest free loans & subsidised electricity; Inter-state movement of cattle for dairy and agricultural purposes will be facilitated and certification of such cattle will be done only by veterinary doctors; State Milk Pricing Board shall be set-up; free veterinary treatment for cattle at govt hospitals.
Farm Labs:To ensure best productivity, testing facilities will be provided to farmers.
Laboratories will be established at block level for free testing of test agricultural soil, seeds and insecticides.
Two Food Testing Laboratories to be established in the state.
Border Areas:Compensation of Rs 10, 000 per acre for land beyond the fence on IB; settle all arrears of compensation.
Wild Animal Menace:Subsidy for fencing to farms affected by wild animals in Kandi Belt.
Loans to landless: Collateral free loan of Rs 2 lakhs for landless labourers to start business activity.
Stray Cattle Shelters:Village Panchayats/ Gram Sabhas will be provided grants to set up Stray Cattle Shelters to deal with the menace of stray animals. Such Shelters will be incentivised to set up bio-gas plants for use by the villagers.