NewZNew (Zirakpur) : Vera Developers Pvt. Ltd. one of India's leading real estate developers engaged in development of prime residential properties has launched that one of its Luxurious Life Style project "Vera Gold Mark" in Zirakpur, Punjab today.  Vera Gold Mark is an integral part of Vera developers Pvt. Ltd'  spanning an area of approximately 12 acre and its unprecedented success gives a clear indication that the real estate sector in India is bound for a quick revival.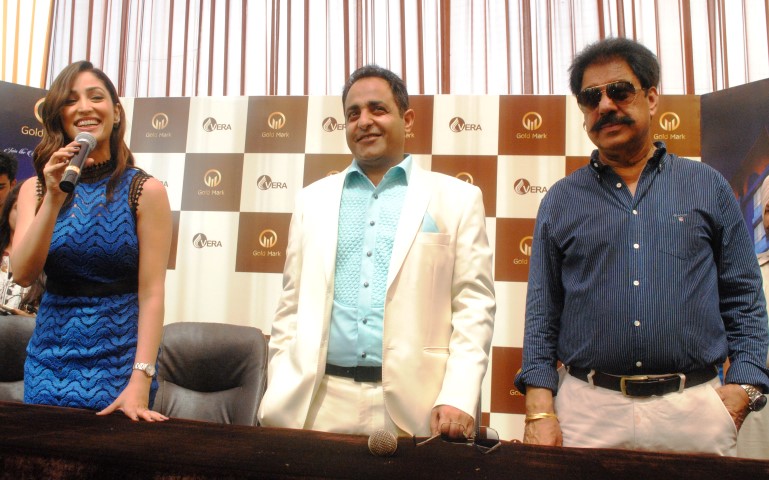 Commenting on the launch Rakesh Kakkar, Managing Director, Vera Group, "Anyone who places a premium on personal privacy and convenience will find Gold Mark an elegant place to live in. The independent floors are spacious and airy, offering a marvelous living experience to the family of our customers. With incredible attention to detail, the residential floors create an atmosphere of unparallel privilege. All three floors will have optimum light and enhanced visual axis in the living, dinning and bedroom." Gold Mark one is a fully secure gated complex, first of its kind in Northern Region. This sprawling township is going to offer schools, lifestyle club. All this will be set amidst wide roads, broad walks, parks and children play areas and this will be a status symbol for the class apart.
Gold Mark provides open and flexible residences, overlooking beautifully landscaped gardens. The exclusive group housing has been eminently conceived to provide all the facilities of a posh residential locale at extremely competitive prices. .
The face of tinsel town, bollywood actor Yami Gautam was the chief guest at the project launch. Talking about the project Yami said that she has travelled far and wide but Gold Mark is one of the township that she has visited around the world. She also said that some of her family lives in Chandigarh and that she is in talks to buy an apartment in the celebrity tower of the project.
Before Launching this project, the tems were lived in diff sectors to understand the actual requirement. Survey, sitting with people. Took 1.5 years. After we hired a team. Principle Arch – zz. Structural designer. MEP designer. Lightning designer. Horticulture and after engaging them all, we applied fo r- list of approvals. After a struggle of 2 years, company got al approvals –
Before Starting this project, the company did a on-ground survey to understand the need and requirement of the tri-city and its people. In this survey many employees lived in different area of the tri-city, the lived amongst different people, went to gathering and sittings to deeply understand the requirement. After Surveying and understanding deeply for 1 and a half year. We then purchased a land at a highly strategic location. After that we hired the most sought after professional teams. Including prestigious Architect Zubin Zainuddin, MEP Designer, Lightning Designers, Horticulture Engineers and after engaging them completely. We applied for approvals and within 2 years, the company got all the approvals.
Approvals –
| | | |
| --- | --- | --- |
| Height Clearance | 13/10/2015 | Air HQ/S 17726/4/ATS |
| Environment Clearance | 20/11/2015 | SEIAA/2015/6984 |
| Change Land Use | 19/01/2016 | DLU/DDLG/PTL/2016/1204 |
| Fire Clearance | 12/04/2016 | D/B/ 148 |
| Map Approval | 07/04/2016 | DTP/2016/659 |
| Pollution clearance (air/water/HWM) | 18/08/2016 | CTE no. 4329294 |
This project has been approved by the major banks named – . and all the banks are here at site on the day of launch to promote the project and provide instant approval of home loans.
Gold mark Zirakpur a designed dream where happiness turns true, a place that glitters like gold when you are in search of a splendid life style. It is one of the Punjab's largest residential project located at a such a strategic location, which directly connects to 4 National highways leading to 4 states within 200 mtr span. The residences are designed in a way where each unite is open from all directions and has scope for sufficient natural light and ventilation. Gold Mark also boasts 3 level of exquisite landscaping consisting of 14 types of themed gardens and also includes lawns, fountains and many other attractions that make life worth living.
Gold Mark Zirakpur is using Mivan Construction Technology, Mivan is an Aluminum Formwork System developed by a European construction company. Vera Gold Mark is the first in Punjab to bring forth at such a large scale construction System that has proven to be most effective and excellent for the overall Indian Construction environment and this is a world class technology proven by most of the developed countries in world and is exclusively used in premium construction only.
It has ample of advantages. It has more seismic residence, increase durability and reduced leakages. The higher carpet area with smooth finishing of wall and slab makes this technology one of the most preferred options.  Other than all these uniform quality of construction, more earthquake resistance, negligible maintenance and faster completion are its unparallel merits that will be conquered at Vera Gold Mark.
Post Possession Services offered at Gold Mark –
Property Management – Advance tools and CRM to maintain the property as new as ever.
Customer Portal and Social Connectivity – Central Connectivity of the entire project
Business Center – for your prestigious and important meetings.
Post Rental Services – For NRI or Customers not regularly living here, we will assist them proper caring or renting of their home.
24 x 7 Call Center – To support all needs of the customers at any time of the day.
Interior Services – Vera Gold also offers high quality interior services to further assist the buyer.