16 Sports complexes, Smart schools, Smart Traffic control system and 200 new buses on the anvil
CII session marks roadmap for Chandigarh as a smart city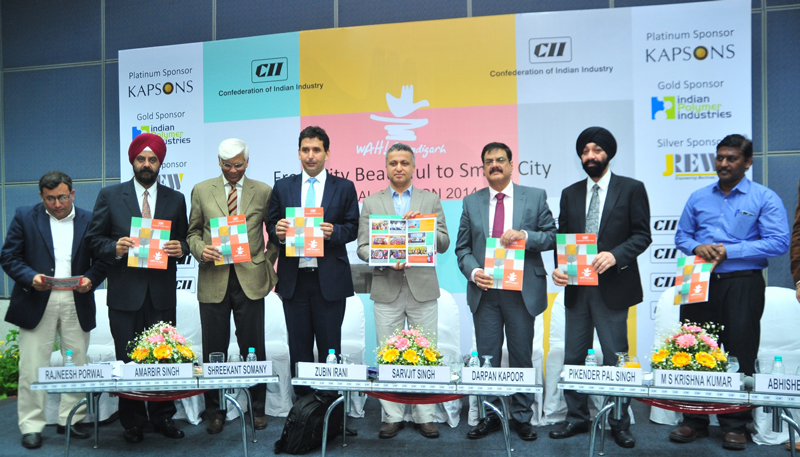 NewZNew (Chandigarh) : "Being selected as one of the future 10 smart cities of India, Chandigarh Administration is committed to make Chandigarh a Smart city with focus on providing basic amenities like unpolluted air, safe drinking water, easier access to smart and good quality education, convenient and cheaper transport facilities, sufficient incomes, nutritional food, shelter, clean and hygienic conditions and security to the people living at the base of pyramid like the labourers, daily wage earners, rickshaw pullers, housekeeping personnel, masons and slums dwellers etc, without whose support, the whole system is bound to collapse", shared Mr Sarvjit Singh, Finance Secretary, Chandigarh Administration while addressing the Session on WAH! Chandigarh : from City Beautiful to Smart City, organized by Confederation of Indian Industry (CII), coinciding with the CII Chandigarh Annual Session at its NR Headquarters, in sector 31 A, here today.
"It is the responsibility of each one of us to ensure that people at the base level, i.e the have-nots too live a life of dignity with sufficient education, nutrition, education, incomes and access to all basic necessary amenities, otherwise the balance of the society and its fabric would be in danger", he added.
Enumerating the three top priorities that the Administration would work with the higher budget allocation, he shared that "Our top three key priorities now are – Education (improving the condition of schools), thrust on sports and enhancing city infrastructure".
Elaborating further, he added that "We have planned to introduce digital content in all Govt schools catering to around one lakh students in Chandigarh. We would put in place basic uniform content and apply Audio visual devices and projectors in all schools mandatorily. We would also train the teachers in this regard".
"Secondly, we have selected 16 schools and planned to convert them into Sports complexes, having earmarked Rs 25 crores for it. These would be opened up for citizens and children in the evenings so as to reduce burden on Sec 42 & Sec 7 Sports complexes. Hence, children can be motivated to play physical games in these complexes in vicinity and avoid games on laptops and mobile apps", further added the Finance Secretary.
"Thirdly, to attain rationalization of public transport, we have planned to buy additional 200 buses which would ply on nine routes vertically (from NE to SW) and 15 routes horizontally (from University to Industrial Area) on 'grid pattern' so as to serve the maximum population. With this addition, we aim to reduce the waiting time for any route buses at bus stops to just 3 minutes", he informed.
"With the increase in budget for UT from Rs 613.6 crore to Rs 830 crores, we have also planned to introduce Intelligent Traffic Lighting and sensor system. We would have hi tech optic cameras and smart Radars to control the traffic as per its flow and levels of pollution during different times of the day. We have earmarked Rs 30 lakh per junction to put it in place", he informed.
"Another key feature of a smart city is digitization of records. To achieve this, we have planned to scan all records at Estate Office, Building Branch, Sub Registrar Office (SRO) and make them computerized, doing away with the files", shared Mr Singh.
"Our aim is to commence all these projects by May 2015 and complete them by 2017", he shared.
"Proper Health, water, Food and education facilities, smart security, smart parks, mobility, smart buildings, and energy grids are the key parameter for a smart city architecture. Chandigarh already has 50 % of the requirements. With the enhanced budget and solid intent at Administration's level, we are hopeful that it would soon become the smart city that we desire it to be. CII is fully committed to provide all necessary support to the Administration in this regard", shared Mr Zubin Irani, Chairman, CII Northern Region & President – Building & Industrial Systems (I), United Technologies Corporation (I) Pvt Ltd.
"Under the overarching theme of World class Amenities & Habitat!n (WAH!) Chandigarh, the CII Chandigarh Council's endeavour is to ensure that Chandigarh continues to be a vibrant center of economic activity and offer a good quality of life to its residents. We believe that Chandigarh has the right ingredients to take itself to the next levels of growth trajectory", shared Mr Darpan Kapoor, Chairman, CII Chandigarh Council & Vice Chairman, Kapsons Group.
Various experts from companies like Ernst & Young LLP, Larsen & Toubro Limited, IIDC Limited shared the presentation on how to make Chandigarh the first smart city of India.