newznew (Chandigarh) : With the blessings of Satguru Mata Savinder Hardev Ji Maharaj, a Zonal level Bal Samagam was organised here, at Sant Nirankari Satsang Bhawan, Sector 30-A, Chandigarh, under the guidance of Central Pracharak Capt. N.P.S Bhullar, from Simla. In this Samagam, around 400 kids from five branches of the tri-city region, seven branches of Panchkula and six branches of Sirmour, participated. Children presented their thoughts on Baba Hardev Singh Ji's ideology and teaching of unity, love, compassion, patience, humanity and brotherhood, in the form of devotional songs, poetry, skits, and more, in various languages including Hindi, Punjabi, English, Himachali, Rajasthani, and Gadhwali. Besides, the kids also brought to light, the fact that Nirankari Mission is not a religion, rather it is the Mission of humanity and love, and inspires, love for the Almighty.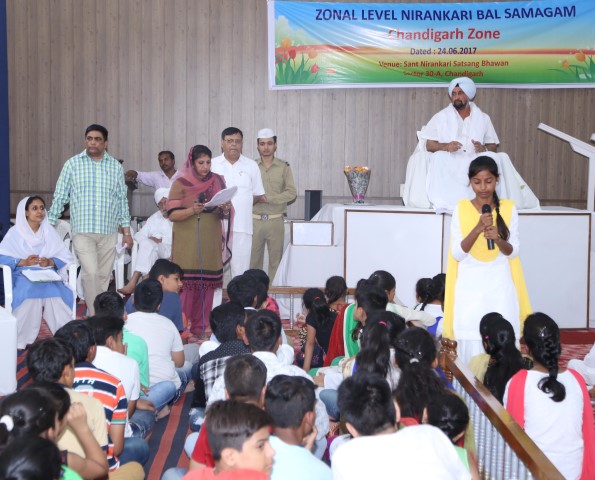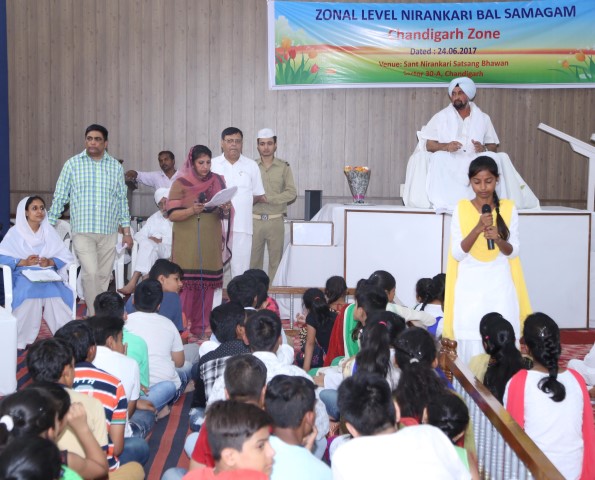 Adults and kids are equally spiritually inclined at the Nirankari Mission says Capt. N.P.S BhullarAddressing the devotees on this occasion, Capt. Bhullar said that the prevalent thought in the world is that devotion to the God is only for the elderly and adults, and not for children, but here, in the Bal Samagam, one can see that even small kids are devoted to God and that is the reason that they are able to sit here, irrespective of the fact that they are understood to be restless, by nature.
Motivating the children, Capt. Bhullar stated that in order to avail maximum benefits from a system, one is constantly required to upgrade and update it, we ought to update our understanding of the Almighty, as understood from the preaching of Satguru Mata Savinder Hardev Ji Maharaj. This, he said, can be done when we continuously come to the Sangat, take lessons from here and adhere to the preaching.
On this occasion, a question-answer session, based on the life of Baba Hardev Singh Ji, was also conducted, in which, 100 children participated. Besides, there was a commemoration and tribute to Bau Kesho Ram Ji, who laid the ground for Bal Samagam, and owing to who, there are several Samagams being organised, throughout the country, today.
Prior to this, Additional Zonal Incharge, Dr. (Smt.) J.K Cheema Ji, expressed her gratitude to Capt. Bhullar, and blessed the children participating in the Samagam, from various 18 branches. Zonal Incharge Dr. B.S Cheema Ji blessed the children with great success and happiness. Due to his illness, Sanyojak Shri Mohinder Singh Ji could not be present at the Bal Samagam, but he prayed to the Almighty for umpteen blessings for the children. Also present on this occasion were, Additional Sanyojak Shri Tarsem Lal Ji, along with Sewadal Adhikari.
The Samagam culminated successfully with Guru ka Langar.