It also unveiled the design elements of its flagship property in Doha
NewZNew (Chandigarh) : Aiana Hotels & Resorts, a global hotel management company with an Indian service ethos announced the launch of 611 room hotel in the Holy City of Makkah. Scheduled to open in Q3 2016, Aiana Makkah will be the first hotel in the Kingdom of Saudi Arabia and Aiana property to welcome guests.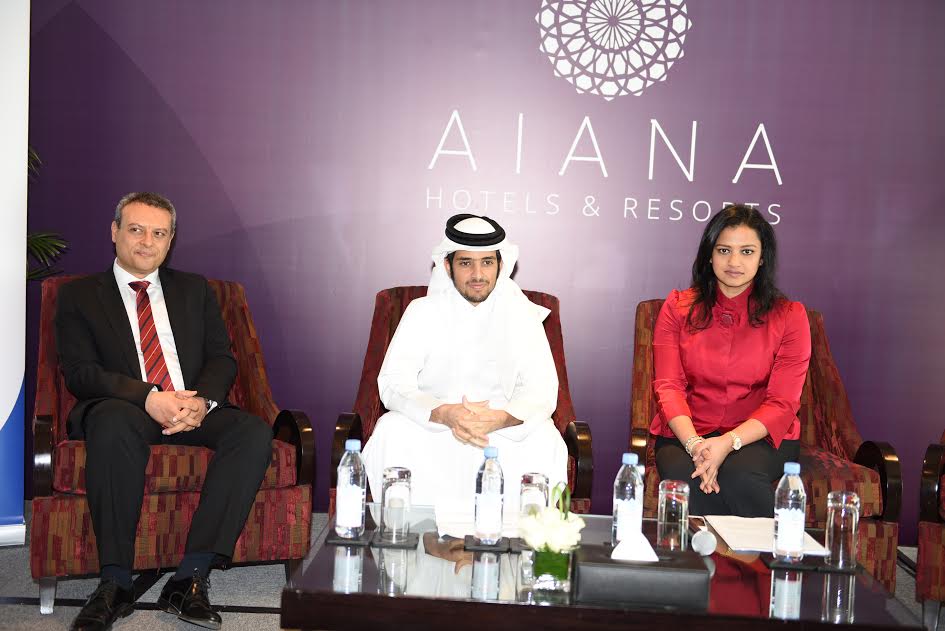 Strategically located near the City Centre and with direct connectivity to the Masjid Al Haram, Aiana Makkah will offer clear views of the Hajj ritual site (the Jamarat).
Designed specifically to provide comfort by anticipating the needs of families and groups that visit Makkah for holy pilgrimage, Aiana Makkah will provide adequate car parking space, clean well-appointed rooms, efficient and friendly service and all day dining that will feature signature dishes from the Middle East, Indian sub-continent, Far East and North Africa.
"Kingdom of Saudi Arabia is a key market for Aiana Hotels and Resorts and we are honoured to open our first property in the Holy City of Makkah. At Aiana, we are conscious of the deep religious sentiment that drives millions of devout pilgrims to the Holy City of Makkah every year and our key focus will be to offer a comfortable and seamless experience while being mindful of the austere nature of their travel", added Amruda Nair.
On the occasion of  AIANA's first year anniversary, Sheikh Turki bin Faissal Al Thani, Chairman of Al Sawari Holding, Amruda Nair, Joint Managing Director and Chief Executive Officer, Aiana Hotels & Resorts L.L.C. and Mohammad Shafiek, Managing Director of Al Sawari Holding also unveiled the design and architectural elements of the much awaited 'Aiana Suites and Residences', a 180 key luxury property that will be located in the prestigious central business district of West Bay in Doha and will be launched in Q4 2016.
"Today we celebrate a defining moment in the Aiana brand journey. The announcement of Aiana Makkah is a key milestone for the brand and it is an honor to bring the Aiana experience to the Holy City. We are looking forward to opening the first Aiana hotel in the Middle East in 2016." said Amruda Nair. "We are also delighted to unveil the first look of Aiana Suites and Residences, Doha and are confident that our unique product and service ethos will address the growing demand for value added offering in the upper upscale hospitality segment."
"At Al Sawary Holding, we are delighted with the progress achieved by Aiana in less than one year. We believe in the potential of the Aiana brand and are committed to support its expansion across the Middle East, Indian sub-continent and South East Asia", said Mohammed Shafiek, Managing Director, Al Sawary Holding.
"One year ago, we envisioned to create a global hospitality brand that will fulfil a gap in the market for experience driven, lifestyle oriented accommodation and service offerings that are locally relevant and accessible", said Sheikh Turki bin Faissal Al Thani. "With seven properties launched across the Indian sub-continent and the Middle East within a short span of less than a year, our vision is fast taking shape. I am confident that with launch of our hotels in Makkah and Doha in 2016, guests from around the world will be delighted to experience our unique 'Hospitality 2.0' promise that is aimed at offering innovative service in a smart, stimulating environment".
The unveiling of the first images of Aiana Suites and Residences reveal what is set to be a niche hospitality destination in the heart of Doha. Aiana Suites and Residences Doha have been designed by Lisbon-based, Portuguese interior design firm PROMONTORIO and built to Aiana brand specifications with the intent to extend the Aiana lifestyle to a home environment. In gateway cities such as Doha, the Aiana branded upscale residence will include access to Aiana hotel services such as laundry, housekeeping and concierge facilities as well as branded amenities. Just like the hotel and resort experiences at an Aiana hotel, the residences in Doha will exude an authentic local vibe, intelligent design and intuitive service with a strong Indian service ethos.