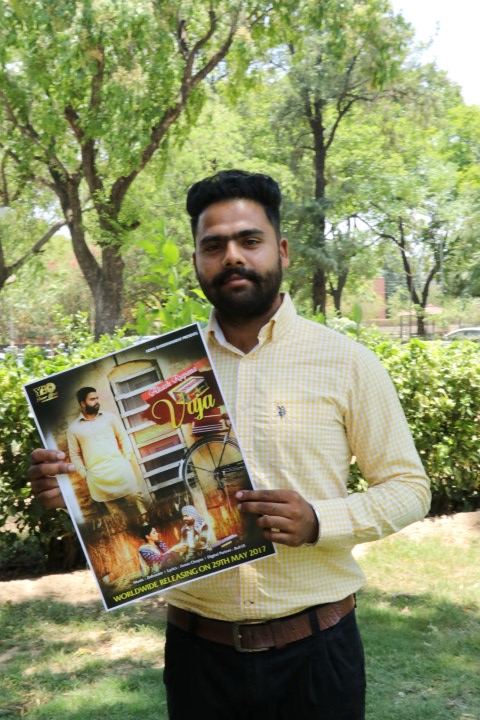 newznew (Chandigarh) : Real Estate major since over a decade – NDBG Private Limited under its new venture Yaar Beli Records today launched the first song of young talented singer Akash Rupana – 'Vaja vuja sikhh lain de' today at Chandigarh Press Club. Present on the occasion were company's Director Gurbinder Singh Dhillon, singer Akash Rupana, Song's online promoter Lavish Kathuria from Bull 18 Network and other dignitaries. Gurbinder Dhillon informed that initially this song will be released on Youtube followed by other TV channels.
While briefing the media, he informed that Yaar Beli Records has been recently launched with an aimed to promote young and talented singers by offering them ideal platform. "We have been committed for nurturing hidden talents. NDBG Pvt Ltd is sponsoring cricket sports academies across the country from last five years so that budding cricketers from the grass root level can represent nation and bring laurel for their region, parents and country at last." Said Gurbinder Dhillon.
During the media address, singer Akash Rupana told media that he was found of singing since school days and performed at many platforms. "I am BA passed and learning the each details of music from my brother Manmohan Singh. Aman Chopra is lyricist, video courtesy Shivtar while music is provided by Jeffrozar. Priyanka Bhardwaj has acted during the song sequences and the entire shoot locale is from Chandigarh and Banur." Informed Akash.
Akash thanked his parents and friends for their support till the launch of his first song. While thanking Yaar Beli Records, he assured this song will not only to convey the good message to its audiences but also cherished by all.