A Chandigarh resident, she wants to pursue research in microelectronics from IISc Bangalore
GATE Revolution, region's premier institute in GATE coaching today felicitated its GATE topper at Bal Bhawan in Sector 23 here. Navneet Kaur, a Gate Revolution student, this year brought laurels by securing AIR 3 in GATE examinations held in February, thus making Gate Revolution the only institute here to secure its position among the top nine ranks in GATE examinations continuously.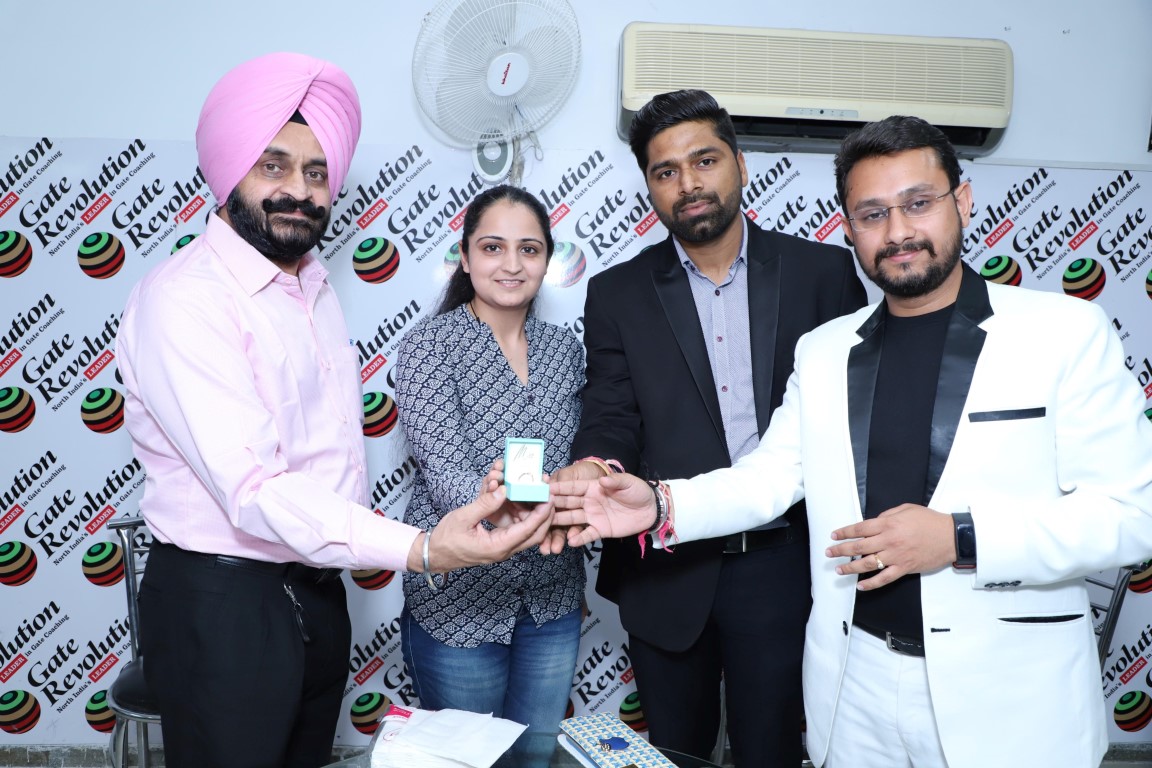 She was felicitated by chief guest and institute's management for her achievement.
Navneet Kaur, who hails from Chandigarh thanked her mentors from Gate Revolution for their guidance and support. She is currently employed in SCL (ISRO), Mohali.
The Managing Directors of the institute, Tarun Garg and Darshan Jindal congratulated the students for their success and acknowledged the hard work of their faculty members and students. The event also saw some energetic performances from students.
Navneet Kaur, while speaking about her achievement said it was very important to remain in practise for good results. She said there should be no break in preparing for GATE and daily enough time should be devoted to the same. She said tests and evaluations also help in preparing. Navneet added at Gate Revolution she got the best coaching and wants to go for higher studies to Indian Institute of Science (IISc), Bangalore where she wishes to do research in the field of microelectronics.
Navneet shared that her success was not possible without the support of her parents and the excellent and most supportive faculty of Gate Revolution. In her message to her fellow GATE aspirants, she said that focus during lectures, class notes, regular practice of tests and a relaxed mind while appearing the exam are the major factors for achieving good Rank in Gate.
The Managing Directors said, in previous years, Yashi Gupta (AIR 2), Viren Sangwan (AIR 3) and Ankush (AIR 3) from Gate Revolution have excelled in GATE exams. They added, 80% of their students have been successful in qualifying GATE exam this year. Not only this, Gate Revolution has become the only institute in Chandigarh and nearby areas which has been successful in producing top ranks (single digit) in recent years. There are 16 students from Gate Revolution who have been successful in securing positions in top 1000 ranks at all India level this year. These achievements become all the more important considering the fact that nearly nine lac students in India appear in GATE exam every year.
Gate Revolution is a unit of Guru Gram Group of Institutions, founded in 2003 by a group of visionaries and intellectuals. Since its inception, the group has promoted education in the area of Aviation, Engineering Sciences & Management with all the campuses equipped with the state of art infrastructure. With branches in Chandigarh and Patiala, Gate revolution has established itself as one of the leading GATE coaching institutes in North India.