NewZNew (S A S Nagar) : To generate awareness about the centrally sponsored schemes in the district SAS Nagar, all the departments should come together & should organize an awareness camps jointly, wherein detail information about the schemes could be provided to the general public and presence of their elected representatives should be ensured in these camps. Agriculture Department has been designated as Nodal Department for conducted the camps. This was stated by Chairman District Vigilance & Monitoring Committee & Member Lok Sabha Prof. Prem Singh Chandumajra, while presiding over the meeting at Municipal Corporation meeting hall to review the progress of centrally sponsored schemes in the district. During this, he expressed his satisfaction regarding implementation program for centrally sponsored schemes.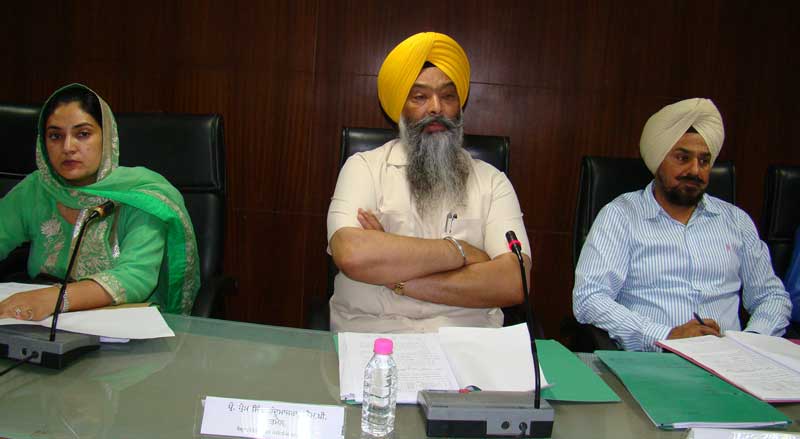 Prof. Chandumajra said that sufficient funds will be ensured for the centrally sponsored schemes in the district and proper coordination with centre govt. will be ensured for further enhancement & funds required for these schemes. He said that due to less knowledge & unawareness, maximum people get deprived from these schemes. As such, a special campaign to generate awareness about these schemes should be initiated. He further said village Sarpanch & Panch`s are not fully aware about the development works to be carried out under MANREGA scheme. As such awareness camps are required to provide detail information about this & to help them for exploring employment opportunities.
Prof. Chandumajra said that to ensure sufficient supply of potable drinking water in hot summer season, water tankers will be procured from MP Quota. He said village Daun is being developed as a model village under Saansad Adarsh Gram Yojna. He said that development works worth Rs. 23 lacs 50 thousand have been started in the village and to ensure 24 hours potable drinking water supply a Rural Water Supply Scheme worth Rs. 1 crore 17 lacs 61 thousand will be established in the village. He said that restoration of village streets & roads will be done and proper drainage arrangement will be ensured. He said that a special committee under the headship of DDPO has been formed to conduct survey of Saneta Manakpur Link road so that it could be covered under Prime Minister Gramin Sadak Yojna. The committee thus formed besides conducting survey will also make mutual understandings with the landowners whose land falls on sides of roads.
During this, Deputy Commissioner cum Member Secretary Vigilance Monitoring committee Sh. Tejinder Pal Singh Sidhu explained in detail about the implementation of centrally sponsored schemes in the district and said that relevant steps are being taken to ensure its benefit to the grass route level, so that the schemes could be proven more beneficial to the general public. During this, he said that a detailed planning is being prepared to prevent the stray animals from the crop fields.
During this, Chairperson Zila Parishad Bibi Paramjit Kaur Badali, SDM Mohali Sh. Lakhmir Singh, SDM Kharar, S. Sukhjitpal Singh, Assistant Commissioner (General) Jashanpreet Kaur Gill, Chairperson Block Samiti Bibi Manjit Kaur, Chairman Block Samiti Kharar S. Resham Singh Baironpur, District Revenue Officer Sh. Amandeep Singh Thind, Executive Engineer Water Supply & Sanitation Sh. Sukhminder Singh Pandher, Civil Surgeon Smt. Neelam Bhardwaj, District Education Officer (Secondary) S. Mewa Singh Sidhu, District Education Officer (Elementary) Dr. Gurjit singh, District Development & Panchayat Officer S. Gurbinder Singh Sarao, Deputy Chief Executive Officer Zila Parishad S. Ravinder Singh Sandhu, Deputy economic & statistic advisor Dr. Sukhminder Singh, Chief Agriculture Officer S. Jasbir Singh Bains, Chief Lead District Manager Punjab National Bank Sh. R.K.Saini, CDPO Majri Harmit Kaur, Dr. Rita Bhardwaj DIO, APO S. Harinderpal Singh , OSD S. Hardev Singh
HArpalpur, SDO Civil works Sh. Savinder SIngh Lakhowal, Forest Range Officer Guramanpreet Singh, Executive Engineer PWD Sh. G.S. Sangha, Sh. Vishal Gupta, Jathedar Karan Singh Jouli & other officials & reputed persons were present.